Will Miguel Diaz Be Paralyzed In Cobra Kai Season 3?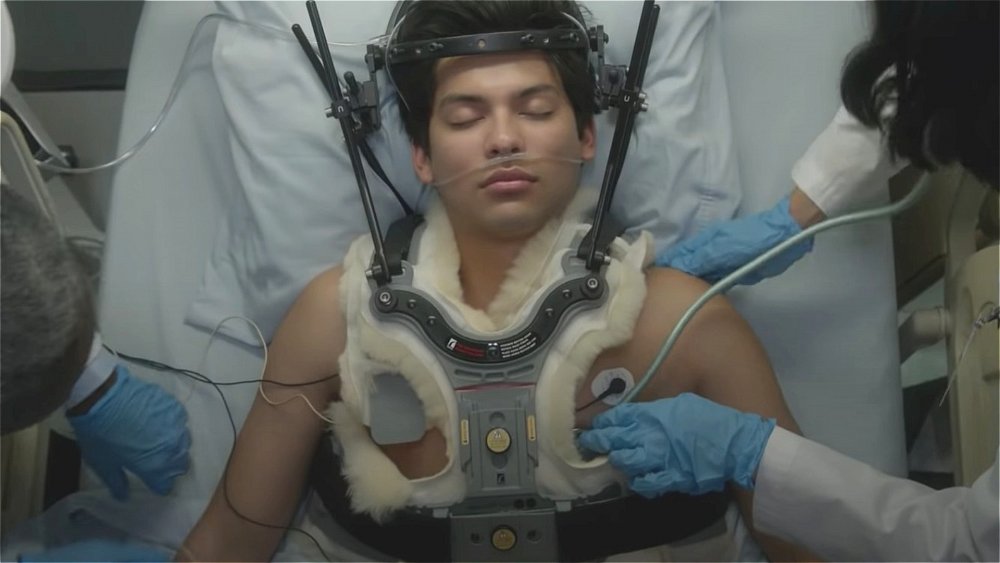 Netflix
Netflix has released the teaser trailer for Cobra Kai season 3, and the video announced that the show will return on January 8, 2021. Though the trailer is only 40 seconds long, it reveals some crucial information about the upcoming season.
On the dramatic, hard-hitting season 2 finale, Robby Keene (Tanner Buchanan) kicks Miguel Diaz (Xolo Maridueña) off a balcony, leaving Cobra Kai's star student on life support. This teaser shows that Miguel will undergo a significant change on season 3, as it shows him in a hospital bed wearing extensive medical equipment. The heavy brace he's wearing makes the viewer wonder whether Miguel will be paralyzed in season 3. The trailer doesn't confirm Miguel's condition, but because he took a nasty fall and landed right on his back, it's fair to assume that he's hurt pretty badly. 
Miguel's condition remains one of the most compelling questions ahead of season 3, and fans are wondering just how severe his situation is. There's evidence that suggests Miguel is paralyzed, but it might be a little early to jump to such dire conclusions.
The war between Cobra Kai and Miyagi-Do has serious consequences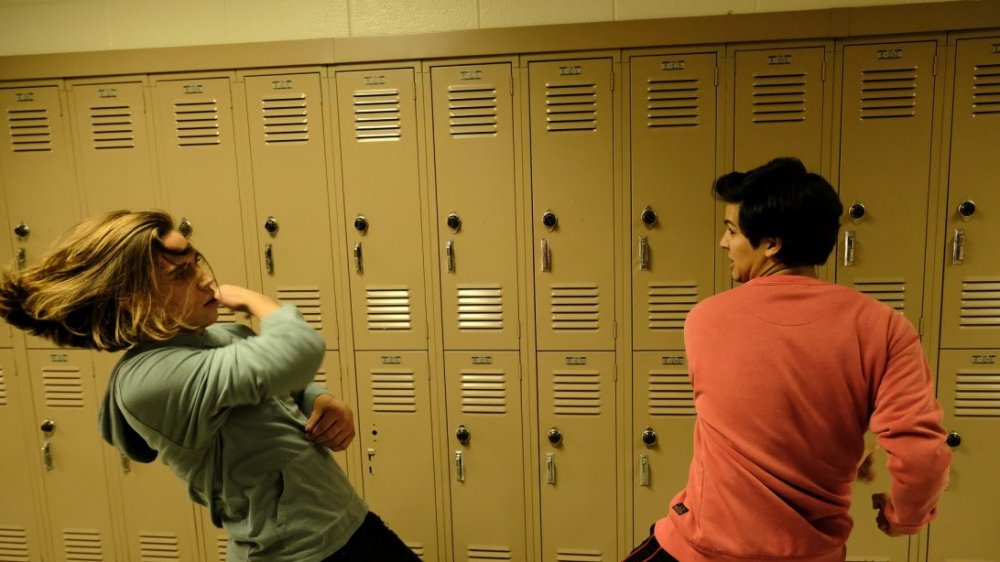 Netflix
On the season 2 finale, entitled "No Mercy" after the final tenet of the Cobra Kai motto, an explosive brawl between Cobra Kai and Miyagi-Do plunges the school into chaos. The fight focuses on the season's two main conflicts, and it particularly focuses on the bad blood between Miguel and Robby. The climax of the battle comes when Robby brutally kicks his nemesis off a balcony, after Miguel attempts to show mercy. The blow sends Miguel tumbling directly onto the railing far below him, and this harsh landing seriously injures him. At the end of the episode, Miguel is on life support, and his future looks bleak. 
The teaser trailer provides an opaque update on Miguel's condition. He's still in a hospital bed where he's wearing some comprehensive medical equipment. The teaser also shows Miguel opening his eyes, so at the very least, fans now know that he wakes up at some point in season 3. The clip conspicuously doesn't show him moving any limbs, however. It certainly leaves fans wondering whether Miguel is paralyzed. Based on the fight in the finale of season 2 and the glimpse of Miguel in the teaser, it seems entirely possible, if not probable, that he is. 
The teaser trailer suggests that Miguel is paralyzed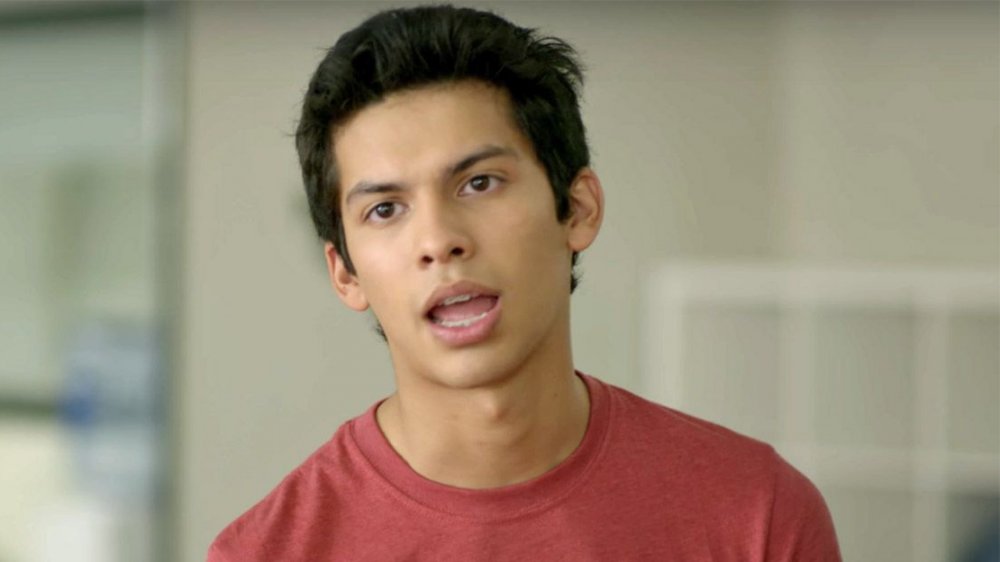 Netflix
Even before the teaser trailer arrived, many fans were predicting that Miguel will be paralyzed in season 3. When Robby kicked him off a balcony in the season finale, Miguel fell a long away, and he landed directly on the handrail's unforgiving metal surface. The jarring impact clearly caused a lot of damage, as it caused doctors to put Miguel on life support. Although the teaser trailer shows Miguel opening his eyes, the human body isn't naturally meant to withstand that kind of collision. Falling from a balcony and crashing onto a hard railing probably broke some bones or severely damaged Miguel's spine, and paralysis would be a likely result from these injuries.
Plus, in the teaser trailer, Miguel is wearing medical equipment that's holding his head, neck and spine in place. While the doctors might be using this gear as a preventive measure, it's likely a sign that Miguel's spine is critically damaged. He could be suffering some temporary paralysis, or it could be much worse.
A key player leaves the battle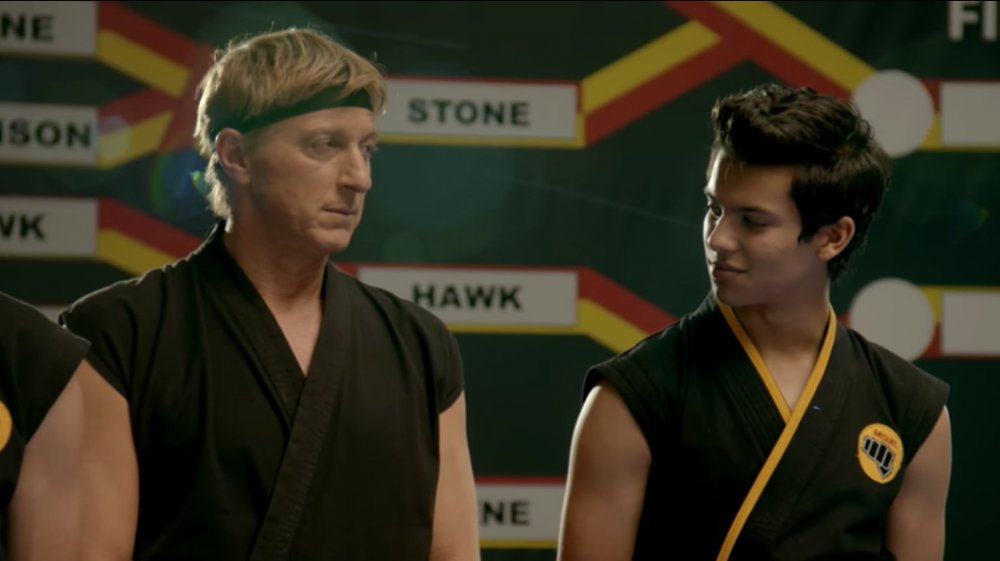 Netflix
It's also fair to have an optimistic view of Miguel's injuries. Right now, fans only know that he's badly injured, and the specifics of his condition are unknown. With so much room for doubt, there's no way to know how serious his condition is. People walk away from frightening falls all the time. Plus, like any television show, Cobra Kai isn't firmly restricted by the laws of reality. It's entirely possible that Miguel will emerge from the hospital bed with his ability to walk fully intact. Maintaining Miguel's ability to fight like the other Cobra Kai students might motivate creators Josh Heald, Jon Hurwitz, Hayden Schlossberg to grant Miguel a speedy recovery.
The thrilling conclusion to the previous season left fans with many questions, and the teaser trailer for the show's return only increased the intrigue. Fans now know that after taking a scary fall in the finale, Miguel is still alive, but he's facing a difficult journey back to the mats. Fans will just have to wait for the return of Cobra Kai to discover how it all plays out. Thankfully, they won't have to wait too long. Cobra Kai season 3 is set to arrive on Netflix on January 8, 2021.