Martial Arts Expert Exposes Mistakes In Cobra Kai's Fight Scenes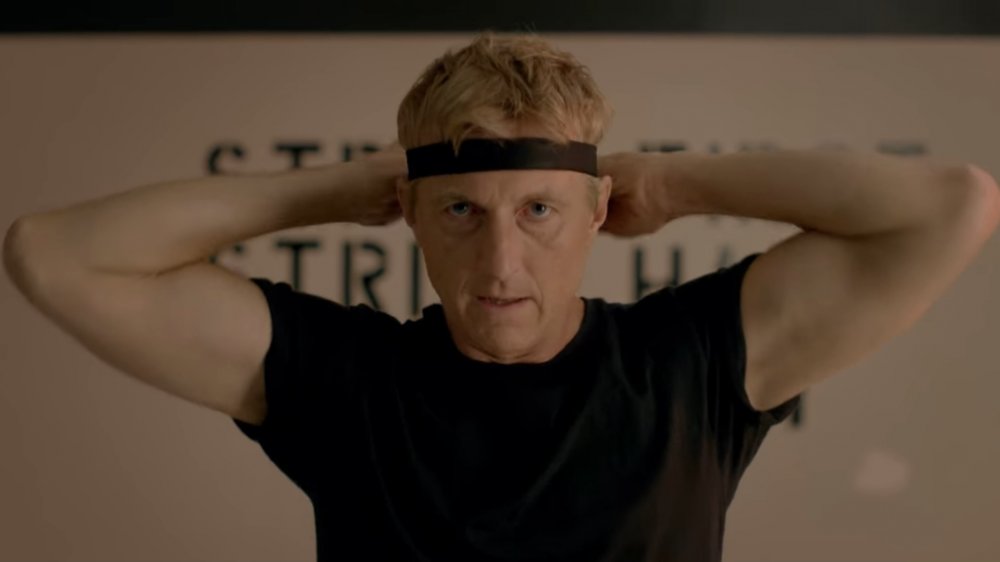 Netflix
In 2018, YouTube Red gave fans of '80s martial arts flicks a gift with Cobra Kai, a sequel/spin-off to The Karate Kid films. The series, now a Netflix property, follows a grown-up Johnny Lawrence (William Zabka), who you'll remember as the kid Daniel LaRusso (Ralph Macchio, who also reprises his role) crane kicked out of a karate competition over thirty years ago. As an adult, Johnny is a down-on-his luck handyman living in Reseda whose days of (almost) karate stardom are long gone. That is, until a chance encounter with a bullied teen leads him to reopen his old dojo, as well as some dormant rivalries that never really resolved.
In addition to expanding on the themes and characters of the original series of movies, Cobra Kai also takes viewers back to the glory days of martial arts movies with tightly choreographed, white knuckle fight scenes. Just because Cobra Kai delivers some satisfying brawls, however, doesn't mean they always get the details right. We reached out to Jennifer Zappola, a professional fitness instructor who holds a second-degree black belt in Seido Karate, to help us break down three of the series' most memorable fight scenes, and pinpoint where they got things wrong (and right) on Cobra Kai.
Johnny shouldn't have beaten up Miguel's bullies (even if they deserved it)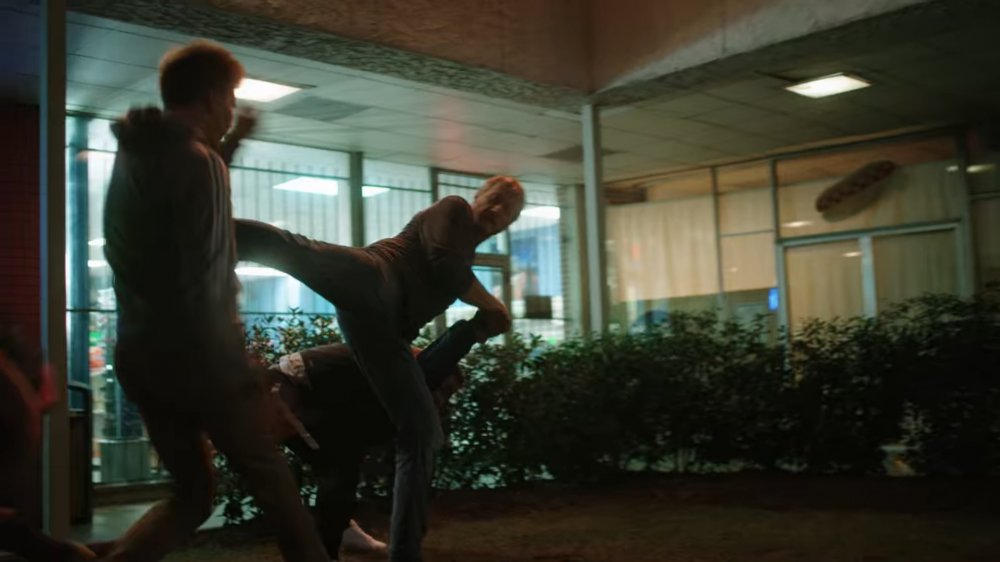 Netflix
The action of Cobra Kai really kicks off in the first episode of the series — when Johnny witnesses a group of teenage bullies picking on a kid named Miguel (Xolo Maridueña). At first, Johnny ignores the altercation, but when one of the bullies knocks Miguel onto Johnny's car, he finally intervenes. Although he's a little rusty, Johnny is able to dispatch the bullies quickly.
According to Zappola, the short four-on-one fight scene nailed the execution. She told us, "There was really great technique with front snap kicks, elbows, throw overs and sweeps." However, there was still one glaring flaw with the way this fight was handled. Despite the fact that Johnny is standing up for Miguel, a grown adult with a background in martial arts training should know better than to beat up a pack of teenagers — even if they are being little jerks.
Zappola explained, "[W]hat I found to be weird about this scene is an adult started a fight with teenagers. Most karate students are not trained to start a fight, but to deescalate the situation."
That doesn't exactly square with Cobra Kai's mantra: strike first, strike hard, no mercy.
Miguel's cafeteria showdown took things a bit too far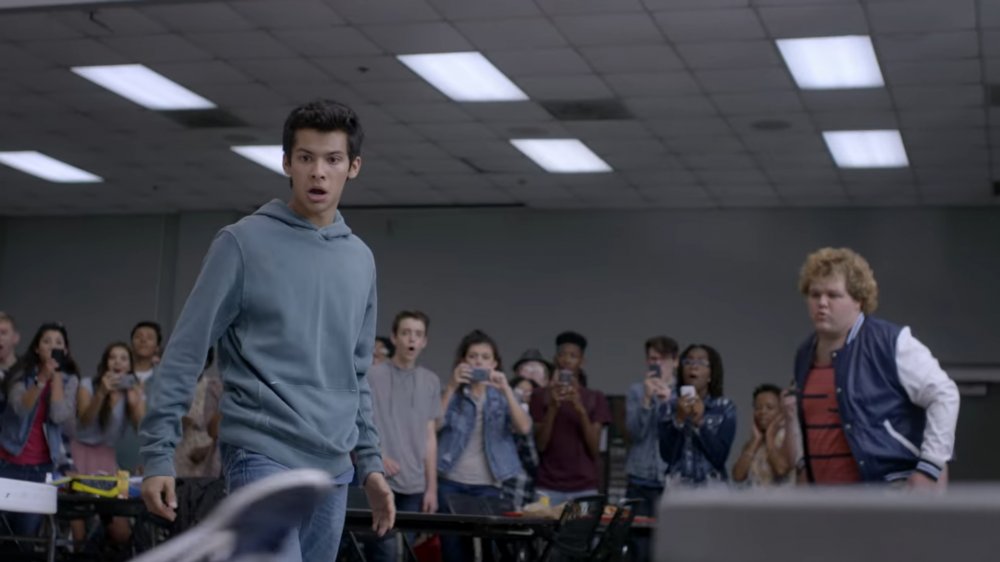 Netflix
Miguel gets his chance to get back at the bullies midway through the first season when he takes them on in a fight in his school's cafeteria. Like Johnny's fight with the teenage punks, Zappola said, "[T]he kicks, elbow, sweeps and throw overs are pretty accurate." However, in the case of this fight, things went on for too long.
More specifically, Miguel deals a few blows to his opponents that should have had them out of commission almost immediately. "In the first couple of moves ...[Miguel] twists the other kids' arm, that would cause some serious damage," Zappola explained, "and I don't think that anyone would be able to get up and use it right after."
Miguel follows up that debilitating arm-twist with a swift kick to the kidney, which, according to Zappola, "would hurt and put someone out."
In the scene, the bullies keep coming at Miguel until he takes them all down with a deftly deployed cafeteria tray. In reality, that fight would have been over after the first couple of moves, as Zappola sees it.
In real life, Tory wouldn't have walked away from her brawl with Sam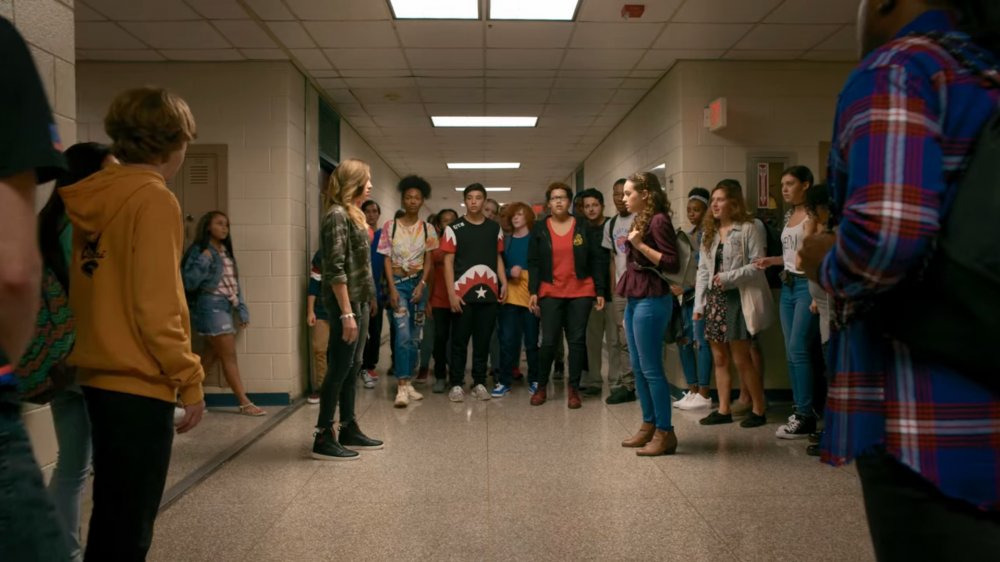 Netflix
"Total pandemonium" is an accurate descriptor of Cobra Kai's season 2 finale. Early in the episode, Tory (Peyton List) gets on the school's PA system and challenges Sam (Mary Mouser) to a fight for kissing Miguel. Soon after, the young women meet in the hallway and begin trading blows. Their altercation quickly boils over into a school-wide melee between the students of Cobra Kai and Miyagi-Do.
While the epic scale of the fight made for a satisfyingly bombastic season finale, Zappola noted that an altercation of that length is unrealistic. Beyond that, some of the moves Tory and Sam pulled on each other likely would have resulted in serious and debilitating injuries, not a few bruises. Zappola specifically called out the moment when, "[T]he one girl twists the other girl's arm. If that was done in real life, the arm would have been broken."
Tory and Sam's portion of the brawl ends with Tory attempting to go in for a brutal punch with a spiked bracelet wrapped around her knuckles. Sam is able to block her attack and then kick her over a banister, where Tory smashes on the stairs on the other side. A few minutes later, we see Tory standing at the bottom of the steps, seemingly unharmed. While it may have been a dramatic way to end the fight, according to Zappola, "If that was real life, I believe the girl would not get up!"
Now that you've got a professional look at Cobra Kai's fight scenes, time to revisit them with a critical eye in preparation for the show's eagerly anticipated third season.