Why Megan From Hubie Halloween Looks So Familiar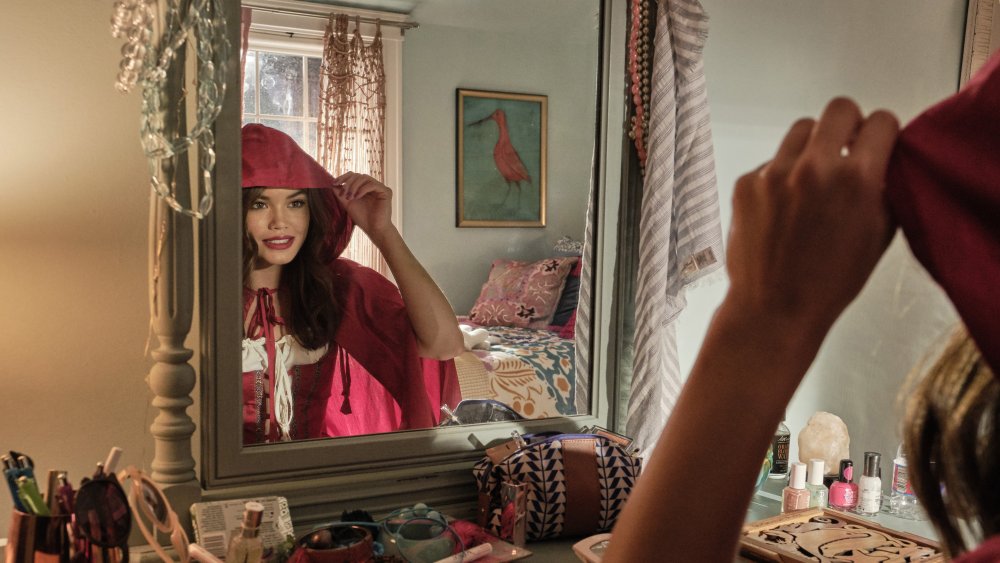 Scott Yamano/Netflix
In the comedian's weirdest Netflix movie to date, Hubie Halloween, Adam Sandler can't save Halloween without a little help. The movie, which hit the streamer on October 7, 2020, follows Sandler's overly devoted community volunteer Hubie Dubois as he faces down pranksters and naysayers after he stumbles upon an actual murder case in his hometown of Salem, Massachusetts. 
The actor packed his project with plenty of famous faces — including Maya Rudolph as Hubie's old classmate Mrs. Hennessey, Kenan Thompson as Officer Blake, and Steve Buscemi as Hubie's neighbor Walter Lambert. However, at least one of the movie's main stars might appear to be a newcomer to any adults in the audience who don't have tweens: Paris Berelc, who plays Megan, the crush of the son of Hubie's crush, who goes with the uninspired choice of dressing as Little Red Riding Hood for Halloween.
Make no mistake, though — Berelc may be young, but she's no Hollywood newcomer. The actress has starred in several family-friendly projects since she landed a leading role on a Disney XD series in 2013. Since then, she's been steadily adding more Disney and Netflix shows and movies to her resume — although her role as Megan in Hubie Halloween is the 21-year-old's most adult project to date. 
Here's where you may have seen Paris Berelc before.
Paris Berelc's career kicked off with a superhero role on Mighty Med and Lab Rats: Elite Force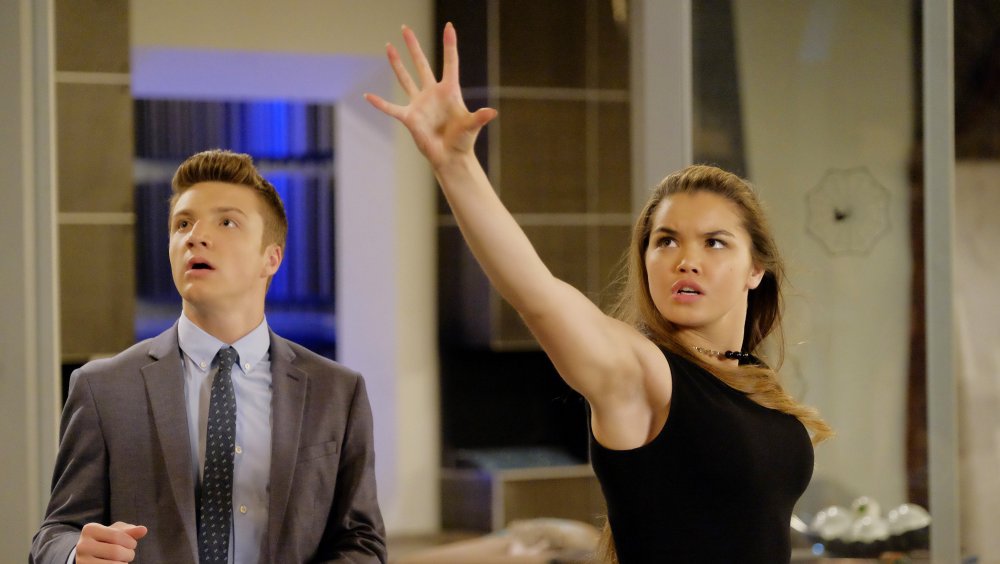 Tony Rivetti/Disney XD
Upon scoring the role of alien superhero Skylar Storm on Disney XD's hospital-superhero-show hybrid Mighty Med, Berelc became part of the Disney family early in her career. The show, which lasted for two seasons, focused on "normies" Kaz (Bradley Steven Perry) and Oliver (Jake Short), who discover a secret entrance to a superhero hospital. The hospital staff then allows them to become student doctors, which leads to all kinds of misadventures with Berelc's Skylar.
When Mighty Med ended in 2015, Disney XD decided to turn the show into a franchise by combining it with another series, Lab Rats, which led to Lab Rats: Elite Force. Berelc and a few of her fellow cast mates brought their Mighty Med characters over to the new show, which had more of a focus on the superheroes. Both shows made Berelc a star in the eyes of her young fans, who couldn't get enough of Skylar's world-saving adventures.
Invisible Sister kept Paris Berelc in the Disney family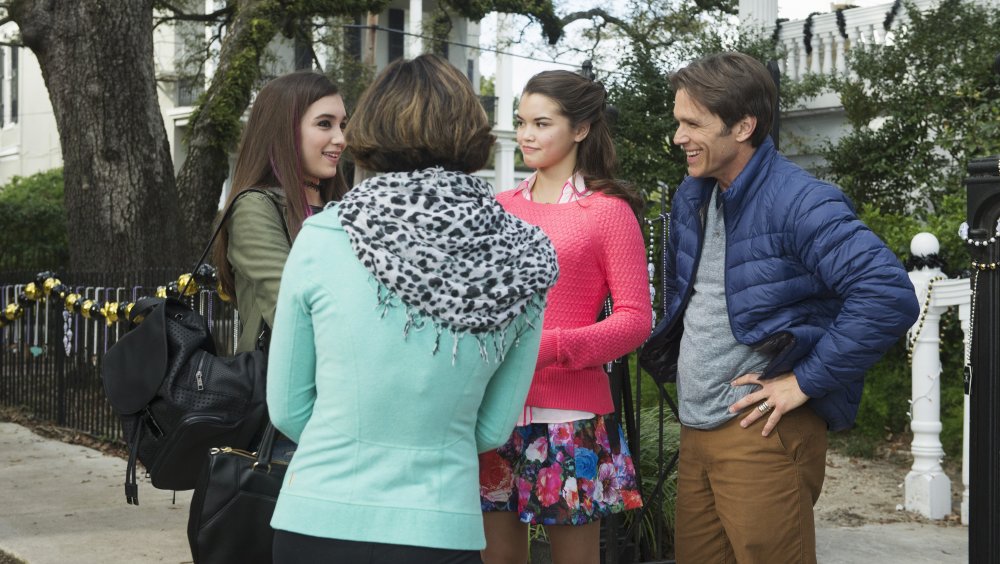 Cook Allender/Disney Channel
Berelc remained firmly in the Disney family in 2015 when she starred in the Disney Channel original movie (DCOM) Invisible Sister opposite Rowan Blanchard. Like Herbie Halloween, the movie takes place on the spookiest day of the year, but instead of dealing with a murderer, Berelc's Molly has a mopey younger sister to contend with. When Molly's sister's science project gets out of hand, Molly ends up invisible on Halloween, leading to all of the holiday shenanigans and sisterly bonding that you would expect from a Disney movie. 
For the actress, Invisible Sister presented a new challenge, since she's mostly heard rather than seen throughout the film. In a January 2015 red carpet interview with Shine On Media, Berelc revealed that Invisible Sister was her first movie role ever. That makes the fact that she landed a role in an Adam Sandler film just a few years later all the more impressive.
Paris Berelc brought humor to a heavy subject on Alexa & Katie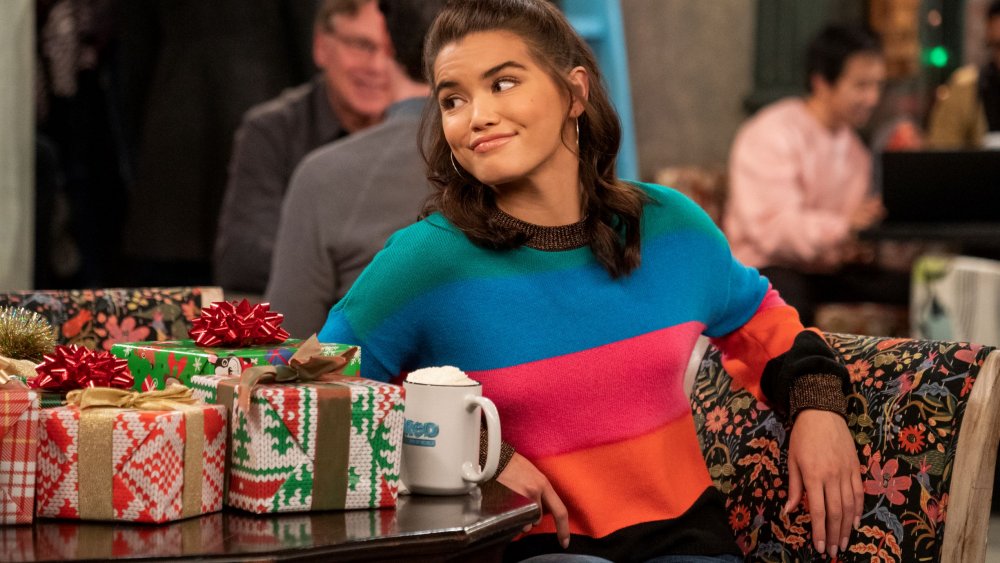 Ali Goldstein/Netflix
In 2018, Berelc took on her most challenging role yet on Netflix's teen series Alexa & Katie. The multi-camera comedy, which wrapped in June 2020, felt akin to the best of ABC's '90s TGIF lineup, thanks to its mix of humor and heavier topics. On the series, Berelc stars as Alexa, a young teen who's diagnosed with cancer just as she's about to start high school. While she initially tries to keep her diagnosis private, Alexa ultimately opens up to her best pal Katie (Isabel May) so they can take on the situation together.
The show's careful handling of topics ranging from cancer to anxiety earned it a 2018 Emmy nomination for Outstanding Children's Program, and a 2019 Television Academy Honor, a special award given to programs that educate or inform viewers. It also succeeded in offering young fans a nuanced look at what life with cancer can be life, anchored by Berelc's confident performance as a young woman determined to live her life no matter what she's facing.
Tall Girl let Paris Berelc try her hand at being the quirky best friend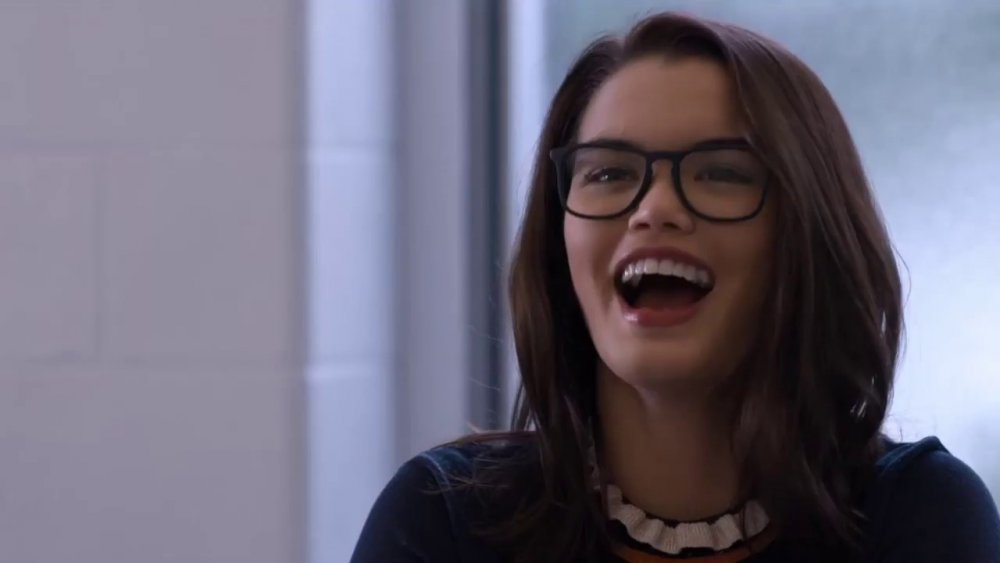 Netflix
While she began her career as a Disney kid, Berelc is quickly becoming one of Netflix's go-to young stars. In 2019, she appeared in the Netflix teen comedy Tall Girl, about a taller-than-average high school girl trying to navigate dating and her self-esteem issues. Berelc plays Liz, a sweet and quirky friend of Jodi (Ava Michelle), the titular tall girl, who falls for a foreign exchange student who has a crush on someone else. 
The movie didn't become an instant hit in the same way that Netflix's The Kissing Booth and To All the Boys I Loved Before did, but Tall Girl did continue Berelc's growth as an actress. And it solidified her status as a certified Netflix star, which her role in Sandler's star-studded Hubie Halloween further demonstrates.