Wonder Woman: Leaked Photos Show Gal Gadot In Battle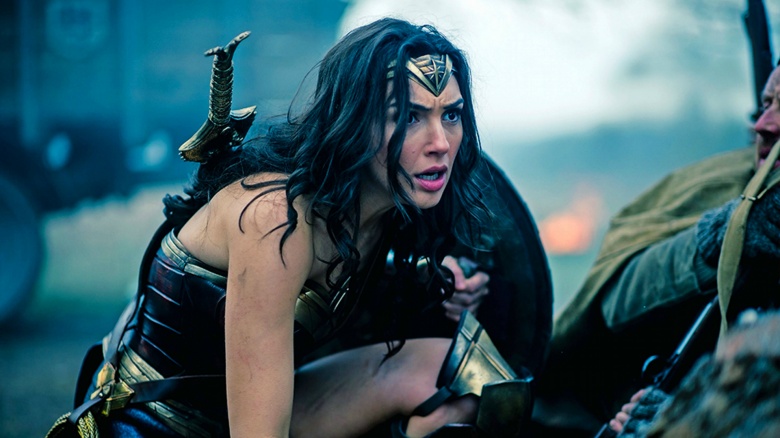 Gal Gadot will have more than just the fate of the world on her bare shoulders in the upcoming Wonder Woman flick. She'll also be tasked with breathing new life into the DC Comics movie universe after the bleakness of Batman v Superman: Dawn of Justice and the mixed reception for Suicide Squad.
Gadot plays the warrior princess in the DCEU, and her first solo movie is slated for release June 2, 2017. It'll arrive in theaters five months before she and the rest of the gang appear in Zack Snyder's ensemble Justice League.
DC unveiled the first trailer at San Diego Comic-Con, and it looks like someone got their hands (well, maybe just their cell phone camera) on shots from a potential new trailer and/or a magazine spread.
Comicbook.com reports that the source of the images "remains unclear," but notes that one appears to be a screen capture from a trailer. ScreenRant points out that the watermark on one of the images is for Trailer Park–the editing company that put together the promos for Suicide Squad.
Check out both photos below, and find out how Warner Bros. hopes to improve the DCEU. Hint: it involves a little less frowning.



"Leaked" still from an upcoming #WonderWoman trailer popped up on reddit. What do you think? Looks fake to me... pic.twitter.com/l9DcgzUhL7


— Batman-News.com (@BatmanNewsCom) September 25, 2016



รูปใหม่ Wonder Woman pic.twitter.com/wIaBdgpy5N


— DC Universe Club (@DCUniverseClub) September 25, 2016