The Truth About Mr. Miyagi's Healing Hands In The Karate Kid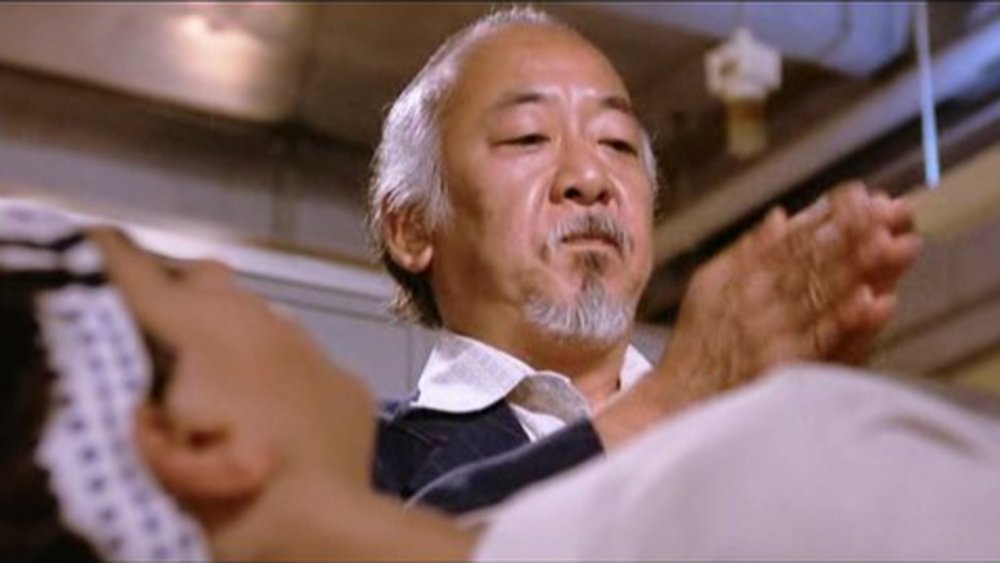 Columbia Pictures
1984's The Karate Kid is an undisputed classic, thanks to both its inspirational story and unforgettable cast of characters. Ralph Macchio's Daniel LaRusso is the inarguable star of the show since the film sets him up as the main character, however, he wouldn't have made it as far as he did without a mentor to guide him. That responsibility falls on the shoulders of Pat Morita's Mr. Nariyoshi Miyagi, whose help goes above and beyond what Daniel could've expected from his martial arts sensei in some pretty remarkable ways.
Miyagi projects himself as a wise, experienced man who rarely allows his emotions to get the best of him. A World War II veteran and an experienced student of karate (at least, in the movies, anyway), he's seen a thing or two in his day, always learning and passing his kernels of knowledge onto others. Much of his expertise is very practical, ranging from the art of self-defense to the secret of mental harmony. Although, he does have a few spiritual tricks up his sleeve that keep other Karate Kid characters on their toes. His ability to fix up Daniel's injured leg in the first film with his hands alone is one such example of his likely many hidden talents.
Mr. Miyagi uses Reiki to heal Daniel's leg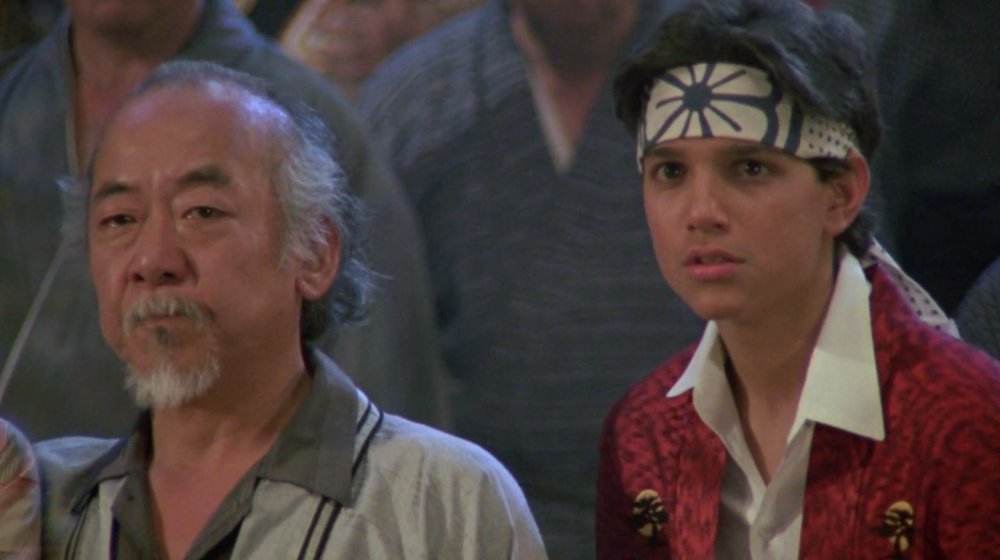 Columbia Pictures
In the third act of The Karate Kid, the spotlight is on the All-Valley Karate Championship tournament, in which Daniel proves himself a well-studied competitor. He makes it all the way to the semi-finals, much to the dismay of the villainous Cobra Kai dojo, whose leader, John Kreese (Martin Kove), cooks up a sly scheme to remove him from the competition. He instructs Daniel's next opponent, Bobby Brown (Ron Thomas) to sweep his leg, injure him and prevent his advancement in the tournament. Brown follows his sensei's orders, harming not only his opponent's leg but also his hopes of victory over Cobra Kai.
Thankfully for Daniel, Mr. Miyagi makes the save with the same energy-based healing technique that Erykah Badu practices for a living. Miyagi performs Reiki, suppressing Daniel's pain and helping him advance to the finals against Johnny Lawrence (William Zabka). As it turns out, Miyagi's unorthodox method isn't just made-up movie nonsense, but an actual demonstration of a real practice that's helped many people overcome pain around the globe. Reiki, in layman's terms, is an old Japanese method for reducing stress, pain, and promoting general relaxation through the focus of bodily energy into the hands. This way, one can transfer some of their "life force energy" to someone else who's running a bit low. 
Those who practice Reiki in real life actually report positive results, feeling a sense of rejuvenation, and improved health over time. Miyagi obviously knows what he's doing.