The Orlando Bloom War Movie That's Hot On Netflix Right Now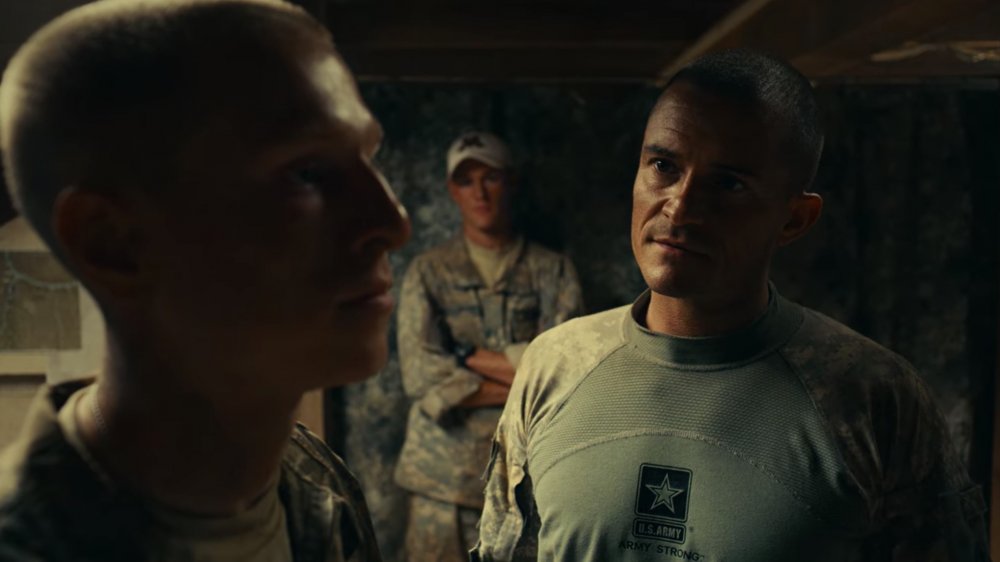 Netflix
A gritty, visceral war movie has leapt to Netflix's Top Ten. The Outpost takes us into a harrowing moment of the war in Afghanistan, when the American soldiers of the Combat Outpost Keating were facing an incoming 300 Taliban fighters. 
In real life, situated at the base of three mountains, the U.S. forces were vastly outnumbered, left without support, and forced to survive. It was an impossible situation. The so-called Battle of Kamdesh, in 2009, was one of the bloodiest battles of this ongoing war, and The Outpost brings that uncomfortable reality straight to the viewer, while paying homage to the soldiers who put their lives on the line. Director Rod Lurie tells the tale based on journalist Jake Tapper's book The Outpost: An Untold Story of American Valor. Tapper told NPR, "To this day there are people who don't understand, people who are military historians and experts at combat, who don't understand how anyone survived."
The film follows Staff Sergeant Clint Romesha (Scott Eastwood), Specialist Ty Carter (Caleb Landry Jones), Army 1st Lt. Benjamin Keating (Orlando Bloom), and a variety of other soldiers as they struggle to stay alive. Like many other movies this year, The Outpost was meant to be released in theaters across the country, but instead, it is appearing on only a handful of big screens, and most people are watching it on Netflix.
Should you watch The Outpost?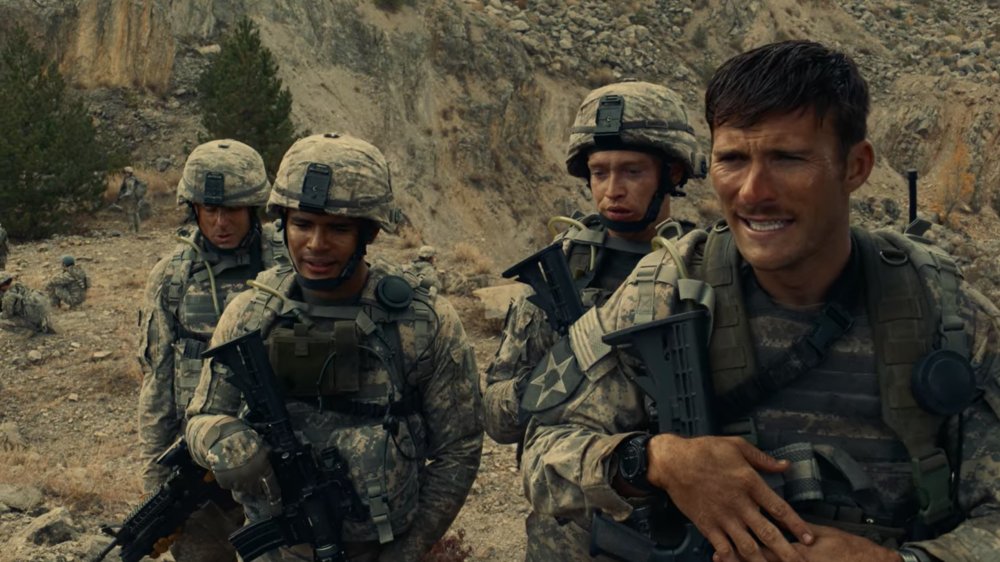 Netflix
While The Outpost had been available for a few months before it gained traction, reviews of the film have been generally positive. The Hollywood Reporter's Frank Scheck wrote, "Using handheld cameras and shooting in long, uninterrupted takes, Lurie [...] delivers a visceral experience that succeeds in its goal of keeping viewers as disoriented and on edge as the desperate soldiers fighting for their lives." Scheck points out that director Lurie's military experience shines through: "The Outpost may be a brutal war film, but it's also an obvious labor of love."
The film has a smattering of known and somewhat familiar faces as its cast: Scott Eastwood and Milo Gibson's fathers — Clint and Mel, respectively — may be more famous than them, but they hold their own. A few soldiers from the real-life battle make onscreen cameos, some in end credit testimonies, and others in the middle of the action. Daniel Rodriguez actually plays himself. The biggest names in The Outpost, though, are certainly Orlando Bloom and Caleb Landry Jones, whom the New York Times credits as giving "near-career-high performances." While we haven't seen much of Bloom in the last few years, other than as Philostrate in Carnival Row, critics agree that he fully delivers the intensity in The Outpost. 
Throughout its two-hour run, the film keeps you on the edge of your seat, as its real world inspiration keeps it from becoming too predictable. The Outpost can be streamed on Netflix today.