What You Can Expect From Disney's Star Wars Galactic Cruiser Hotel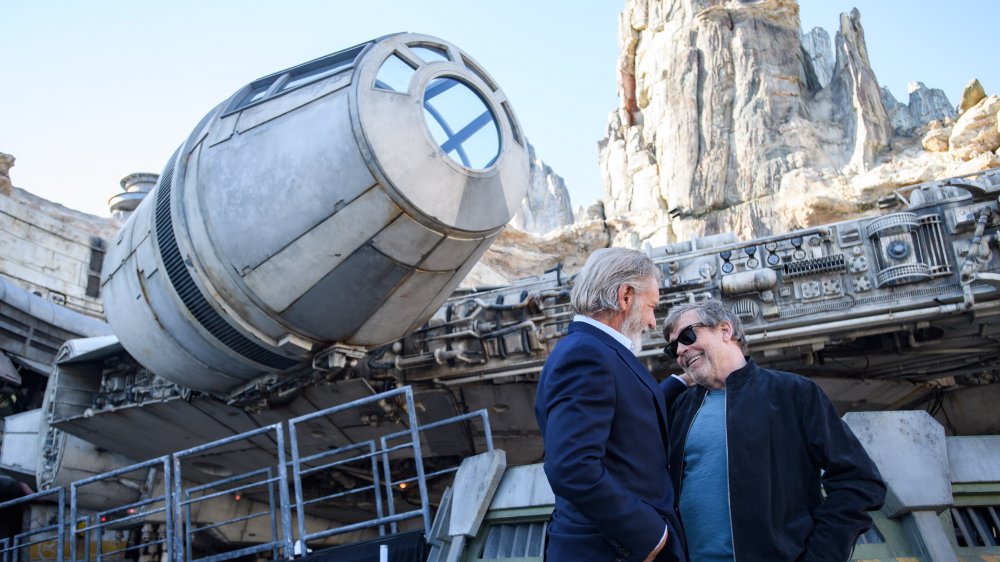 Handout/Getty Images
At some point, we've all wished we could be in a Star Wars spaceship. Luckily, Disney is trying its darndest to make that happen, just short of actually blasting people into space. The company's newest hotel-attraction hybrid, Star Wars Galactic Starcruiser, is coming to Walt Disney World next year, and it looks to be a truly out-of-this-world experience for fans of the galaxy far, far away. Twitter user @bioreconstruct recently shared some aerial views of the site of the new hotel currently under construction. The building doesn't look like much right now, but the real magic will be on the inside, anyway.
Disney's first foray into bringing Star Wars off the screen and into the real world was the 2019 opening of the Star Wars land, Galaxy's Edge, in both Disneyland and Disney World. While the park offers intergalactic experiences that kids in the '70s could only dream of — like, say, flying the Millennium Falcon – some fans think Galaxy's Edge is still missing something. Maybe the upcoming Galactic Starcruiser will fill that hole.
Galactic Starcruiser will be a story for fans to live through
Star Wars Galactic Starcruiser promises to bring fans into a two-day, fully immersive experience. More importantly, the good folks at Disney have dubbed it an adventure. Guests will only see a small portion of the building as they walk up to the cruise terminal — just to keep their disbelief in a state of advanced suspension. Upon entering, they'll find themselves in a launch pod that will simulate the experience of blasting off into space and docking with the starship Halcyon.
From there, every detail will be reminiscent of an actual Star Wars voyage. All the windows look out to space, the cabins are straight out of the movies, and there will be a quintessential lightsaber training experience. Because it's a cruise, there will be a stop at a nearby planet: Batuu of Galaxy's Edge. Disney announced there will be a special shuttle between the Galactic Starcruiser and Galaxy's Edge, but has yet to reveal what that will look like.
While the coronavirus pandemic has hit Disney Parks hard, the company confirmed earlier this month that Galactic Starcruiser will still open next year. However, Disneyland still hasn't reopened and the company announced September 29 that it laid off 28,000 people from its Parks, Experiences, and Products division. We still have a long road to a safe Galactic Starcruiser experience, but it promises to be simply stellar once we get there.