The Full-Length Trailer For Borat 2 Is Here, And It's Pretty Wild
2006 was a simpler time. The economy hadn't fallen into ruins yet, My Chemical Romance gave hope to a generation of emo kids, and two simple words — "my wife" — became the funniest thing imaginable thanks to a little film called Borat.
In the flick, comedic actor Sacha Baron Cohen portrayed Borat Sagdiyev, a journalist from Kazakhstan who travels to the United States to learn about American culture. The film utilized real people to interact with the bumbling fool, resulting in some truly hilarious moments and all leading up to the titular character attempting to kidnap Pamela Anderson. And just when America needed him again, Borat has returned.
In September 2020, it was announced that a Borat sequel had already been filmed, and it would be released very soon. Details have slowly trickled in, and now, a full-length trailer has been released — along with a firm release date and plot details. Amazon Studios picked up the project, officially titled Borat Subsequent Moviefilm: Delivery of Prodigious Bribe to American Regime for Make Benefit Once Glorious Nation of Kazakhstan, which will be available for all to watch on October 23, 2020. And if the trailer is anything to go off of, this is a timely movie any fan of the original will want to check out.
Borat 2 will be one outrageous ride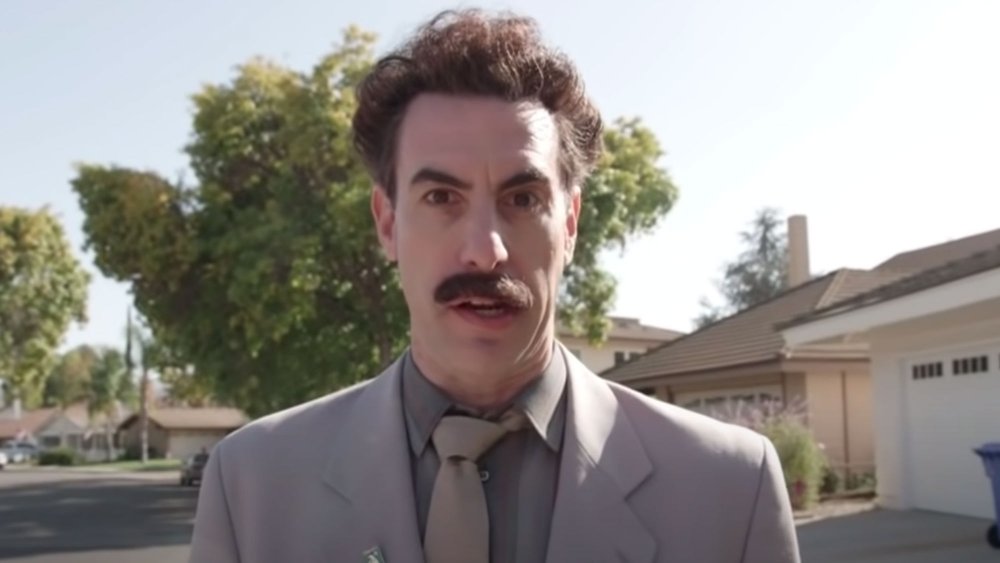 Amazon Studios
Plot details weren't immediately available when the sequel was announced, but at the time, we did hear that the film would deal with current events such as the COVID-19 pandemic and see Borat interacting with major political figures. Based on the trailer for Borat 2, we get even more confirmation that's the case. 
The trailer starts with Borat back in Kazakhstan before he decides to return to the United States. This time, he brings his daughter with him to travel around the country with the ultimate goal of gifting her to Vice President Mike Pence. Much like the first film, which had the loose plot line of Borat trying to meet Pam Anderson, Borat 2 will likely see him finally meeting VP Pence toward the end of the movie. But until that happens, Borat will meet with and annoy plenty of Americans along the way. In one scene in the trailer, Borat quarantines with some conservative-seeming individuals, banging on the walls to try to kill the novel coronavirus. 
What's even more interesting are the few disguises we see Borat in throughout the trailer. Borat is one of the most recognizable movie characters of all time, so it makes sense Sacha Baron Cohen would need to change things up to get people to let their guards down in order to shoot the sequel movie. It seems as though Cohen has taken some cues from his Showtime series Who is America? to take on a variety of personas to gain greater access to more hilarious situations. 
Borat Subsequent Moviefilm: Delivery of Prodigious Bribe to American Regime for Make Benefit Once Glorious Nation of Kazakhstan will be released on Amazon Prime on October 23. In a tumultuous year with one crisis after the next, hopefully this film provides some much-needed reprieve where we can laugh at the horrors around us.