Enola Holmes Director On Helena Bonham Carter's Influence On The Film - Exclusive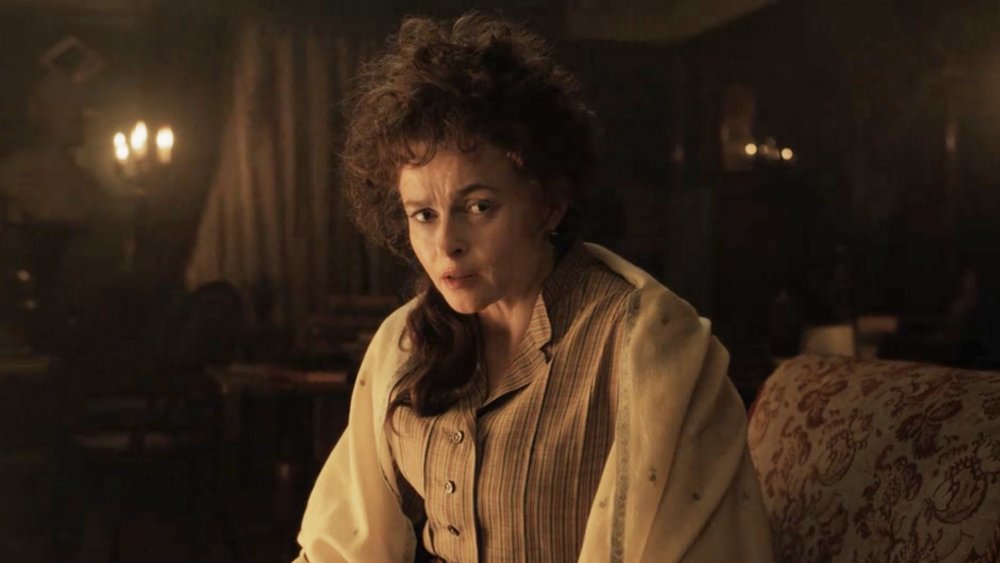 Netflix
There's no question that acclaimed actor Helena Bonham Carter commands your attention whenever she appears on screen, especially when her characters have an indomitable presence like the Red Queen ("Off with their heads!") in the Alice in Wonderland movies or Bellatrix LeStrange ("I killed Sirius Black!") in the Harry Potter film saga.
Bonham Carter's latest movie finds her on the flip side of the good-versus-evil paradigm, however, as Eudoria Holmes in the new Netflix movie Enola Holmes. Eudoria is the mother of famed literary detective Sherlock Holmes (Henry Cavill), his older brother, Mycroft (Sam Clafin), and the boys' 16-year-old sister Enola (Millie Bobby Brown). This time around, the baby of the family has to grow up fast and crack the case herself when the matriarch vanishes.
Enola Holmes is based on author Nancy Springer's The Case of the Missing Marquess, which is the first story in her best-selling Enola Holmes Mysteries book series. While Bonham Carter's role was designed to be smaller than her co-stars, Eudoria's presence looms large throughout the film with occasional flashback scenes — but mostly because of the indelible impact she leaves on the audience in the film's opening act.
Bonham Carter's undeniable screen power wasn't lost of director Harry Bradbeer (Fleabag), which is why the filmmaker shot more material of her when he and his collaborators "realized how strong she was from the previews." In an exclusive interview with Looper, Bradbeer shared that he wasn't intent on Bonham Carter playing an ordinary "mom" role, as it's clear from the beginning that it's Eudoria — not Sherlock or Mycroft — who's instilling Enola with a keen sense of sleuthing and sensibilities to make the right decisions in times of crisis.
"We realized how important it was to understand this extraordinary thing that [Eudoria] does. She's a complex person. She's not a soft mother. She's sort of a tiger mother in a way. She's really tough and she has high expectations," Bradbeer said. "[Off-screen], Helena as a person is utterly delightful. She and I had become great friends. We're constantly texting each other, particularly at the moment."
Lighting up the set with ideas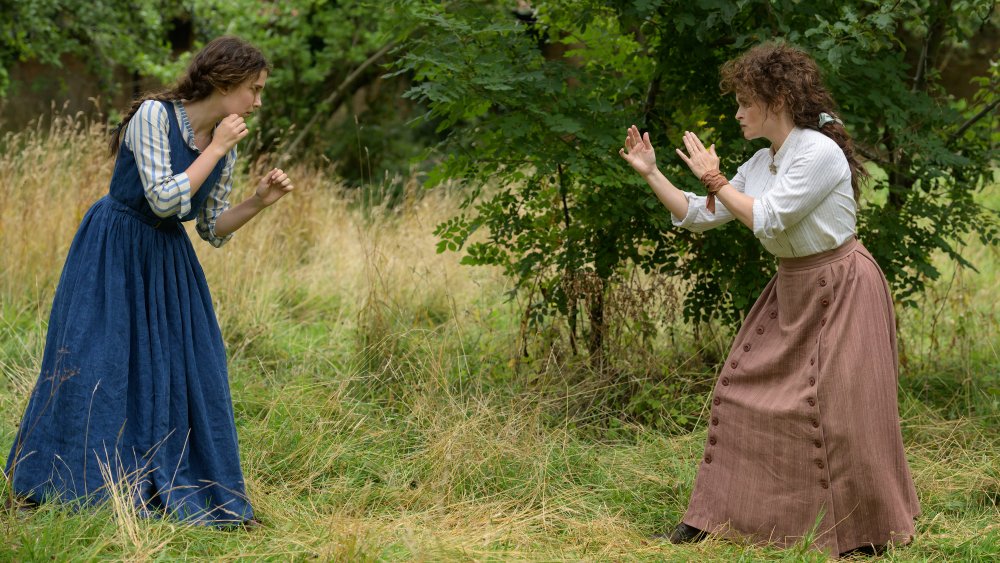 Netflix, Alex Bailey/Legendary
Bradbeer and Bonham Carter are in touch to celebrate now that Enola Holmes has finally reached the masses, but, as the director told Looper, the actor communicated her influence during the film's production as well.
"She has so many ideas. It was her idea that [Eudoria] smokes a pipe. She said she had the idea of this origin story for Sherlock, that there were some things that she had given to Sherlock. One was the pipe; one was using the magnifying glass when she's painting. That was another little addition, terrific ideas," Bradbeer enthused. "She says that she's always coming up with things, and some of them are crazy. There was one idea that was completely crazy and we didn't do it, but we did most things."
Bradbeer added that Bonham Carter did a lot more than offer ideas to bolster her already unique role. Enola Holmes also required Eudoria to have a particular set of skills to pass the art of hand-to-hand combat on to her daughter, and it was training, Bradbeer said, that Bonham Carter delighted in.
"She loved the fighting," the director shared. "She jumped into that. She dove into that."
Fans can catch Helena Bonham Carter in Enola Holmes, now streaming on Netflix.