The Cameron Diaz Comedy Everyone Is Watching On Netflix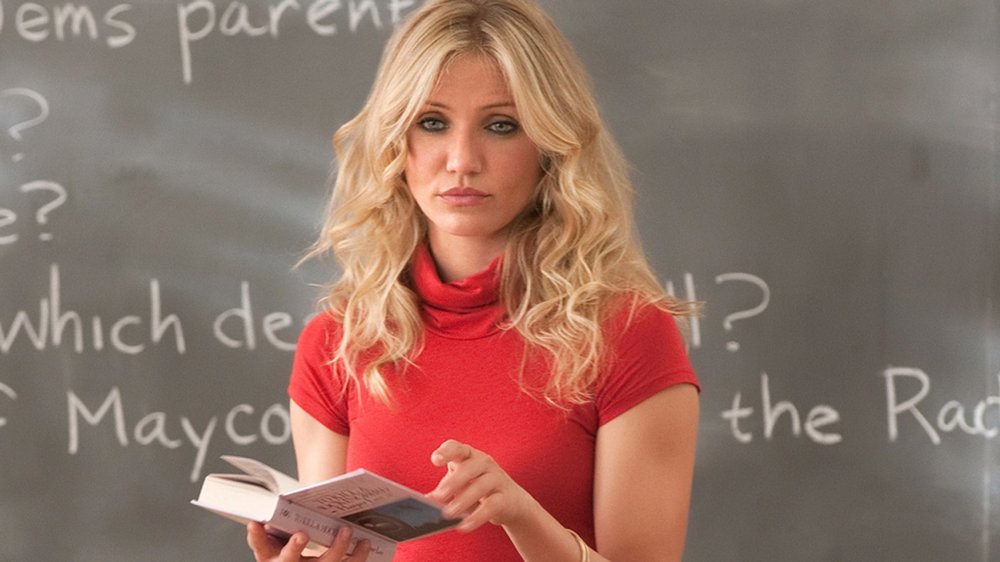 Sony Pictures
Cameron Diaz has made tons of hit movies over the years, and one of her edgiest comedies is currently crushing it on Netflix.
After breakthrough roles in comedies like The Mask and There's Something About Mary, Diaz became one of Hollywood's biggest stars in both comedy and drama — balancing blockbusters such as the Charlie's Angels reboot with hard-hitting existential dramas including Being John Malkovich and Scorsese epics like Gangs of New York. Diaz's versatility ultimately put her in high demand, and before long, letting this multi-talented performer headline films was a no-brainer. 
One such flick was the 2011 comedy Bad Teacher, which has made its way onto Netflix's Top Ten most-streamed movies in the U.S.
Cameron Diaz's dark side shines in Bad Teacher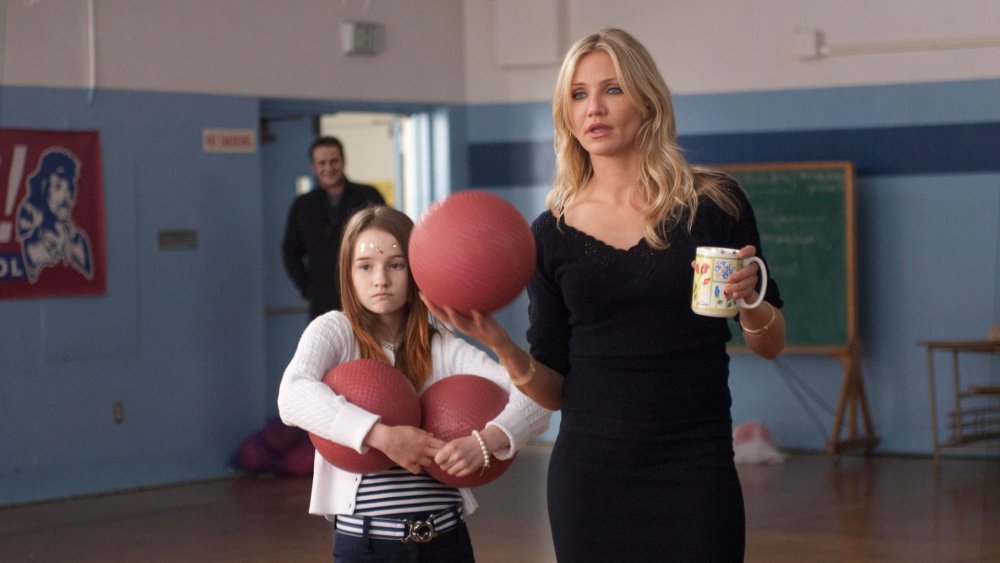 Sony Pictures
Diaz's comedic roles have largely relied on her big smile, overall charm, and effervescence — but director Jake Kasdan's Bad Teacher let the actress play a raunchy, dirty antihero who makes little to no effort to improve herself throughout the film, thus allowing Diaz to explore a new side of her comedic talents.
As Elizabeth Halsey, Diaz got to put her sweet "girl next door" persona on the back burner, playing a lazy, unmotivated, and often drunk middle school teacher in a Chicago suburb — who only pursued a career as a teacher in the first place so that she could have summers off. At the start of the film, her fiancé Mark (Nate Faxon) is financially supporting her, but he ends their engagement after his interfering mother (correctly) points out that Elizabeth is only with him for his money.
Left on her own, Elizabeth is barely scraping by, resolving to earn enough money for breast implants that she thinks will help her lock down a new rich boyfriend and solve her troubles. When she comes up short, she figures out a solution. After stealing money from the school car wash and tricking parents into paying her for "tutoring," Elizabeth realizes her school offers a teaching award to the instructor whose students produce the best performance on a yearly standardized test. Naturally, she figures out a way to steal the answer book and cheat the system.
Along the way, Elizabeth makes friends with Russell (Jason Segel), the school's gym teacher, and harbors a crush on Scott (Justin Timberlake), a cute new teacher who's dating Elizabeth's nemesis, the overly peppy Amy (Lucy Punch). Despite Amy's valiant efforts, Elizabeth bests her at every turn, seducing Scott and winning the teaching award. 
In the end, Elizabeth suffers no consequences for her actions, even getting a date with Russell after all is said and done. Elizabeth is despicable, but she's also hilarious, and after years of celebrating male antiheroes, it's pretty fun to watch a woman step into this kind of role.
Bad Teacher was one of Cameron Diaz's final films
Brad Barket/Getty Images
Diaz is a blast to watch in Bad Teacher, but sadly, the comedy flick was one of the last films the actress made before she retired from her performing career. 
After headlining Bad Teacher, Diaz starred alongside Leslie Mann and Kate Upton in 2014's The Other Woman, then reunited with Jason Segel for Sex Tape. Ultimately, her final film role came at the end of that year with the film adaptation of the musical Annie, in which she played the cruel orphanage director Miss Hannigan. 
While audiences across the world definitely miss seeing Diaz on the big screen, she's been pretty clear that she has no interest in returning any time soon. In an August 2020 interview with Gwyneth Paltrow for her "In goop Health: The Sessions" series (via CNN), Diaz opened up about her decision to quit acting. 
"I just decided that I wanted different things out of my life. I had gone so hard for so long — working, making films — and it's such a grind," she said. "I didn't really make any space for my personal life." Apparently, quitting acting also gave Diaz an enormous sense of relief: "I got a peace in my soul. I finally was taking care of myself."
In the years since, Paltrow has written multiple bestselling books about health and body positivity, and in 2020, she launched her own natural wine brand, Avaline, with her friend and business partner Katherine Power. We may not see Diaz in a new movie any time soon, but in the end, this talented performer made the best decision for herself, and her films will always be there to enjoy for years to come.