Lucky Yates Talks Archer, Homestar Runner And Puppeteering - Exclusive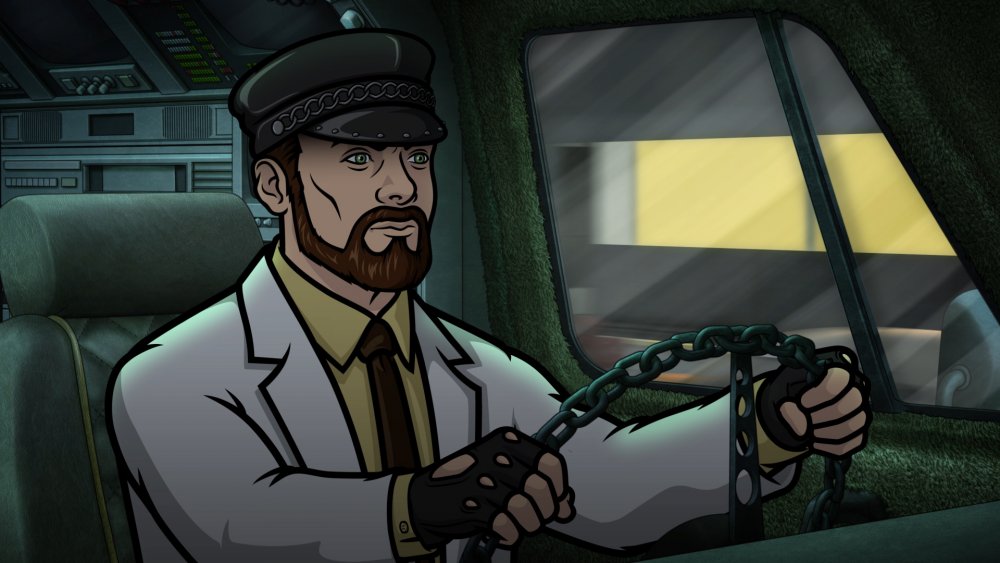 FXX
When Looper talked with Lucky Yates, known as the voice of Dr. Krieger on Archer, our main focus was obviously the new season of the animated spy comedy. In addition to all the good tidbits on Krieger's future, though, we discussed Yates' history with the role — as well as his time in puppetry and his connection with a classic web cartoon.
Yates says that if Archer creator Adam Reed had approached him during development and given him a chance to choose which character to voice, "I would pick Krieger naturally. I am completely drawn." Character and performer mesh on a deep level — at least, as deep as Krieger can get. "I love science as it is, but then I really love super science. He's the weirdo. He's in and out with jokes and then he disappears, and I love that." 
Yates is drawn to the mystery of Krieger, and how "he lives in squalor, but he's getting paid." The actor's favorite Krieger moments tend to be the strange ones that leave a few questions unanswered, like when Pigley III ate the corpses of North Koreans or when aliens taught Krieger and Pam the secrets of the universe at Area 51.
In addition to providing the voice of Krieger, Yates was also the face and body model for Ray Gillette. Understandably, he says that "it's the weirdest thing in the world watching my voice talk to my face, and they're two different guys." Both Ray and Krieger were meant to be minor, possibly one-off characters. The designers realized that Ray looked like Yates from the late '90s, when he "only had a mustache and wore vintage suits everywhere," so they brought him in to model for the character. Then both became important characters, which is a coup for Yates: " If there's ever a series of action figures, I get two!"
Puppetry, Oscar the Grouch, and Homestar Runner
Lucky Yates got his start in puppetry, which remains his "favorite form of art and performance." He credits it with helping his voice acting career, saying that having to express himself with static figures made him "used to using my voice to emote things more than your typical screen actor." He was part of the "B team" of puppeteers for 1999's big-screen Sesame Street outing The Adventures of Elmo in Grouchland, working alongside legends like Caroll Spinney as Oscar the Grouch. He called it an "amazing experience" and he's grateful "it's still throwing me a couple of bucks a year" in residuals.
It's because of his puppet work that Archer isn't the first time Yates has been involved in an animated institution based out of Atlanta. He also had a big hand (puppet joke intended) in Homestar Runner. He calls Homestar creators the Brothers Chaps "two of my best friends," and offers effusive praise. He describes them as "two of the most delightful and friendly and kind humans I've ever met in my life," whose real life appearance as "quiet, unassuming dudes" clashes with their "outrageously hilarious" personalities.
Yates built the Homestar puppet, used for frequent diversions from the series' usual cartoon format. The puppet itself, still in use today for HR YouTube videos, has since been fixed up by another puppeteer, though Yates says "the bones are still mine in there." He also helped build puppets of Strong Bad, Marshy, and Doreauxgard — the last of which is the cantaloupe on a stick that existed for one Strong Bad email and was turned into a puppet "for some reason." Outside of puppetry, Yates also made an appearance in the live-action Peasant's Quest trailer as a knight.
Catch the newest episode of Archer on Wednesday, September 23rd at 10 PM ET on FXX, and stay tuned for more exclusive Archer coverage at Looper.