The Action Packed Series That's Thrilling Dinosaur Fans On Netflix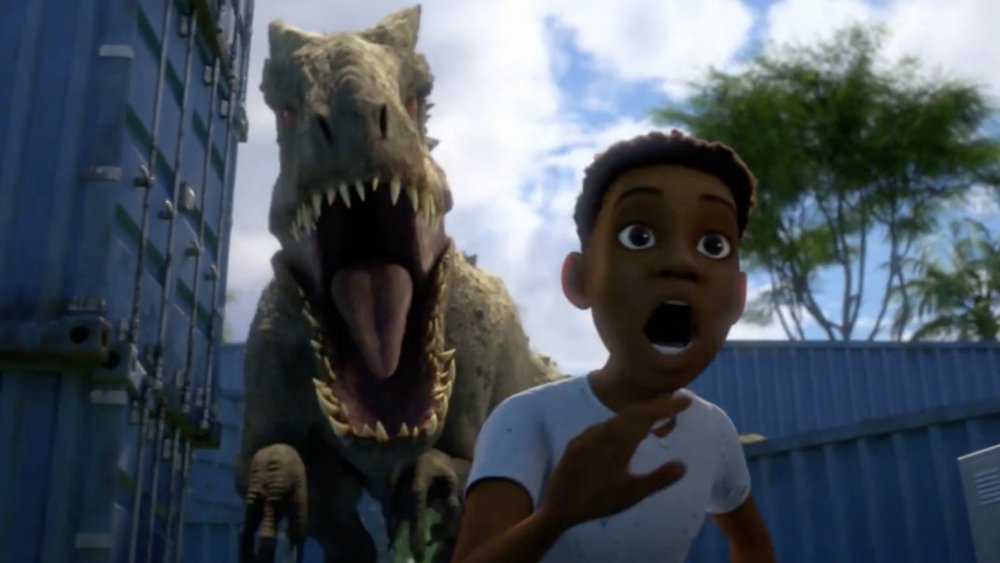 Netflix
It's been nearly 30 years since Hollywood's love affair with dinosaurs broke through to the mainstream, thanks to Steven Spielberg's 1993 classic Jurassic Park. The film was a massive success with moviegoers and critics, helping to cement its legacy as one of the 20th century's defining pieces of media, and it still holds up to this day. Aside from its two direct sequels, the first Jurassic Park also spawned a spiritual successor in the highly successful Jurassic World series that brought the wonder and awe of these prehistoric lizards to a new generation.
The two Jurassic World movies released so far, 2015's Jurassic World and 2018's Jurassic World: Fallen Kingdom, collectively grossed nearly $3 billion at the worldwide box office and reignited pop culture fascination with dinosaurs. As a result, fans new and old are patiently yet eagerly awaiting the release of the third installment in the trilogy, titled Jurassic World: Dominion. Until that film hits theaters in 2021, though, Netflix has unveiled a brand-new exclusive series that will give future moviegoers their dinosaur fix, for the time being. 
The best part? They won't have to leave the comfort of their own home, or the Jurassic Park universe, to enjoy it. 
Jurassic World: Camp Cretaceous is for dinosaur fans of all ages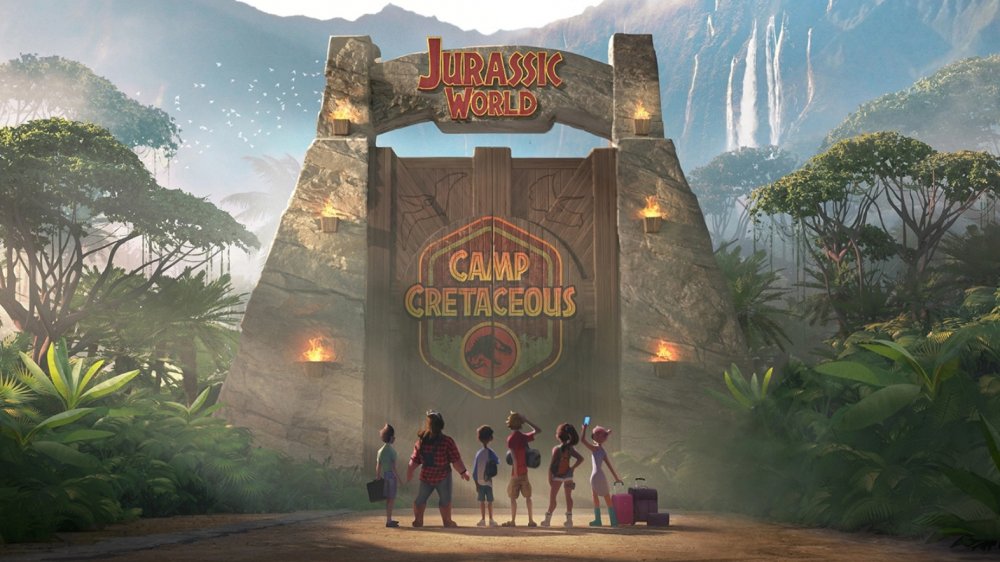 Netflix
After dominating the big screen for many years now, the Jurassic Park franchise is starting to expand into the television world, specifically through the medium of animation. On September 18, 2020, Jurassic World: Camp Cretaceous debuted on Netflix with eight 25-minute episodes suitable for viewers of all ages to binge. Set before, during, and after the first Jurassic World film, the series follows a group of six teenagers who were selected to take part in an adventure camp on Isla Nublar. However, their fun experience quickly turns into a game of survival as they end up abandoned on the opposite end of the island with many dangerous dinosaurs escaping their enclosures.
To make the series such a success, those behind the project assembled a cast abundant in both youth and experience. Names like Raini Rodriguez (Austin & Ally), Paul-Mikél Williams, Jenna Ortega (You), and Sean Giambrone (The Goldbergs), among others, lend their voices to this family-friendly chapter of the Jurassic Park continuity. Suffice to say, their hard work paid off, as evident by the largely positive reviews the program has received as of this writing. Camp Cretaceous is currently sitting at a pleasantly fresh audience score on Rotten Tomatoes, with many viewers hailing it as a worthy addition to the Jurassic Park canon.
Whether you're looking for a new show for everyone in the family to binge, or you're just a lifelong Jurassic Park die-hard craving your dinosaur fix, Jurassic World: Camp Cretaceous is right up your alley, and it can be streamed right on Netflix.