Fans Are Feeling Seriously Nostalgic Over This New Jurassic World: Dominion Set Photo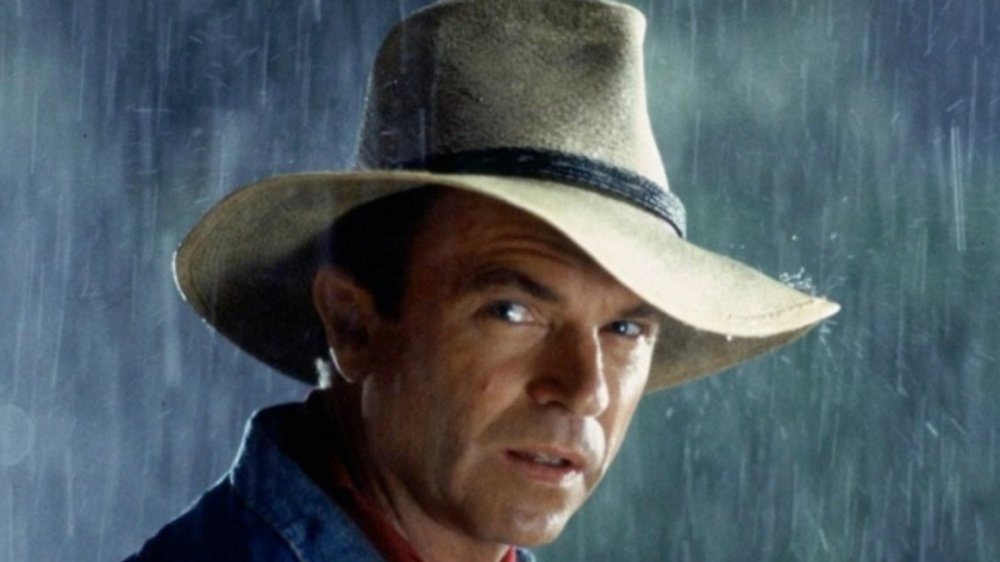 Universal Pictures
Dr. Alan Grant is about to return to a whole new World.
In case you haven't heard, veteran actor Sam Neill, who played the paleontology expert in the original 1993 classic Jurassic Park and its 2001 three-quel Jurassic Park III, is coming back — along with a couple old friends — to once again face down dino-dangers in the upcoming Jurassic World: Dominion. Recently, the actor posted a photo from the set of the film that has fans swimming in nostalgia: A shot of the battered hat that his character wore in the third Jurassic Park flick.
It seems tough to believe, but many major U.K.-based movie productions are beginning to ramp up again — with safety protocols in place, of course — as that country begins to get a handle on the novel coronavirus that has swept the globe this year. In late June, Neill spoke with ITV This Morning about how much he was looking forward to Dominion getting back on track.
"We are about to begin again, and I should be in the United Kingdom, all things being equal, in a couple of weeks. And we're gonna be at Pinewood [Studios in London] working under very strict protocols," the actor explained. "We'll be breaking new ground, in fact. I think we're the first big film to get back into production and it's going to be very interesting to see the process. I'm very excited about it. It's going to be a terrific film. I'm so much looking forward to meeting my old friends again" (via CinemaBlend).
Apparently, that has come to pass, and as excited as Neill is, we and millions of Jurassic World fans were even more excited to see his tweet, which was captioned simply, "Hello old friend." Check out the pic:
What else have the returning stars had to say about Jurassic World: Dominion?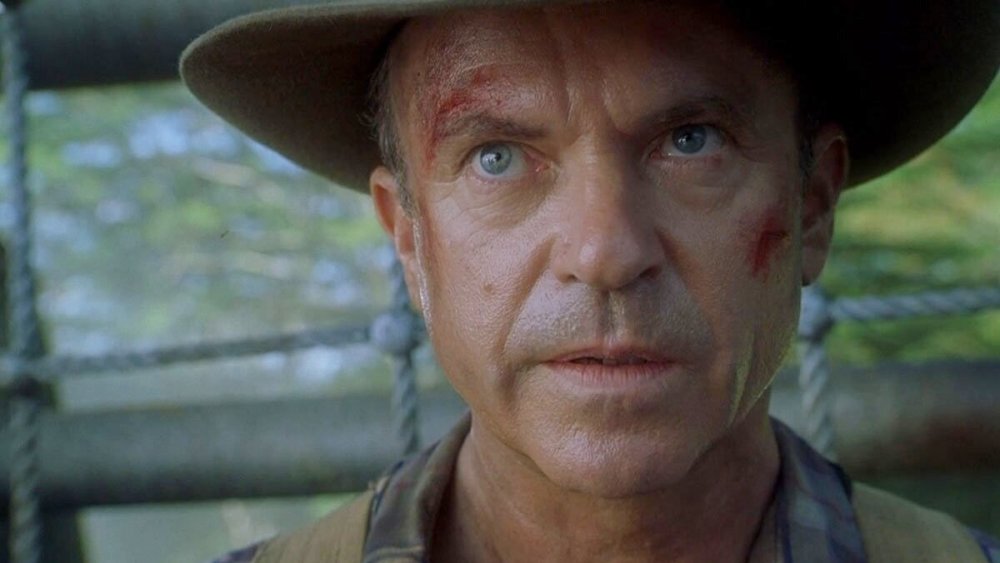 Universal Pictures
As we mentioned, Dr. Grant is bringing along two other familiar faces from the original Jurassic Park films: Laura Dern, who portrayed Dr. Ellie Sattler in the first flick, and the incomparable Jeff Goldblum, who played Dr. Ian Malcolm in the first two. If they are to be believed, their casting in Dominion is no stunt; Neill has said that the three characters will not be featured in cameo roles, but will appear "all through the film." In addition, Neill preceded his most recent tweet with one on August 2, in which he wrote, "Hold onto your hats — gettin' my old one back on this week, and facing off [with] dinosaurs once again. Best yet. Excited and terrified — these things will kill ya."
For her part, Dern is excited for Dr. Sattler to return during a time in which she won't be the only kick-ass woman taking up multiplex real estate. "I love Ellie Sattler and I have grown up with her alongside me," the star said in a recent interview with IMDb. "[There are] so many children and particularly young women who idolized and felt she was sort of one of their first feminist bad-ass action characters. I love the idea of seeing where she is now" (via ScreenRant).
Meanwhile, Goldblum zeroed in with characteristic laser focus on the practical when asked about Dr. Malcolm's return during a chat with ET Online. "I won't bore you with the details, but we're all going to be quarantined in a kind of a bubble, all the crew and all the cast. And testing and everything," the star explained. "We know it's a risky time, but we feel it's good. Sam Neill's there, and Laura Dern, and Chris Pratt, and Bryce Dallas Howard; Colin Trevorrow's directing, and there are gonna be some dinosaurs."
Well, that is certainly good to know, and it's also encouraging to learn that in this roaring squall of a year, the ship known as Jurassic World: Dominion has righted itself. The flick is currently slated for release on June 11, 2021.