Why The Good Place's Emmy Snub Has Fans Fuming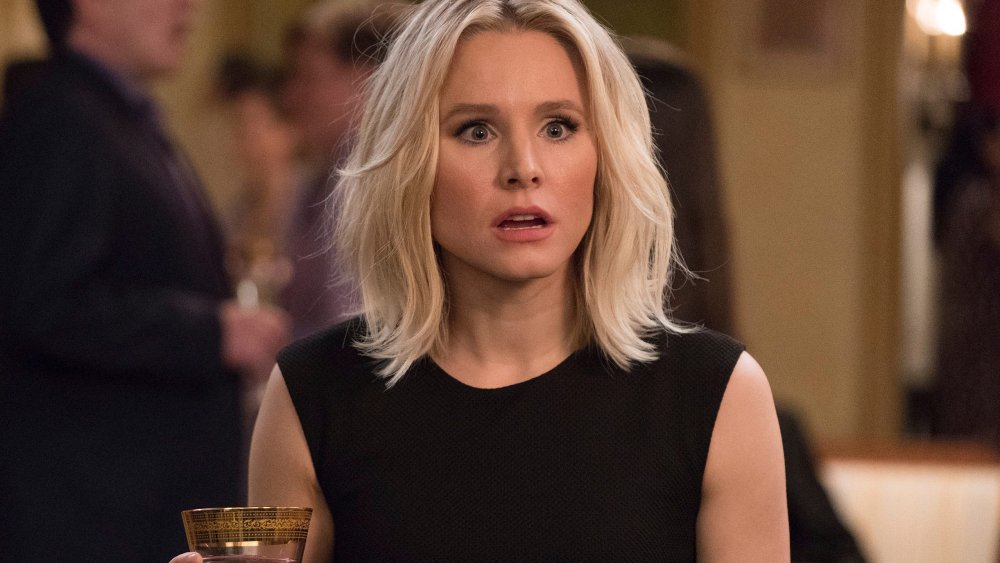 NBC
For fans of The Good Place, the 2020 Emmys may have looked more like the Bad Place.
After picking up six nominations — specifically for writing, several of its cast members' leading performances, and even one for Outstanding Comedy Series — The Good Place came up empty during the socially distanced, mostly virtual 2020 Emmy Awards that took place on September 20. Instead, another sweet, heartfelt, and hilarious series that ended its run this year, Schitt's Creek, absolutely dominated the Comedy category – winning every single major award and demolishing its competition right and left.
While Schitt's Creek (which, like The Good Place, ended its series earlier this year on a perfect high note) was certainly deserving of its accolades — putting aside how adorable it was to watch creator and star Dan Levy absolutely lose his mind every time the show won another award from the cast's Canada-set party — but it's still disappointing to see The Good Place left out in the cold. Created by Michael Schur of Parks and Recreation and Brooklyn Nine-Nine fame, this quirky, extraordinarily smart, and perfectly crafted afterlife comedy stuck its landing — but apparently, it wasn't enough to impress Emmy voters. 
Here's why The Good Place's many Emmy snubs have left fans fuming.
Fans of The Good Place are upset after Schitt's Creek swept the Emmys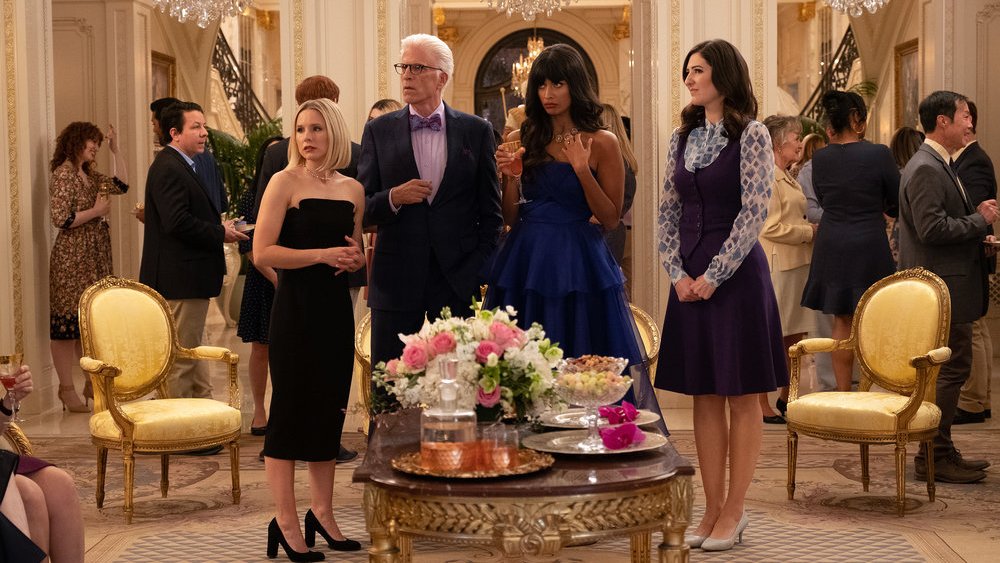 NBC
Though there's plenty of overlap between fans of Schitt's Creek and The Good Place, which share comedic DNA, it makes sense that ardent Good Place enthusiasts wanted to see their beloved series rewarded for its final season. Of course, other acclaimed comedies (including HBO's fantastic Insecure) were also left out of the Emmys gold rush that befell Schitt's Creek, they haven't yet ended, meaning there's still time for them to take home gold. The Good Place won't win any Emmys going forward.
The weight of this reality hit fans hard, and they took to Twitter to express their heartache and outrage. 
"Thinking about how the good place didn't win any emmys last night and just getting ANGRY," one user wrote. Another tweeted, in response to another post inquiring about whether Schitt's Creek is worth a watch, "I dunno, but I'm pissed off because The Good Place hasn't won a single Emmy."
Twitter user @theagathacelia shared her disappointment in a tweet that reads, "I'm also really sad for michael schur, kristen bell and the entire good place team — 4 seasons of incredibly insightful, quirky, and heartfelt philosophical comedy and all overlooked by the emmys voters."
Some of the Internet's pop culture experts also weighed in on Twitter to lament The Good Place's loss. BuzzFeed deputy director of breaking news David Mack tweeted, "I'm very happy for schitt's creek but I also feel bad for the team of the good place, which was one of the defining pieces of TV art of the trump era." Meanwhile, NPR fixture Stephen Thompson weighed in as well, saying, "I can't be mad about any of these Schitt's Creek wins; it's a wonderful show. But I *really* wish Michael Schur's script for The Good Place's finale had won. The degree of difficulty on that thing was remarkable, and he stuck the landing so hard."
Even critics who weren't crazy about The Good Place's final season, like Emily VanDerWerff of Vox, expressed their regret that the show went unrewarded. As she wrote on Twitter, "I was not a big fan of the final season of The Good Place (though I thought it was good!), but it winning no Emmys across its entire run is very disappointing!"
Despite their anger — and an influx of GIFs of Eleanor Shellstrop (Kristen Bell) yelling, "this is the bad place!" — most fans stayed classy, frequently complimenting Schitt's Creek.
The Good Place was a show unlike any other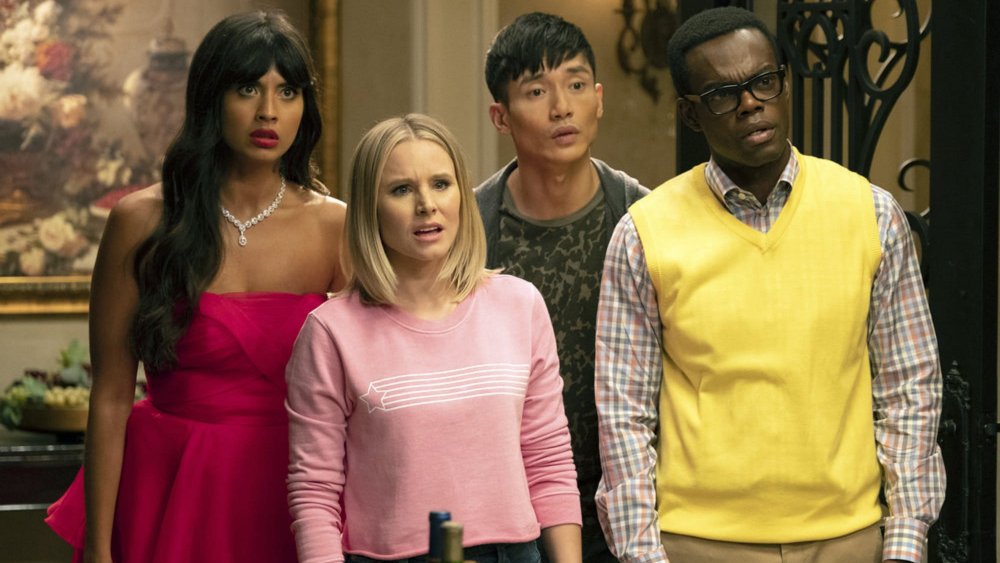 NBC
Perhaps the most disappointing aspect of The Good Place's massive Emmy loss is the fact that it was one of the most consistently weird, smart, and innovative television shows in recent memory. While Schitt's Creek's rags-to-riches narrative is familiar (Levy's series still packed plenty of surprises twists and punches, within reason), The Good Place –which audiences initially assumed was set in the "good place" version of the afterlife — was completely unique.
After mistakenly arriving in eternal paradise following her death, Eleanor, a self-professed Arizonan dirtbag, realizes something must be wrong and that she doesn't belong there. Eventually, she teams up with fellow dead humans Tahani Al-Jamil (Jameela Jamil), Jason Mendoza (Manny Jacinto) and Chidi Anagonye (William Jackson Harper) — along with all-knowing non-human Janet (D'Arcy Carden) and reformed demon Michael (Ted Danson) — to try to figure out why the afterlife isn't so idyllic after all. The Good Place is full of so many twists and turns that we won't spoil them here, but if you haven't seen the show yet, you have quite a journey ahead of you.
Ultimately, it's frustrating that Schur's series — along with Carden, Danson, and Harper, who were all nominated for their roles — never got to take home any Emmy gold. However, fans can rest easy knowing that the outcry over its Emmys loss means that this warm, clever show will remain a legend for years to come.
All of The Good Place is currently available to stream on Peacock.