Schitt's Creek's 2020 Emmys Prediction Actually Came True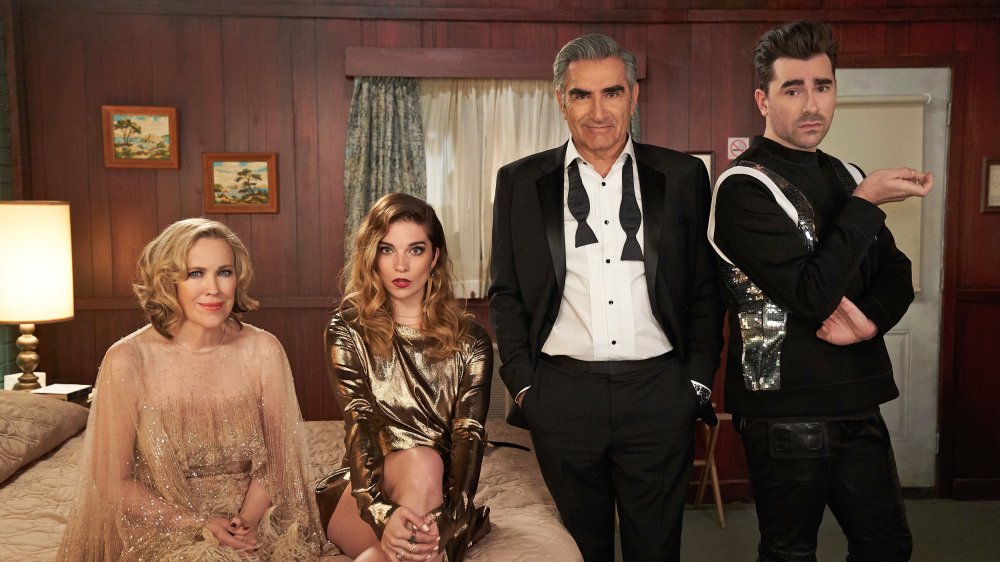 ITV Studios Global Entertainment
2020 has been a tough year for many, but it's definitely the year of Schitt's Creek.
At the 2020 Emmys ceremony, hosted by Jimmy Kimmel and appropriately socially distanced, this little Canadian sitcom pulled off an impossible feat. After six seasons and a cult following on Netflix, it was exciting enough that Schitt's Creek earned multiple Emmy nods in advance of television's biggest night. The story of the once-wealthy Rose family, who lose their entire fortune and are forced to live in a small town that they eventually learn to love, Schitt's Creek was one of the sweetest and funniest shows on television until it closed out its run in 2020, after six seasons.
Before the Emmys even began, the Schitt's Creek crew was optimistic — which makes sense, considering that the show scored a nomination for Outstanding Comedy Series, as well as nods for the entire core cast, including Catherine O'Hara, Eugene Levy, Annie Murphy, and creator and star Dan Levy. Just before the socially distanced ceremony got started, the official Schitt's Creek Twitter account posted a photo of several main cast members with the caption "and this will be our year," with music emojis surrounding the caption, referencing a song by The Zombies.
As it happens, this particular Schitt's Creek's tweet predicted the show's Emmy future. Here's how Schitt's Creek, the little series that could, ended up sweeping every major Comedy category at the 2020 Emmy Awards.
Schitt's Creek swept the major Comedy categories at the 2020 Emmys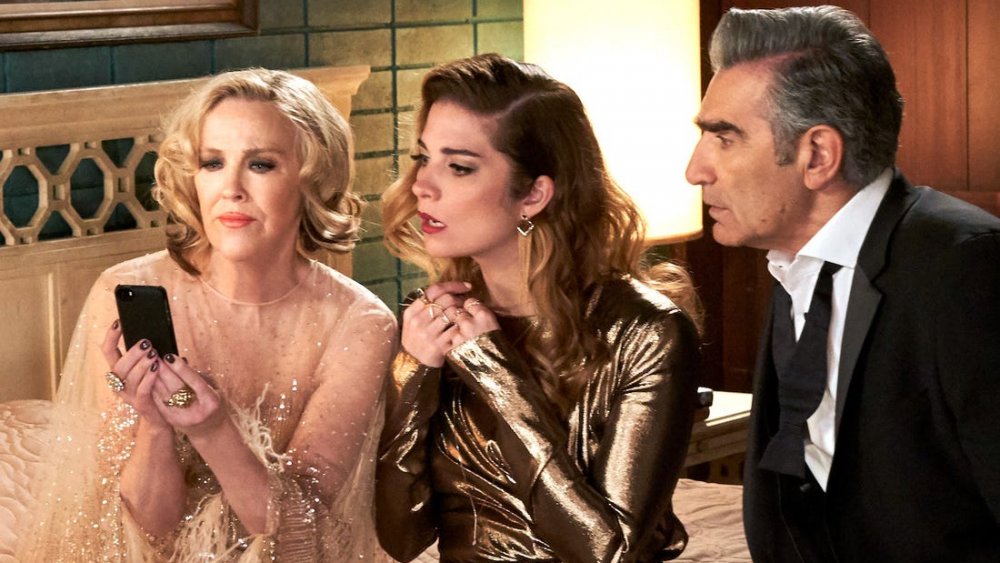 ITV Studios Global Entertainment
Schitt's Creek was up against some formidable competition in the Comedy categories, with newcomers like What We Do in the Shadows, and previous winners like The Marvelous Mrs. Maisel, taking up the other spots. Besides that, Schitt's Creek had to face off against The Good Place, another critically beloved comedy that closed out its run in 2020.
Despite its competitors, however, Schitt's Creek pulled off a full sweep of the major Comedy categories at the 2020 Emmys. During the first part of the socially distanced, mostly virtual 2020 Emmys ceremony, Schitt's Creek's entire cast — O'Hara, Murphy, and both Levys — won every single acting award in the Comedy categories, including Outstanding Actor & Actress for O'Hara and Eugene Levy, and the Supporting Actor and Actress categories for Daniel Levy and Murphy.
As if that wasn't enough, Dan Levy also picked up an Emmy for the show's series finale, "Happy Ending," which also won for Outstanding Directing for a Comedy Series, an award the younger Levy shared with his co-director Andrew Cividino. Finally, Schitt's Creek went on to win the night's biggest Comedy award, Outstanding Comedy Series, proving that this humble Canadian comedy could conquer the television landscape. When all was said and done, this comedy, which found a second life and a new fan base on Netflix, ended up winning every single major Comedy award at the 2020 Emmys. In case all of that wasn't enough, it ended up setting a record for the most wins, in a single season, for a Comedy series.
Schitt's Creek is available to stream on Netflix, so whether you've binged the series several times or are just getting started, you can relive this heartfelt series any time.