The Modern Western Yellowstone Fans Need To Binge On Netflix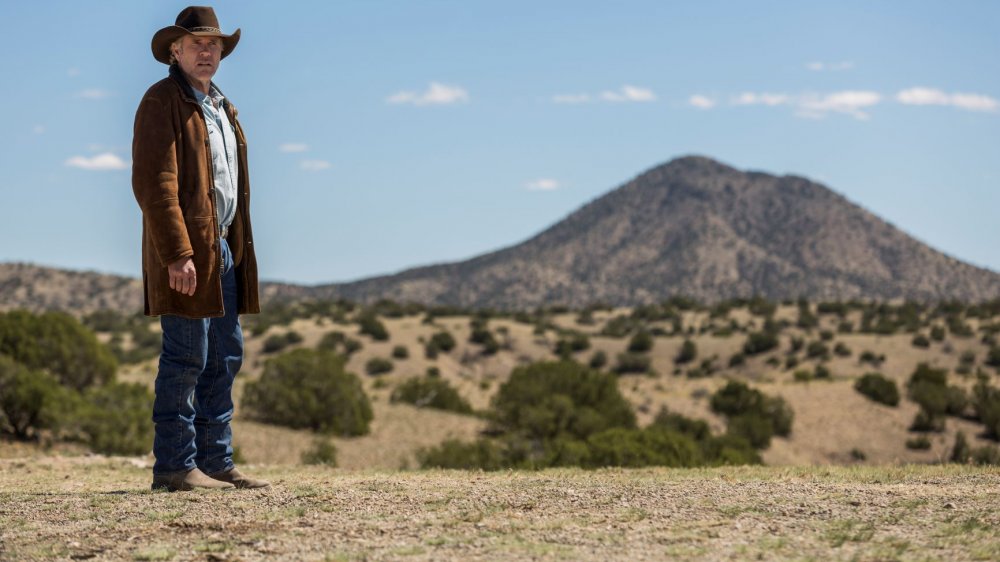 John Golden Britt / Netflix
The Dutton family's fight against land grabbers and big corporations has drawn in millions of viewers on Paramount's Yellowstone, making it the number one cable series on television, according to Deadline. Viewers are drawn in by the modern vision of the cowboy lifestyle as embodied by Kevin Costner's John Dutton, the long-suffering owner of a vast ranch in picturesque Montana. It's the rare show that manages to balance nostalgia for the American ideal of the Wild West with the harsh realities of modern life for ranch owners and workers. While there aren't many shows like Yellowstone on TV these days, there is at least one modern western on Netflix that Yellowstone fans need to binge: Longmire.
Airing from 2012-2017, Longmire once held the distinction of being a top-rated cable TV series, but when the western crime drama was abruptly canceled by A&E in 2014, Netflix swooped in and saved it. Ultimately, the show ran for six seasons, during which time Sheriff Walt Longmire (Robert Taylor) investigated shocking crimes against the backdrop of rural Wyoming. He had help along the way, primarily from his friend Henry Standing Bear (Lou Diamond Phillips) and deputy Vic Moretti (Katee Sackhoff), a former Philadelphia homicide detective.
Much like Yellowstone's John, Walt is a man out of time. He adheres to a system of justice and morality that is best embodied by the heroes of western movies like John Wayne and Clint Eastwood. But the world he lives in, and the crimes he's tasked with solving, are much harsher than the ones depicted in the movies. As a result Walt, like John, must often compromise his own values or confront the reality that by clinging to his stringent code, he may be missing out on a better way of getting his job done, as often demonstrated by Vic and Henry.
With its complicated, aging hero and beautiful western locale, Longmire is the perfect show to get you through the wait between seasons of Yellowstone. Need more convincing? Read on to find out why these two modern westerns make a great pair.
Longmire is steeped in the grit and wildness of life in the rural west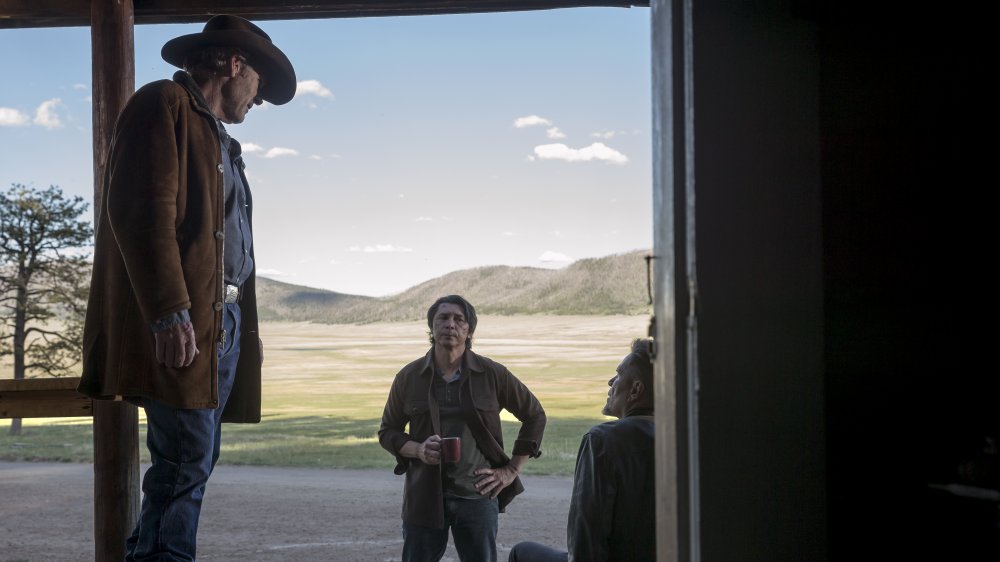 John Golden Britt / Netflix
Corruption runs rampant in Yellowstone's vision of Montana, and in Longmire's take on Wyoming, but both series highlight the beauty of nature, even as that beauty is marred by the ugliness of the humans who live amongst it. The central conflict in Yellowstone is the struggle to preserve the expansive Dutton ranch — and by extension the way of life that accompanies it — but Walt's task is even more daunting. His goal is to bring law and order to Absaroka County, a place that's prone to underhanded political dealings and heinous crimes.
The violence on Longmire can be shocking at times. Walt deals with murders, navigating the bounds of his jurisdiction with that of the local Cheyenne tribal reservation, and dealing with the effects of an influx of drugs has had on the county's citizens. Add in the painful, ongoing murder investigation of his wife, and Walt simply can't catch a break.
Still, like John, he carries on, because he believes in his mission to bring justice to a place that most of America has forgotten about. In a 2017 interview with Cowboys & Indians magazine, Longmire executive producer Hunt Baldwin explained why Walt is such a compelling character for viewers to root for. "There's a kind of nostalgia for an older type of hero that westerns bring out in a lot of people's minds," Baldwin said. "I think it's one of those things that people are kind of hungry for. Like I said: a real old-school hero. Not one who relies on modern technology. One who relies on his own memory, his own knowledge of the people and the place where he lives. And his perception of humanity, and his intelligence. And his sort of bedrock decency."
You'll get lost in Longmire's ongoing mysteries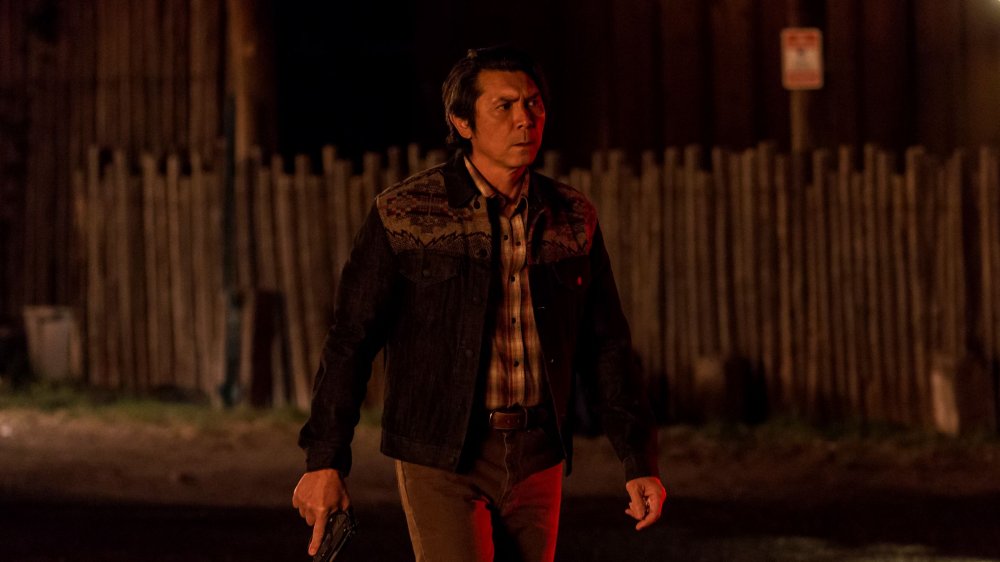 John Golden Britt / Netflix
Yellowstone does a terrific job of constantly raising the stakes both in terms of family drama and the larger fight for the ranch. Likewise, Longmire isn't a typical procedural moving from one case of the week to the next without any ongoing threads. Instead, the show introduces a number of mysteries and storylines that will keep you coming back for more including the question of who murdered Walt's wife and why, the growing tension between Henry and Walt as Henry begins to take justice into his own hands, and the will-they-won't-they romance that emerges in Walt and Vic's dynamic as the series goes on.
Over the course of the series, Walt is beset on all sides by people who would be better served if he was stripped of his sheriff's badge. As a result, he deals with being set up for a crime he didn't commit, having his tactics investigated, and attempts on his life. Being the sheriff of Absaroka County becomes more dangerous with every passing episode — and more intriguing, too.
Longmire's characters are richly layered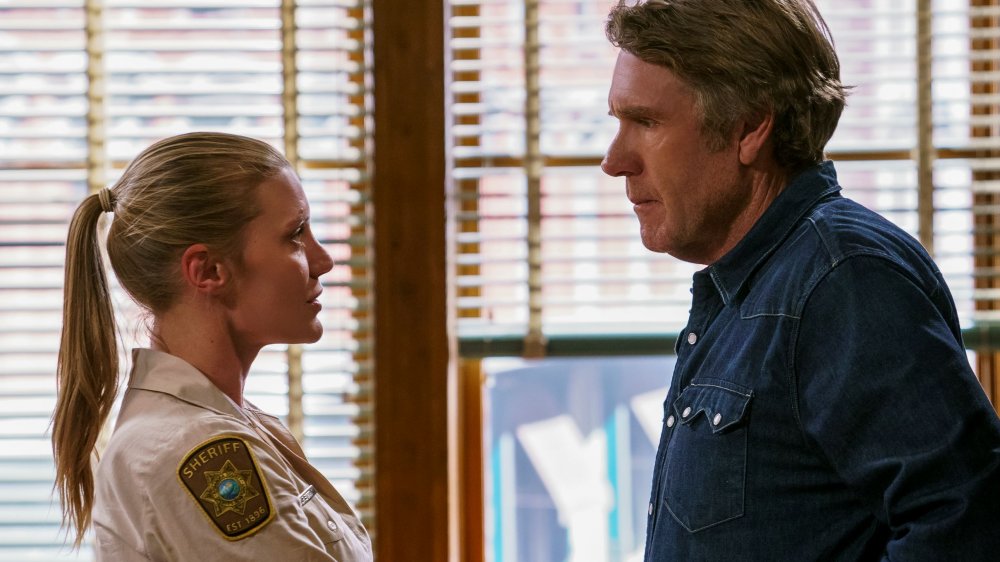 Ursula Coyote / Netflix
The key to a good drama is fascinating characters that make viewers want to invest in them. Yellowstone excels in that department, whether it's John's old school approach to running his domain or ranch hand Rip's ongoing on-again, off-again romance with John's daughter, Beth. Luckily, Longmire is Yellowstone's equal in that department.
Even though the story centers on Walt, whose heartbreak over his wife's death is palpable from the first episode, every character is richly drawn. For instance, Henry is a rare Native American character who isn't a stereotype. He's driven by a need to make life on the reservation safe and nurturing for the people who live there, but the lengths to which he's willing to go sometimes put him at odds with Walt. While their friendship is strong, it's also fragile, as they both have their own ideas about what it means to be just.
Then there's Vic, the show's most prominent female character. Vic's story begins as a classic fish out of water tale, as she adjusts to moving to Wyoming from Philadelphia. As the series progresses, her crumbling marriage, growing bond with Walt, and secrets surrounding why she left her old post all weave together to create perhaps the show's best arc.
Longmire's unique blend of character-driven drama, mysteries, and old west values makes it an addictive series for anyone to watch, but Yellowstone fans in particular won't be able to look away.