Archer Actress Dishes On Her Favorite Fan Moments - Exclusive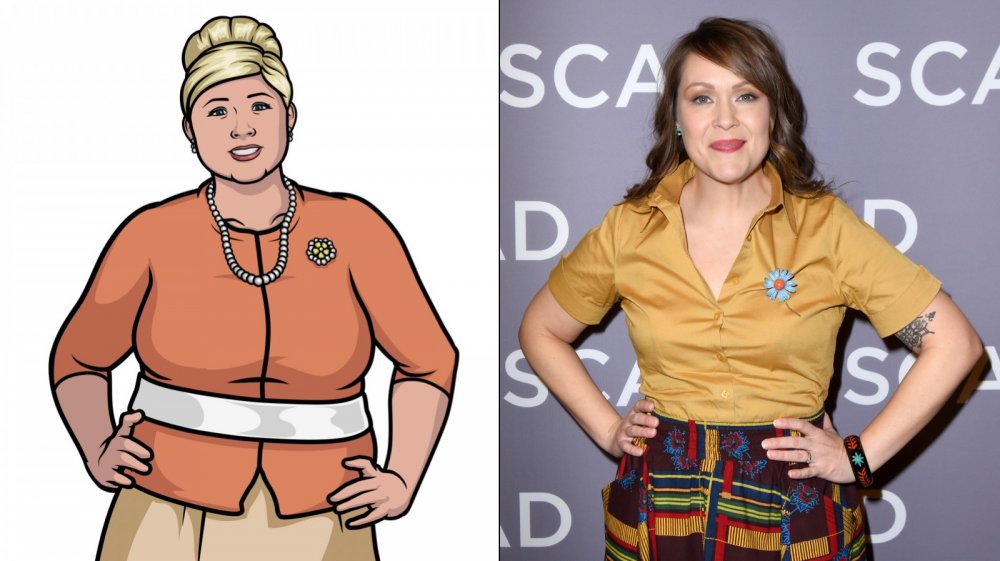 FXX, Vivien Killilea/Getty Images
Just in time for the recent premiere of Archer season 11, Looper spoke with Amber Nash, the voice of Pam Poovey, about her character and the new season of Archer. During our conversation, we took some time to ask Nash about her interaction with fans. 
Archer fans are a passionate bunch, and Nash gets to interact with them a fair amount at cons and Archer Live events — at least when there isn't a pandemic. She often tells the story of meeting a male Pam cosplayer and how it was funny, emotional, and downright impressive. We asked for other memorable fan interactions, and she gave us a real gem.
Nash sets the scene: a small con in Portland, Maine – likely PortConMaine PortConMaine in 2015, as she and Lucky Yates, who voices Dr. Algernop Krieger on Archer, were guests at that con.
"Everything was at this one hotel," she recounts, "and it was after hours. All the booths were shut down, but people were still staying at the hotel, so they were walking around, and Lucky and I were looking for a place to get a drink." 
As she tells it, a guy and his girlfriend, clearly fans of Archer, walked up to them. The guy asked Yates, "Hey, will you sign my girlfriend's butt?" Nash says she then chimed in, telling the guy, "Only if I get to sign your butt." The guy agreed. Nash shares, "And so I signed his butt, and Lucky signed her butt, and it was like, 'Well now we're all friends forever.'" 
Nash calls it a "great" con story, but adds, "Just be glad you weren't there."
Fans, social media, and cosplayers
Nash often interacts with Archer fans on social media — largely on Instagram as of late, but occasionally on Twitter as well. "People are so supportive," she says of her fans, adding that talking with them has "always been so fun, and I've actually made some good friends through Twitter." One such friend got an invite to an Archer event.
In the same vein, Nash admires Archer cosplayers, and she especially appreciates the ones who go all out and get "the hard black lines in their makeup and on their costume" to simulate the series' art style. Of course, there are plenty of ways to cosplay — and one of the best Pam cosplayers out there is Sara Tanguay, who Nash met through Twitter and at DragonCon in Atlanta. "She's really well known in the cosplay community," says Nash of Tanguay, "because she's so good."
During Archer season 10, Nash and Yates co-hosted Archer After Hours, an after show broadcast on Facebook following select episodes. It was a casual talk show set up like an after party, and the two spoke with Archer cast and crew members while taking time to highlight fans, cosplay, and crafts. Nash "invited [Tanguay] to be on the show, and it was such a cool opportunity for stuff like that to happen." Tanguay got to show off her cosplay, made from scratch, which included a working Schützenmeister machine.
Catch the newest episode of Archer on Wednesday, September 23 at 10 PM ET on FXX. Stay tuned for more exclusive Archer coverage on Looper.