We Finally Understand Why Elf 2 Won't Ever Happen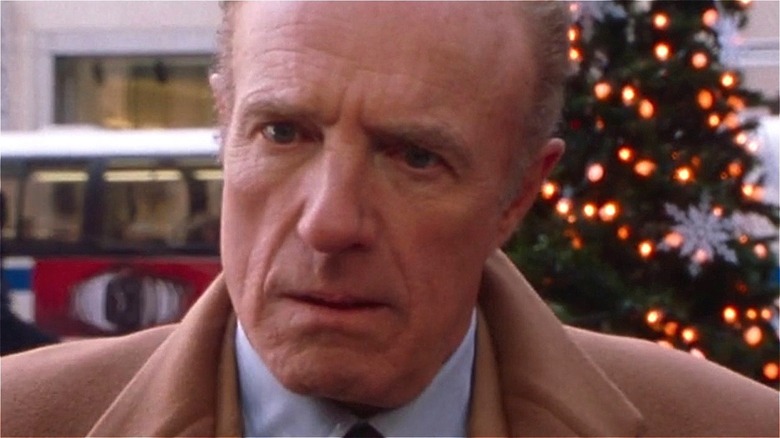 New Line Cinema
Comedy legend Will Ferrell's career has had its share of ups and downs, but when it comes to New Line Cinema's Christmas comedy "Elf," the actor and comedian delivered some serious holiday cheer. 
Directed by Jon Favreau and written by David Berenbaum, the 2003 film quickly became a hit among critics and audiences for its blend of endearing goofball humor, as evidenced by its 84% critical score and 79% audience score on Rotten Tomatoes. The movie stars Ferrell as Buddy, a human accidentally transported to the North Pole when he was just a baby, who now works as one of Santa's helpers among his army of elves. After discovering who he really is one Christmas, Buddy heads to New York City to meet his biological father to equal-parts funny and heartwarming results. 
Now somewhat considered a Christmas classic, the cast includes Hollywood icons Ed Asner and Bob Newhart, who star as Santa and Buddy's adoptive elf father respectively, Zooey Deschanel as Ferrell's love interest, Mary Steenburgen as Buddy's stepmom, and Daniel Tay as his stepbrother. The part of Buddy's biological father is played by the incomparable James Caan. The movie's mix of messages around family, hope, coming of age, and the enduring power of Christmas has inspired impassioned calls for a sequel for years, yet it's never happened. 
James Caan revealed he almost turned down the original role
Thanks to a 2020 interview with Caan, the reason we'll likely never see an "Elf" sequel is much clearer. According to "The Godfather" and "Misery" actor, tension and personality clashes between the film's star, Ferrell, and Disney's new favorite director, Jon Favreau, is why fans will probably never see the beloved cast reunite on the big screen.
"The director [Jon Favreau] and Will didn't get along very well," Caan explained. "So, Will wanted to do it, he didn't want the director, and he had it in his contract — it was one of those things," Caan said in an impromptu interview with local radio show 92.3's "Bull and Fox."
Caan revealed the fate of the "Elf" sequel after his assistant, who is from Cleveland, called into "Bull and Fox" to discuss the NFL team the Browns' most recent win. The actor eventually joined the conversation, sharing that not only did a sequel almost happen, but he was ready to sign on — a major shift from his reluctance to appear in the first film.
Caan told 92.3 sports talk radio hosts Adam "the Bull" Gerstenhaber and Dustin Fox that he initially turned down Ferrell's request that he star in "Elf" as his father. "Will called me one night and said, 'Jimmy, want to do this picture with me?'" Caan explained. He replied to the request in the negative at first, saying, "Listen, Will, I love you, you're a funny guy, but I'm not doing a picture called 'Elf,' okay?" 
Caan said he negotiated to change the film title to "Elk" on the working scripts as a condition of his casting. "I said, 'I'll tell you what, if you put a K on the end of it — like just through the working scripts ... then I'll do it,'" Caan said before adding, "It was great fun with Will. He's a great guy."
Despite his hesitance from the first movie, Caan really wanted to do a sequel
Following the Christmas film's success, the Las Vegas actor shared that, while its two biggest creatives may not have been ready for a sequel, he definitely was. "We were gonna do it, and I thought, 'Oh my god, I finally got a franchise movie, I could make some money, let my kids do what the hell they want to do,'" Caan said. "Elf" may not be a franchise, but we're guessing Caan's kids are doing just fine.
It may not just be personality clashes behind why we haven't seen an "Elf 2." Both Favreau and Ferrell also keep pretty busy, with the director attached to several Disney projects including Season 3 of "The Mandalorian," while the "Saturday Night Live" alum continues his on-screen work in surprise hits like "Eurovision Song Contest: The Story of Fire Saga" as he juggles producing obligations on projects like "Succession," "Dead to Me," "Hustlers," and "Booksmart."
Sadly, it seems like the odds of an "Elf 2" occurring just got even lower. James Caan tragically passed away on July 6, 2022. Caan's straight man to Ferrell's insane man-turned-elf was a big reason why the film was so hilarious and touching, and it's hard to imagine anyone else occupying his role. It appears "Elf" is destined to be a one-and-done-type project, and at least fans can take solace in knowing all the right puzzle pieces came together at one place in time to deliver a genuine Christmas classic.