The Karate Kid Moment That Could Hint At Cobra Kai's Ending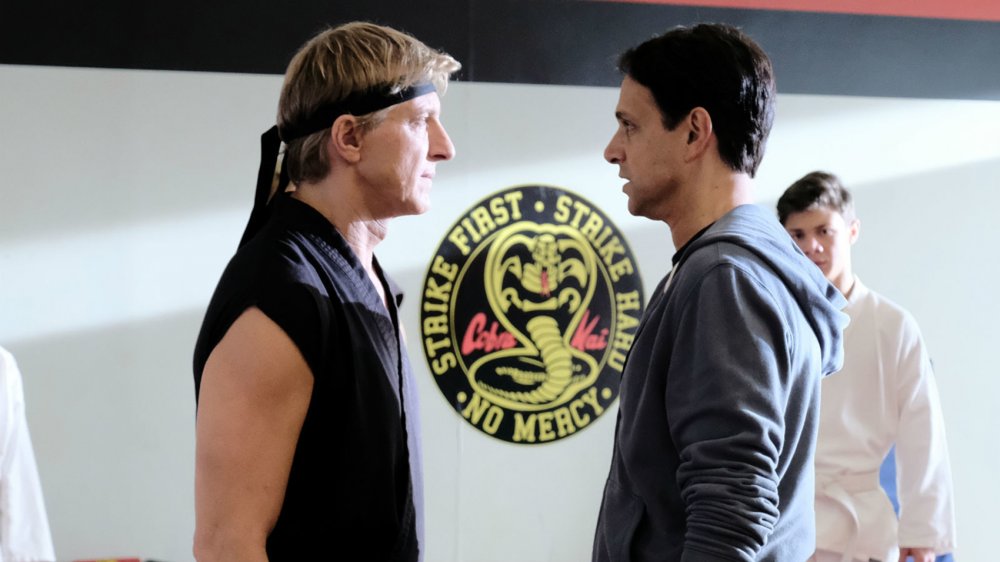 Netflix
Easily YouTube Red's most successful original program, Cobra Kai carries on the legacy of the original Karate Kid movie franchise for new audiences and longtime fans alike. Viewers were initially very responsive to the show and continue to support it, which brought on a jump from YouTube Red to Netflix and a steady flow of new episodes for the foreseeable future. Still, for as popular as the series became, it can't run on forever; eventually, the feud between Daniel LaRusso (Ralph Macchio) and Johnny Lawrence (Billy Zabka) will have to end, for better or worse.
With Cobra Kai on track for its third season, fans are beginning to wonder how the martial arts drama will wrap up when the time comes. As of this writing, there's been no official word on when the finale will drop on streaming, and the show's story is still going full steam ahead, so how Daniel and Johnny's decades-old rivalry will finally resolve itself remains a mystery for the time being. However, when looking to other Karate Kid media for clues, there's a lot to speculate on should the series use the past to influence its future. One of the most important scenes from the end of the first film may hold the key to how Cobra Kai will inevitably end.
Johnny makes peace with Daniel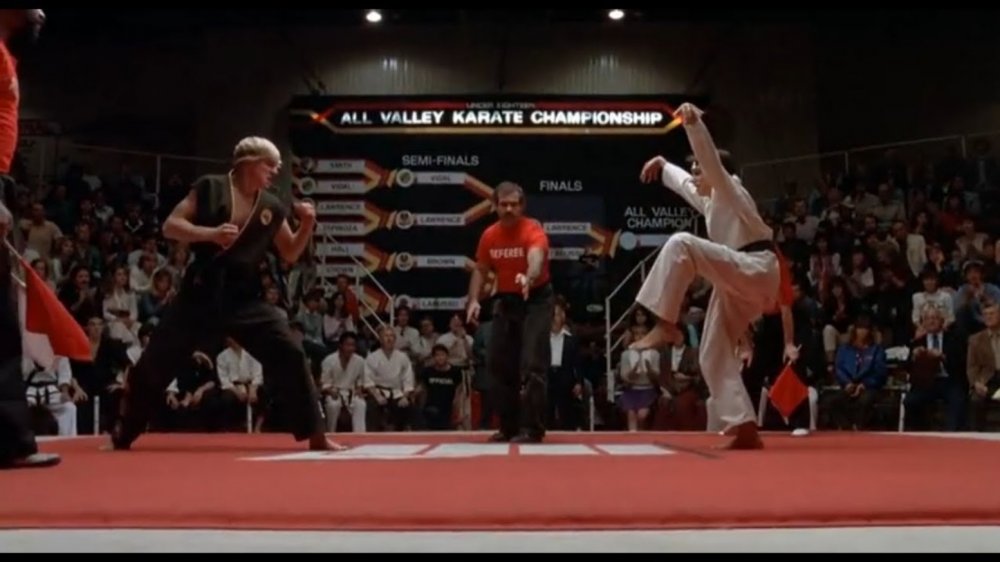 Columbia Pictures
After their intense bout at 1984's All Valley Under-18 Karate Championship in The Karate Kid, Daniel ultimately came out victorious over Johnny and, by proxy, the rest of the Cobra Kai dojo. Even in the face of defeat, Johnny maintained a certain amount of respect for his opponent, telling him, "You're alright, LaRusso. Good match," before handing him off the trophy. This was a huge character moment for the supposed antagonist of the movie, not allowing the immoral practices of Cobra Kai to get the best of him.
In an August 2020 interview with Collider, Johnny actor Billy Zabka described it as one of his proudest moments in front of the camera. He explained that the scene was incredibly important to him, especially because he'd known Johnny's change of heart was in the works from day one. 
"It was very much a cathartic moment for me, as an actor, to let that go, because that was the true heart of Johnny Lawrence," he said, recalling the excitement of the shoot and the emotion that came with it. 
Should Cobra Kai end with Johnny and Daniel finally putting their past behind them, a gesture similar to this one would be more than befitting of both characters. Their mutual respect for one another would prevail in a peaceful, poetic moment that bookends their saga perfectly. Besides, it's not unlike the show to mirror its source material, just as it did on the season 1 episode "Mercy" and the season 2 episode "No Mercy." Calling back to the end of Karate Kid for Cobra Kai's last episode certainly isn't out of the question.