Chris Evans Explains Why Processing Chadwick Boseman's Death Is So Tough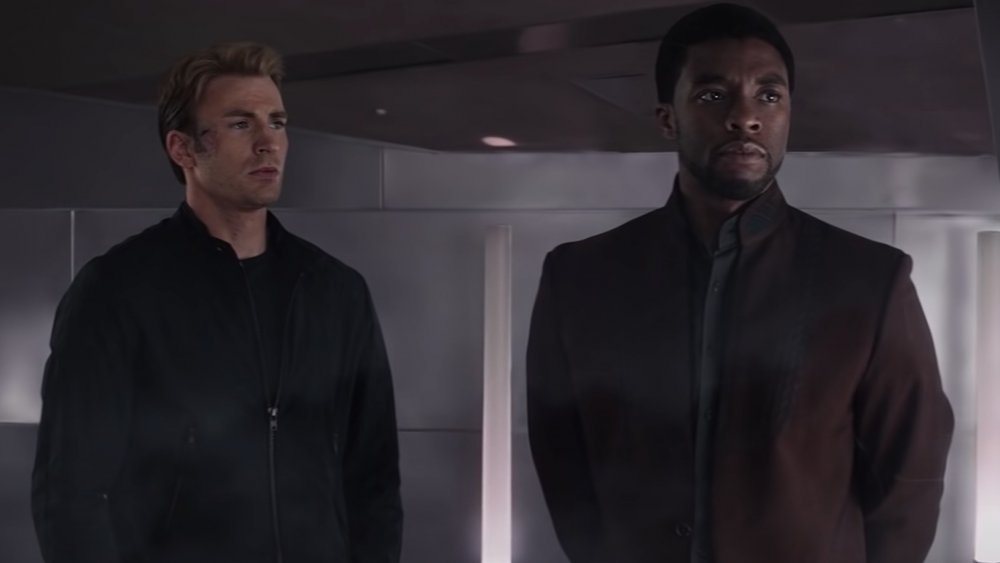 Disney/Marvel Studios
The devastating news of Chadwick Boseman's death is still rippling through the entertainment world and beyond. The public grief of so many has displayed how much of an impact the man had on everyone he interacted with. Avengers: Endgame actor Chris Evans recently appeared on the Tamron Hall Show for an interview regarding his political activism when conversation turned toward how he was dealing with the loss of such a rising star.
Captain America has been putting every inch of himself into the fight for change amid a tumultuous political season. That fight has been made both more difficult and more pressing by the loss of a beloved colleague and friend. During the interview, Tamron Hall addressed her departure from cable news by stating, "I would never go back to cable news, covering politics..." and went on to describe the vitriolic atmosphere in the political news world. Chris Evans agreed, stayed on topic, and addressed his concerns on the matter before conversation shifted to his dear, departed friend. His response was in true Captain form. After one pointed query about Boseman, Evans eloquently summarized just why Boseman's death is one that we are still processing weeks later.
Chris Evans' difficult mourning process highlights Chadwick Boseman's power
Gareth Cattermole/Getty Images
There is no doubt that Captain America and King T'Challa had a mutual respect for each other that extended beyond the Marvel Cinematic Universe. Evans echoed that respect when he received news of Boseman's death and took to his Twitter platform to express his sorrow. "I'm absolutely devastated. This is beyond heartbreaking... I'm endlessly grateful for our friendship. Rest in power, King." In his interview with Tamron Hall, he was asked, "How has it been processing this?" This question prompted him to elaborate further.
"It's been tough for everybody. And that's why, that kinda highlights the power that he had," Evans explained. "His cultural impact is just immeasurable. Not just as an artist, but as a man. The way he spoke. The way he carried himself. He bred an allegiance, he galvanized, he inspired..." The way he speaks of Boseman paints a clear picture of the man so many loved and admired.
Evans' eloquence helped put words to what we have all been feeling in the wake of Boseman's passing. The world has lost great entertainers before, but this loss lingers because the man was so much larger than his entertainment career. That extended mourning time we're all experiencing speaks volumes to Boseman's legacy. We are thankful for being able to experience a part of who he was and for his wise choice in friends. Evans' continued on the topic by stating, "It's heartbreaking. It's tough to process. But his impact, his legacy is solidified forever." 
Well said.