Chadwick Boseman And Kobe Bryant's Eerie Last Conversations
2020 has been a year of incredible loss. In January, the world stood still when news broke that basketball legend Kobe Bryant and his daughter Gianna had been killed along with seven other people in a helicopter crash. Then, in August, the news of the unexpected death of Black Panther actor Chadwick Boseman broke. The two losses were a terrible blow for sports fans, movie lovers, and especially the Black community.
While Boseman and Bryant weren't known as collaborators in life, a story that Boseman shared after Bryant's death has shined a light on what could have been a game-changing partnership between the two men. The recollection came during an episode of HBO's roundtable discussion show The Shop. During a wide ranging conversation with fellow iconoclasts such as Tiffany Hadish and NFL quarterback Patrick Mahomes, Boseman touched on his relationship with the late basketball star: "I had like four conversations with him. He's not somebody that I was best friends with ... but the crazy thing is that ... when he passed, it felt like somebody that I knew ... that I knew really well."
Boseman also shared some details about one of those conversations he had with Bryant in the years before his death. In the wake of Boseman's own untimely passing, that particular conversation now has a deeper and more haunting significance.
The Chadwick Boseman and Kobe Bryant collaboration that never came to be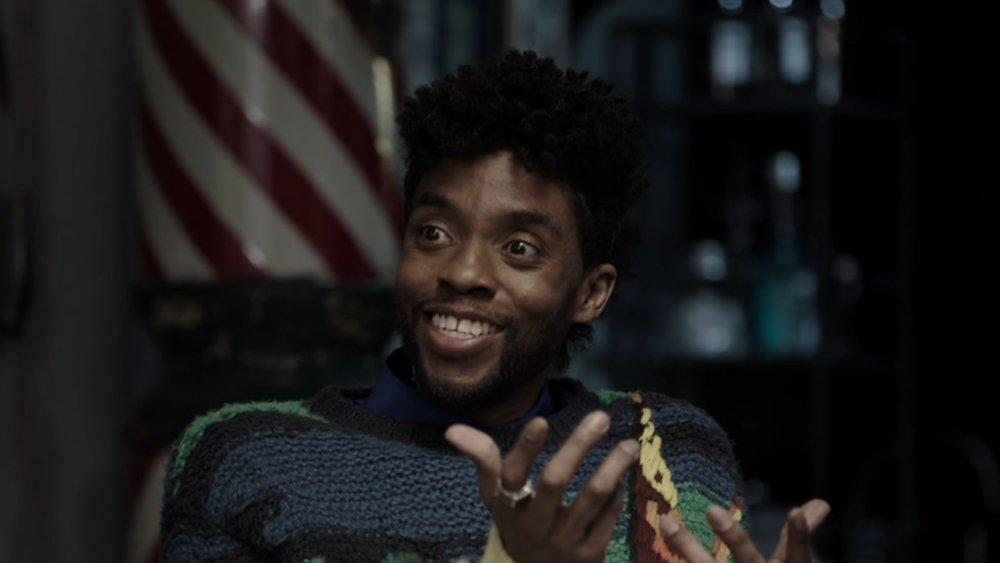 HBO
During an insightful conversation on The Shop, the subject of Bryant's untimely passing came up. The group shared stories about their relationships with Bryant. Boseman closed out the show with a story about his powerful first encounter with the legendary basketball player, which appears to have occurred during the 2018 entertainment industry awards season.
"First time I saw him was before he won the Oscar, it was crazy because we were sitting at a party talking about philosophers and poetry and like, that's who he was," Boseman said, referring to Bryant's Oscar win for Best Animated Short Film for Dear Basketball. He continued, "He was like, 'This is what I'm into right now as an artist, not as a basketball player, this is where I'm going right now as an artist.'"
That was when Boseman proposed an idea: "And we started talking about it, and I was like 'Yo, we should do something together, you know, we should work on something.'"
What Bryant said in response now has an eerie context. According to Boseman, Bryant was interested in the idea of a collaboration, and had a specific timeframe in mind: "[H]e looked at me, and I saw like ... his eyes go in, like he was meditating ... like he was seeing it. And he looked up at me and said 'Two years.' It was like he saw the whole thing unfold, and he was like, 'I need two years.'"
Sadly, that collaboration never came to be. Both Bryant and Boseman passed away in 2020, which would have been about two years after their initial conversation.
Kobe Bryant's creative career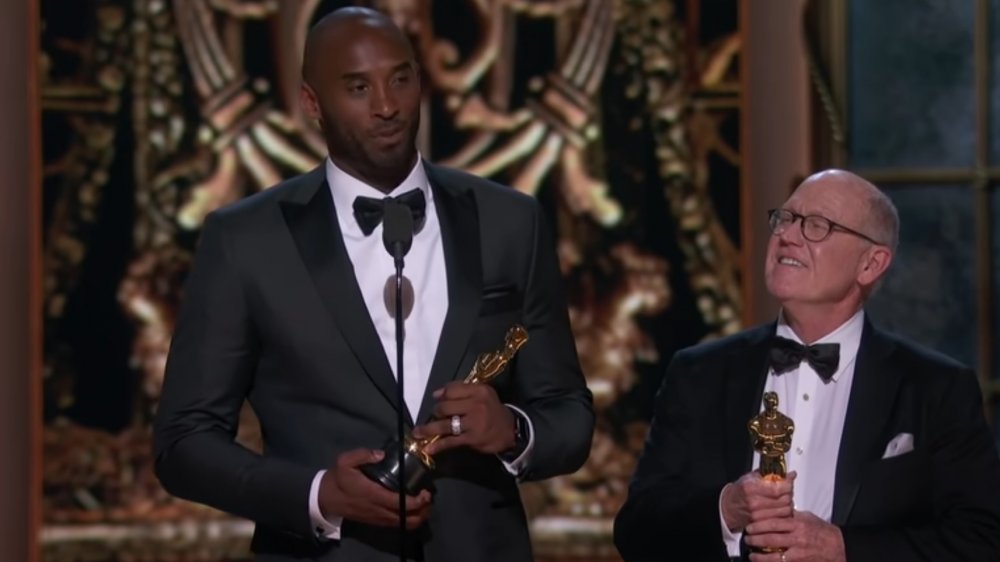 Academy of Motion Picture Arts and Sciences
Although Bryant is primarily remembered for his basketball career, his Oscar win was the beginning of a new phase for the Black Mamba as a powerhouse in the world of business and entertainment.
In 2014, he started his own company, Kobe Inc., which, among other projects, co-produced Dear Basketball. In a statement to ESPN at the time the company launched, he said, "I have always had ideas and always had a vision of where I wanted to go going back to 2000 ... Now, once the Achilles injury took place, I'm sitting at home for months not moving, a couple things set in. One is that there is only so many Modern Family episodes a person can watch. And then two, what do I do now?"
Kobe Inc.'s first big project was an investment in the sports drink BODYARMOR, but his creativity wasn't simply relegated to his business dealings. In that same ESPN interview, Bryant revealed that he was working on a few other exciting creative projects, including a series of novels. He said, "I wake up in the morning, I can't wait to write, I can't wait to get to the studio."
This side of Bryant was clearly not lost on Boseman. After Bryant's death, Boseman tweeted a touching photo tribute, with a caption that described him as, "Husband, Father, Strategist, Philosopher-Poet, Warrior-Athlete, Filmmaker ... your focus is magnetic, Kobe."
At the end of his story about his possible collaboration with Bryant on The Shop, Chadwick noted, "I walked away from him, and I said to my fiancé, I said, 'Yo, he is who they say he is.'" There's no doubt that the feeling was mutual.