The Walking Dead Prank War You Didn't Know Was Still Alive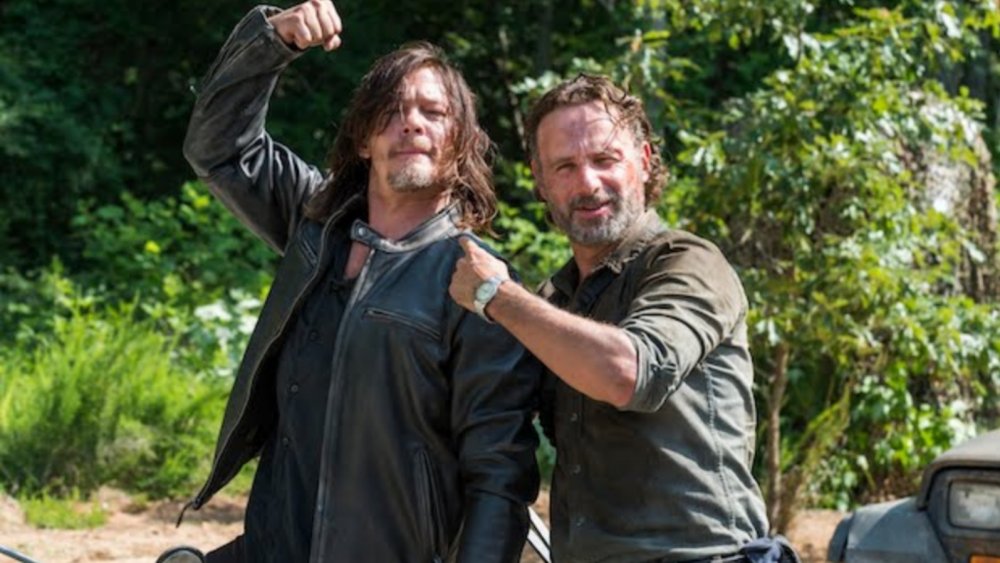 AMC
After over a decade as AMC's flagship series, The Walking Dead is coming to a close, with the original show finally bidding farewell to its legions of fans. Season 11 will be the program's last, but its legacy as one of the most influential TV shows in pop culture history will live on — both in the memory of fans, as well as an increasing number of spin-offs, including both The Walking Dead: World Beyond and a newly-announced series starring Daryl and Carol. Throughout the show's lengthy tenure, many cast members have come and gone, with only a sparse few from the first season still onboard. Nevertheless, those who took part in the fictional zombie apocalypse grew incredibly close, becoming like family.
As in most families, one can expect a certain level of camaraderie, particularly when it comes to humorous hijinks. Thus, it's no surprise that the cast of the Walking Dead has often, quite publicly, engaged in an array of pranks between one another, ranging from glitter bombing to simple jump scares. For years, the biggest prank rivalry seemed to be between two of The Walking Dead's biggest names, Andrew Lincoln and Norman Reedus, who play Rick Grimes and Daryl Dixon respectively. Sadly, given Lincoln's departure from the series, many assumed that these pranks had stopped, particularly since reports of them had quieted for some time. 
However, if you wanted a bit of lighthearted news in a troubling age, it's a privilege to report that Lincoln and Reedus' prank war, which you may have forgotten about, is alive and well.
Andrew Lincoln and Norman Reedus are finding new ways to fuel their prank war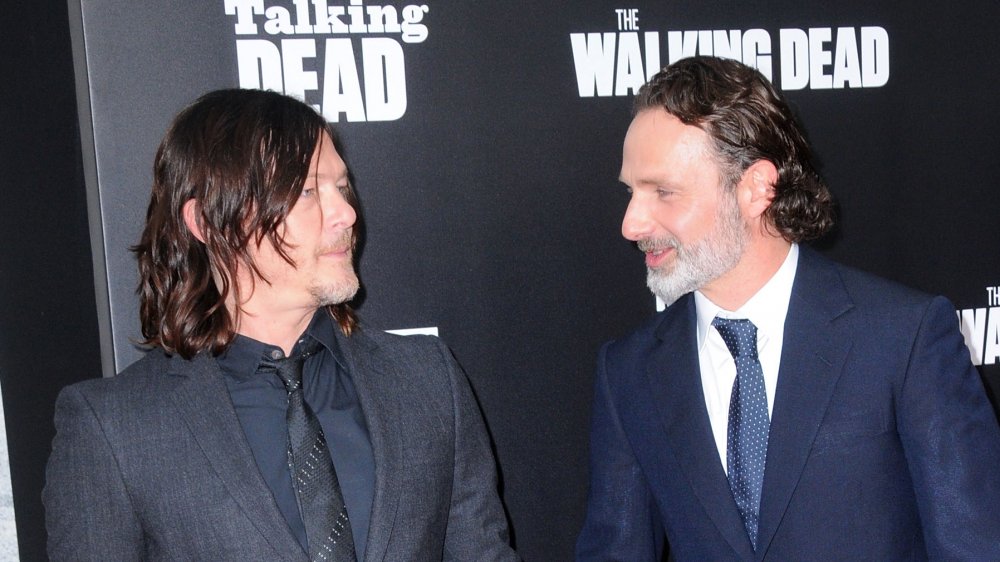 Barry King/Getty Images
As ComicBook.com wrote in 2017, Norman Reedus pulled ludicrous pranks on Andrew Lincoln for years, including such shenanigans as filling Lincoln's trailer with live chickens. There's also the time when Lincoln asked for Reedus' help saying "Thank you for having me in your country," in Japanese, for a press conference in Japan — and Reedus instead taught him to say "Where is the toilet?," to the confusion of many reporters. Lincoln, as Screen Rant asserts, isn't much better, having once toilet papered Reedus' car. 
Most fans assume that these pranks stopped when Lincoln left the show. Surprisingly, though, the two actors continue to come up with inventive and hilarious ways to embarrass the other, even if their ability to do so is now increasingly difficult, particularly with the difficulties imposed by the COVID-19 outbreak. As Reedus recently told ComicBook.com's Brandon Davis, despite these obstacles, he's keeping his prank skills as sharp as ever: "I've found a couple of photos that were super humiliating that I sent him recently," he explained, "There was some story about a guy in England who ate a pigeon in the middle of a park and then I sent it to him and I'm like, oh —-, they caught you. It's hard during COVID to keep up the prank war but I'm trying, I'm trying."
Either way, while Reedus might not be able to trick his co-star into asking for the restroom on live Japanese television anymore, he's making do in these difficult times. Surely, Andrew Lincoln's retaliation will be nothing short of hysterical, and hopefully, social distancing will give them both the time to cook up even more elaborate, silly schemes for the future.