Andrew Lincoln Refuses To Watch The Walking Dead. Here's Why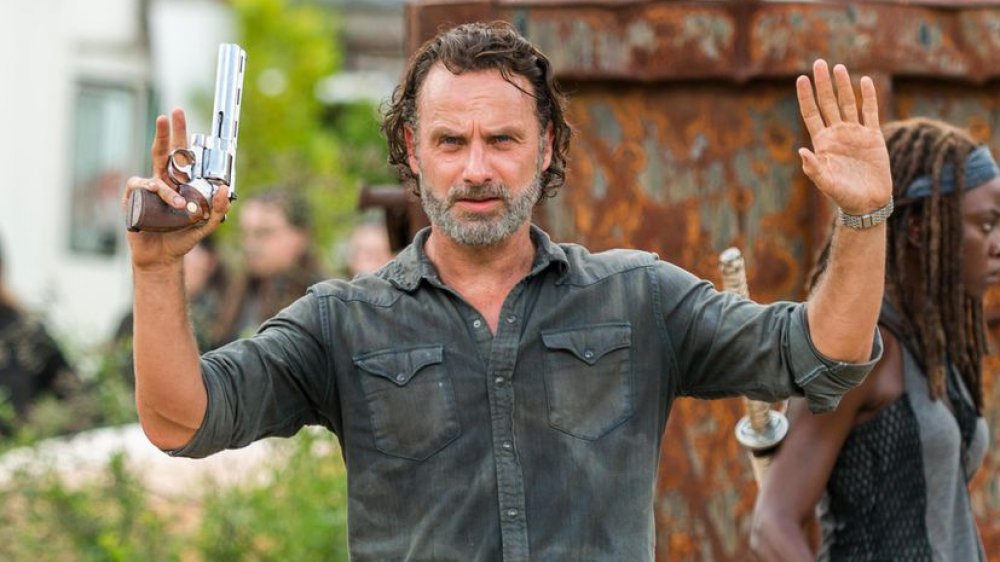 AMC
Fans of AMC's long-running zombie drama The Walking Dead have been tuning out in droves for a few years now, but it seems one of the series' most notable cast members has never actually tuned in himself.
That star is none other than Andrew Lincoln, who portrayed The Walking Dead's central protagonist Rick Grimes over its first nine seasons on air. A former sheriff, Rick was the audience's entry point into the apocalyptic world of the AMC series, waking from a coma in the season 1 premiere to find flesh-hungry zombies had all but destroyed humanity. After tracking down his family and a ragtag band of survivors, Rick became the group's de facto leader, attempting to guide them to some safe haven in a world ravaged by the undead.
That journey has frequently led to trouble for Rick and his crew. It's also frequently made for must-watch TV, a fact evinced by The Walking Dead's ratings dominance over its first few seasons. But per a 2017 interview with TV Insider, the man who played Rick Grimes himself was never among that viewership, with the actor freely admitting, "I don't watch the show at all."
Lincoln quickly qualified why he's never watched The Walking Dead, and it's not because he squeamish about fake blood and gore, or because he doesn't enjoy the series that made him a star. In fact, the actor slyly alluded that he doesn't watch the show because he hates watching himself on screen, explaining, "I'm allergic to my own face."
A recent piece by NME expounds on the subject, with Lincoln apparently claiming that watching himself at work on The Walking Dead (or presumably in any other project) would defeat "the object of what I want to do as an actor, which is to try and be in the role and not be self-conscious."  
Andrew Lincoln is apparently anxious to shoot those Walking Dead spin-off flicks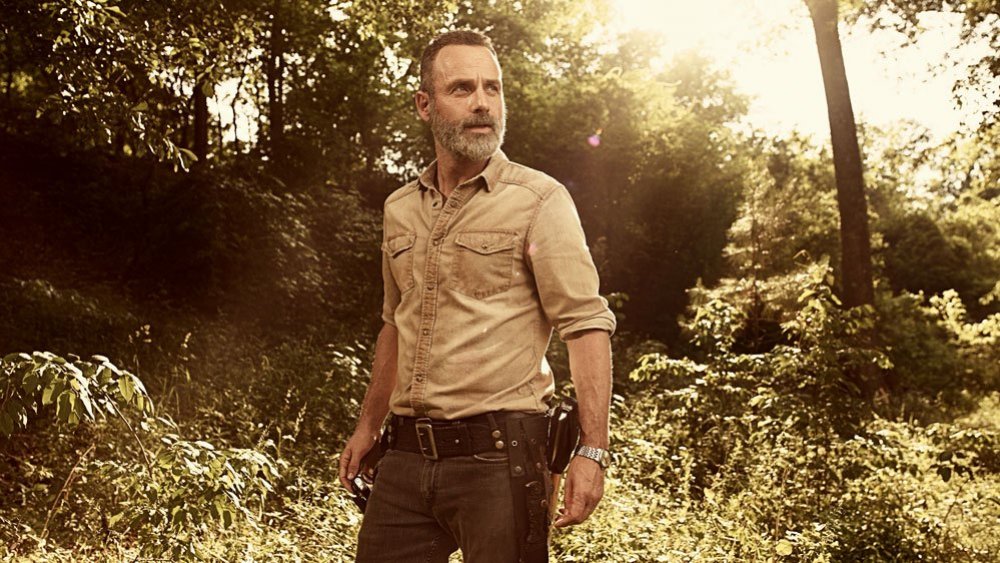 AMC
If you're wondering whether Andrew Lincoln started watching the series after his 2019 exit, current Walking Dead guru Scott Gimple claimed the actor still hasn't watched a single episode — even ones his character doesn't appear in. That surprising confirmation came via the franchise's recent virtual Comic-Con panel in which Gimple stated emphatically, "No, he has not watched it. I will say, one time I was doing a DVD commentary with him on an episode he wasn't in, "The Grove" [from season 4]. Five minutes into it, I was like, 'You're not watching this, are you?' He's like, 'No, no I'm not.'"
As for why Lincoln continues to avoid watching The Walking Dead, it's likely because he isn't quite done with the world of Rick Grimes just yet. It was announced in 2018 that Lincoln would indeed reprise his most famous role for three feature-length The Walking Dead movies at some point in the future. While little is known about those long-gestating projects, The Walking Dead series is clearly taking steps towards finding out exactly where Rick's been since narrowly surviving that horde-diverting bridge explosion in season 9's midseason finale.
Per Gimple's recent comments to ComicBook.com, those Walking Dead spin-off movies are still very much in the works, and Lincoln is apparently anxious to get back into the skin of Rick Grimes. "So much of what we've been doing is honing and tweaking and experimenting, and we're just in the lab with it," Gimple hinted. "He's [Lincoln] very, very interested in this thing. And I got to tell you, he's itching to get back, too. We all are."
Not for nothing, but we're itching to get back to it as well, because The Walking Dead just hasn't been the same since Andrew Lincoln walked away.