Michael K. Williams On What Audiences Can Take Away From Lovecraft Country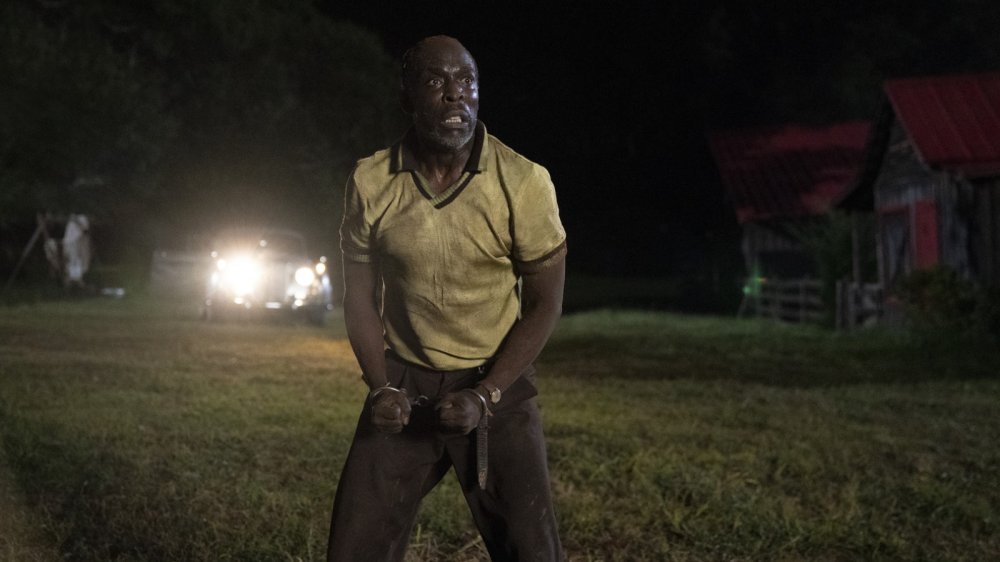 Eli Joshua Ade/HBO
Contains spoilers for Lovecraft Country
If there's one character who set things in motion for the lead protagonists on HBO's Lovecraft Country, it would be Montrose — the hard-headed father of Atticus Freeman (Jonathan Majors) played by Michael K. Williams, whom you might recognize as Omar Little from The Wire or Chalky White from Boardwalk Empire. On the first episode of Lovecraft Country, Atticus returns home from the Korean War and learns that his troubled father has gone missing. The only clue to his whereabouts is a letter from him stating that he has traced their family's lineage to Ardam, Massachusetts, and that he's learned new secrets about Atticus' mother.
This motivates Atticus, his uncle George (Courtney B. Vance), and childhood friend Leti (Jurnee Smollett) to go on a search for Montrose, but their excursion leads to a hostile encounter with a group of bigoted police officers on a dark countryside road. Fortunately, they're rescued by a mysterious blonde woman and her pack of vicious Shoggoths — hulking, multi-eyed monsters. On the jam-packed second episode, entitled "Whitey's on the Moon," Atticus and his companions are taken to the sprawling Braithwaite estate, where they learn about the "Sons of Adam" cult and its Freeman family connection. But most importantly, Montrose is found alive and well while making an escape from a dungeon on the estate property. However, things don't end so well for Uncle George, and this ultimately sends the already damaged Montrose on an emotional downward spiral.
In case you can't already tell, horrors are aplenty on HBO's Lovecraft Country. Our heroes face everything from racism to hyper-realistic, magic-induced hallucinations to shape-shifters, razor-toothed monsters, and tortured spirits — things they all struggle to comprehend. For the closed-minded Montrose, these supernatural shenanigans are really pushing the limits of his grounded-in-reality beliefs. On top of that, he's dealing with a severely strained relationship with his son as well as his own inner demons, making him arguably one of the most complex and compelling characters on the show.
Williams is no stranger to complex characters who deal with heavy burdens such as racism. During a recent roundtable interview attended by Looper, Williams was asked to comment on how projects he's starred in such as 12 Years a Slave, The Wire, and This is Us all opened up a discussion about race in America, and how Lovecraft Country is now sparking a similar and relevant conversation.
Lovecraft Country shines a light on the darkness in society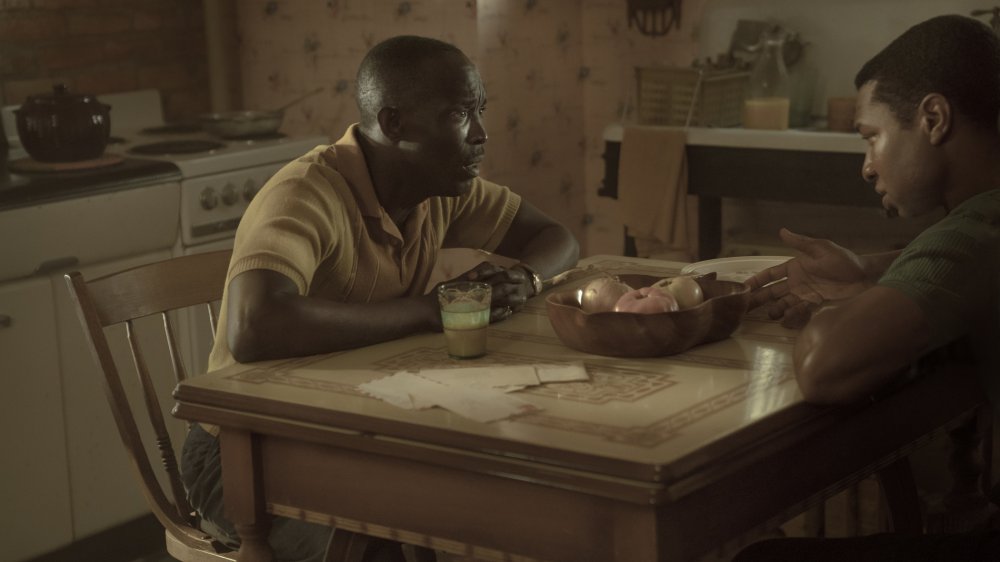 Eli Joshua Ade/HBO
"The fact that we have this piece of art to hold up as a mirror, for us to look at ourselves as a nation, I think is such a God gift," said Williams. "I think that Lovecraft Country serves as a glimpse to the timeline of a series of events of things that happened that led us to where we're at today."
He continued, "When we look at shows like The Wire and now Lovecraft, we get a chance to show what is wrong with us as a society and as a community. I think it's always a good time to tell stories like that. Of course, it's good to tell things about love, fantasy and escapism. It's Hollywood, right? However, it's also a very important tool. A lot of us in society to take our cues from certain pieces of art and it connects us."
Williams went on to point out how real-life events can come full circle. First, they inspire art, leading them to be depicted in Hollywood films, which in return can teach the audience new valuable lessons. 
"There are people who never even knew that there was a Tulsa massacre — and now they get a chance to be educated with shows like Lovecraft Country and Watchmen, and hopefully go and educate themselves even further beyond the television show or the film to really find out what happened," explained Williams. "And that's a beautiful thing. That's a great way to use art."
Michael K. Williams hopes that audiences will walk away with empathy and a willingness to listen to one other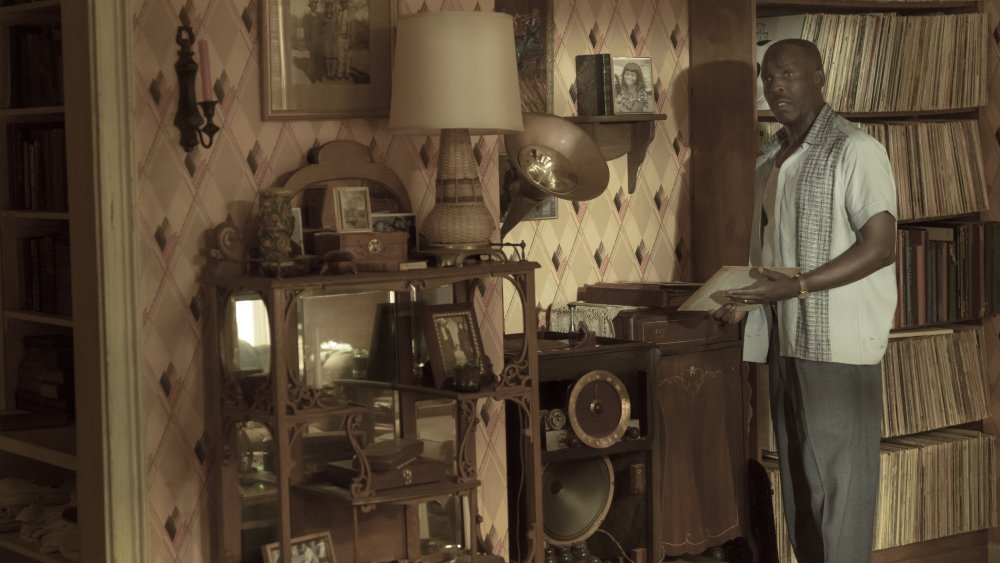 Eli Joshua Ade/HBO
Since Lovecraft Country's premiere, its brewing popularity has also shone a light on the early 20th century author who ultimately inspired the novel of the same name written by Matt Ruff, upon which the HBO series is based. H.P. Lovecraft was a famous cosmic horror writer, and documented evidence confirms that he was a bigot in real life. Like most conflicted fans, Ruff acknowledges Lovecraft's contributions to the horror genre as well as how flawed he was as a person, so he flipped the narrative and told a new Lovecraftian story with Black lead characters and a meaningful message — something beautifully executed in the novel. Now, it's found its way to a major platform in a live-action format thanks to the help of producer Misha Green (Underground).
Williams recognizes this, and shared his thoughts on the controversial yet legendary author during the roundtable interview. 
"And even giving props, if you will, to H.P. Lovecraft — from what I hear about the type of person he was, I would probably render him a very sick and sad individual," said Williams. "However, he was able to take his hurt and pain or his ignorance, if you will, and turn it into a piece of art that we're able to regurgitate and turn into another piece of art. That's a beautiful thing, and so, that's life."
In addition to the harsh reality of racism in America, Lovecraft Country also tackles heavy, personal themes that might resonate with viewers — elements such as the abusive father-and-son relationship between Atticus and Montrose, or the notion of struggling with one's sexuality, both of which are forefront topics of key episodes.
"You know, in regards to Black men, particularly our sexuality and how we're viewed and how we're not able to be soft or vulnerable within our intimate spaces, I hope that Lovecraft Country will at least start the dialogue as to what that looks like," said Williams when asked about what he hopes audiences will take away from their viewing experience. "In regards to the show as a whole, I would hope that the audience would walk away with some knowledge and some empathy and just a willingness to listen to each other a little bit more."
At its core, Lovecraft Country is ultimately a story about family, and that's the one final thing Williams hopes will leave a lasting impression. 
"With all the great storytelling and the social narratives that you're going to be getting throughout the season, the foundation of this story is a family story. They're looking for their legacy, going through the typical things that families go through: the arguments, the coming together, the finding love, the forgiveness, the basic things that all families deal with," Williams shared. "This is what this family is dealing with, and I hope that the audiences walk away with a certain sameness, a certain identity that they may or may not have had prior to watching. If I could just reach out a little bit more, if there's a family that doesn't look like mine, that doesn't know my experience as a Black man in America, I would hope that they would watch this and find a little bit more of an understanding as to how and why things got the way that they did."
New episodes of Lovecraft Country air on Sundays on HBO.