Jurnee Smollett On What Really Drives Her Lovecraft Country Character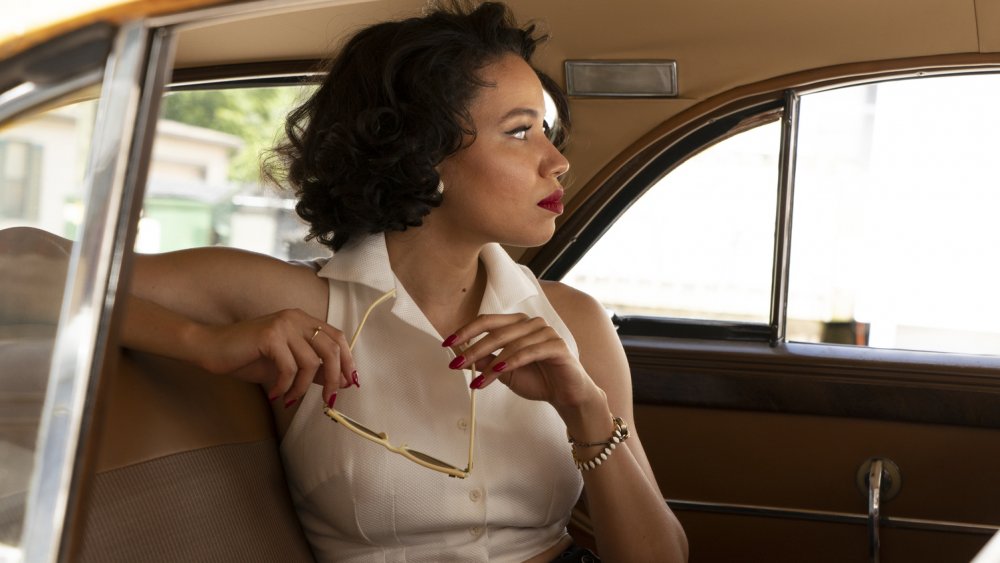 Elizabeth Morris/HBO
Jurnee Smollett has had run-ins with many formidable foes throughout her film and TV acting career. She's come face-to-face with vicious werewolves as Nicole Wright on HBO's True Blood, and she's taken on dozens of armed goons as the bare-knuckle brawler (and super-sonic screamer) Black Canary in Birds of Prey. Now, she's set to encounter monsters, ghosts, cultists, and various supernatural beings on HBO's genre-bending Lovecraft Country – the 10-episode horror-fantasy-drama series based on the novel by Matt Ruff. But are the monsters and ghosts of Lovecraft Country the scariest aspects of the story? No, not by a long shot.
The real monsters in the story are humans, who have a turbulent history of racism and civil unrest. Set in the Jim Crow law era of the 1950s, Lovecraft Country puts racism and segregation under the microscope, and the other supernatural shenanigans that plague our heroes are only part of the narrative. Reteaming with producer-showrunner Misha Green, with whom Smollett worked on the WGN America period drama Underground, for Lovecraft Country, Smollett portrays the strong and vibrant Leticia "Leti" Lewis — an aspiring photographer who joins her childhood friend Atticus Freeman (Jonathan Majors) on his journey to find his missing father. Their winding path leads them to Ardam, Massachusetts, and they encounter many monstrous obstacles (both human and otherworldly) along the way.
During a virtual roundtable interview with Smollett attended by Looper, the actress spoke in depth about her character on Lovecraft Country, and why the themes explored on the show still resonate today.
Lovecraft Country tackles relevant issues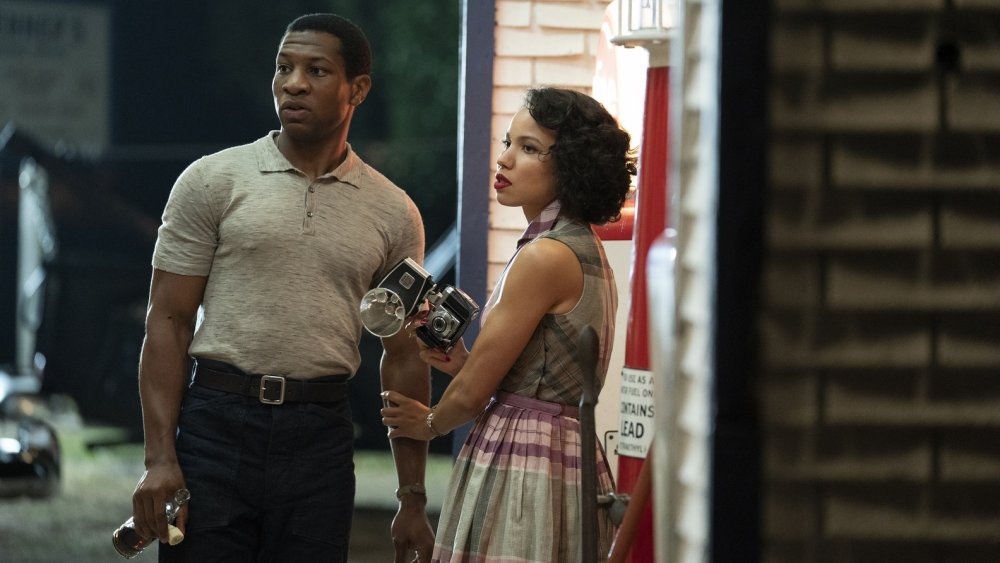 On the series' exceptional first episode, which premiered on HBO on Sunday, August 16, Leti joins Atticus on a road trip. Not far into their journey, racism rears its ugly head. There's a scene involving a cop who patrols within a "Sundown County" jurisdiction that's downright frightening and intense — more terrifying than the subsequent Evil Dead-esque sequence that features Shoggoths, which are shapeshifting blobs with hundreds of eyes. 
When asked about which scene out of all 10 episodes of Lovecraft Country season 1 hits the nail on the head regarding the social issues we're still facing today, Smollett didn't hold back. She listed out key scenes in which the show's lead characters confront harassment and oppression, then hinted at a "bold" finale that will flip the genre on its head. But ultimately, Smollett was hesitant to pick a favorite scene, and elaborated on why.
"I think what Lovecraft Country brilliantly explores is how complex racism is as a system, how the systemic racism that's built into the fabric of our nation attacks you from all fronts. You never really know where it's coming from and that's the terror of it," she said. "That's why racism is such a demonic spirit because when you're engaged in the spiritual warfare, you don't really know where it's coming from. You don't know the source. It could be you're walking down the street, just minding your business, and it comes at you."
Smollett continued, "It's hard for me to pick one scene that depicts what we as a nation are experiencing now. It's very timely. Unfortunately, the themes explored in Lovecraft Country, we're still reckoning with now. [...] We're walking in a circle as a nation. But I'm very encouraged because I love creating protest art, I just do."
She added that in addition to exploring and addressing resonant social issues, Lovecraft Country is also "just good entertainment." Smollett elaborated, "It's about some regular folks. It's a family drama in which the families are in pursuit of protecting their family, and the secrets hidden from their family. We're pursuing our joy."
Jurnee Smollett's grandmother served as inspiration in bringing Leti Lewis to life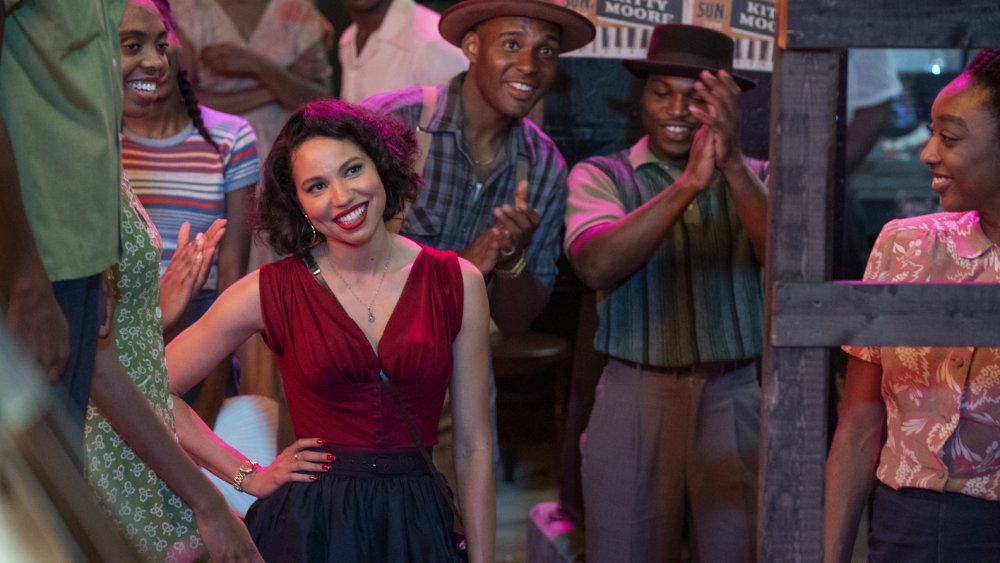 Elizabeth Morris/HBO
As Smollett pointed out, peel back the layers and you'll see that Lovecraft Country is a family drama underneath it's dark fantasy-horror exterior. There are moments when the heart and emotional core of the story shines and pierces through the doom and gloom — and yes, you may occasionally get misty-eyed while watching certain scenes.
Speaking of family specifically, it turns out a real-life family member of Smollett's was the driving force and prime source of inspiration when building the character of Letitia.
"My grandmother was a big influence for me in approaching the foundation of Leti," Smollett said with a radiant smile. "She was a beauty queen — the first black Miss Galveston of Galveston, Texas — raised four children, single mom. And she maintained dignity throughout her life. I never met my grandmother, but I grew up hearing stories about this woman who would go to work every single day, cleaning white folk's homes, and she looked damn good doing it. She would press out her dress and do her hair and makeup every single morning. And her rebellion was that despite society trying to erase her, she was going to walk around with dignity and pride and not allow the erasure of her to exist."
Added Smollett, "Those were some of the themes that we wanted to explore with Leti. And this idea of displacement, this idea of rebirth, is something that will come back towards the end, and it's a theme that will reoccur with her."
Lovecraft Country premiered on Sunday, August 16 on HBO. New episodes will air on Sundays at 9 PM ET.