The Mystery Thriller That Everyone's Watching On Netflix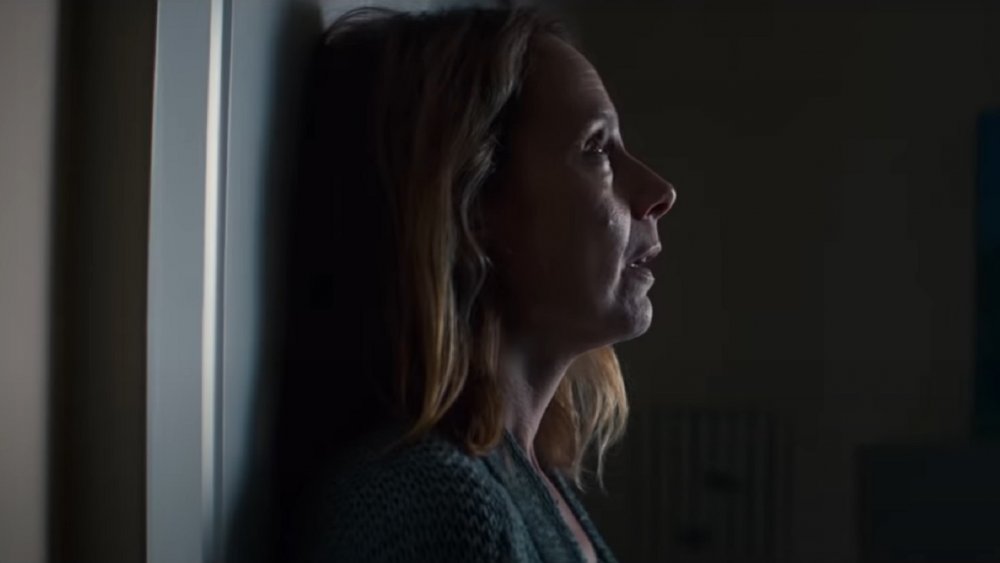 CBS Films
Strange But True is one of those movies that premiered at a film festival, got released quietly, and was reborn once it hit streaming. Even though it didn't make much of a splash when it came out in 2019, the movie was added to Netflix right at the end of August, and has since found a new audience.
Back when Strange But True was first released, it divided critics, as its middling Rotten Tomatoes score demonstrates. Some, like the Sydney Morning Herald's Paul Byrnes, called it, "a thriller with no thrills." On the other side of the coin, Stephen Dalton of the Hollywood Reporter said of the film: "An atmospheric thriller with a noir-ish undertow and strong visual style, Strange But True puts a classy spin on familiar ingredients." Looking back, the critics may not have agreed, but it's now clear that audiences are curious to find out for themselves what this perhaps underappreciated thriller has in store for them. 
If your interest has been piqued, here's what you should know about Strange But True.
What is 'Strange But True' about?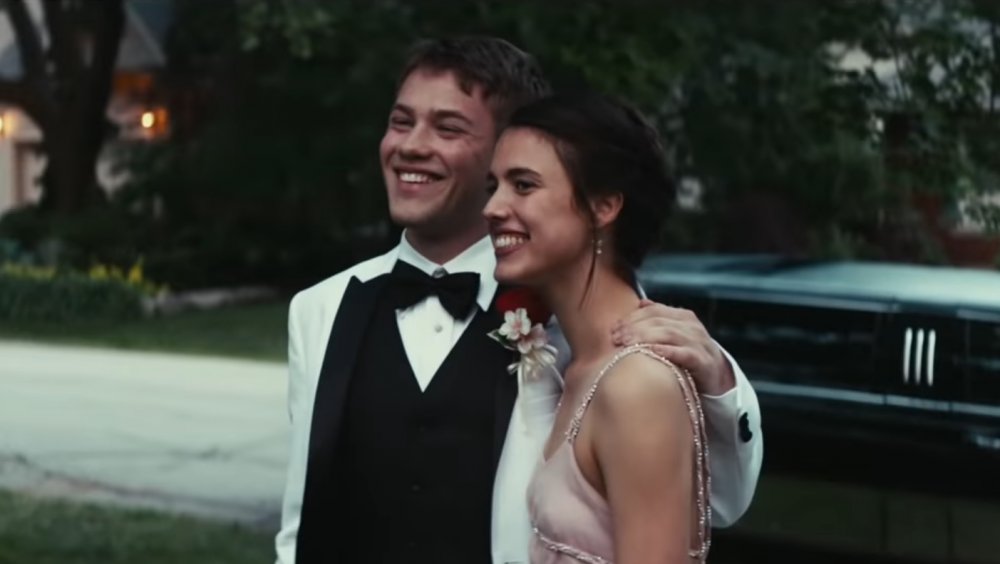 CBS Films
The story of Strange But True begins with a tragedy: a teenage boy, Ronnie Chase (Connor Jessup), is killed in a car crash on prom night, leaving his girlfriend, Melissa (Margaret Qualley) devastated by the loss. Cut to five years later, and we see that Melissa is very pregnant and paying a visit to Ronnie's family. She has some startling news for them: because she hasn't slept with anyone since Ronnie died, she's convinced that the child she is pregnant with must be his. This revelation stuns Ronnie's family. Despite Melissa's insistence that her story, per the title of the movie, is strange but true, it's difficult for them to believe her. Furthermore, the idea that some kind of supernatural elements are at play with Melissa's seemingly miraculous pregnancy seem too fantastical to be believed. As secrets about Melissa and the Chase family begin to unravel, a truth more sinister than anyone could have predicted reveals itself.
Strange But True has an obvious love for the mystery genre. However, at its heart, the movie is a character piece. One huge factor this film has going for it is the phenomenal cast of actors that were assembled to bring these characters to life.
Strange But True has a killer cast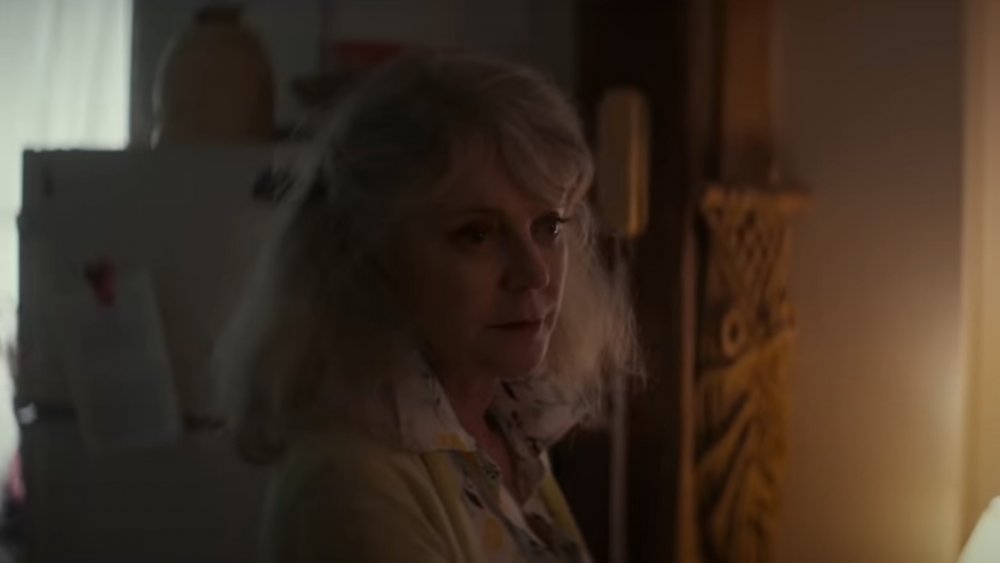 CBS Films
Usually, with a smaller movie, you might get one or two big names to give the otherwise unknown cast a fame boost. That's not the case here. Strange But True is stacked with Oscar nominees, celebrated theater actors, and rising superstars. For one, Ronnie's parents, Charlene and Richard Chase, are played by Oscar-nominated actors Amy Ryan and Greg Kinnear. You'll likely recognize Ryan from her heartbreaking role as the troubled mother of a missing child in Gone Baby Gone, or as Michael Scott's (Steve Carell) wife Holly on The Office. Kinnear, meanwhile, has appeared in everything from You've Got Mail to House of Cards. Another coupled played by two iconic actors are Melissa's caretakers, Bill and Gail Erwin, brought to life by Brian Cox (Succession) and Blythe Danner, the mother of Gwyneth Paltrow, and a Tony and Emmy Award-winning actress in her own right.
And, of course, there's Margaret Qualley, who has been enjoying a moment in the spotlight, thanks to her performances in both Once Upon a Time in Hollywood, and on Fosse/Verdon. The director of Strange But True, Rowan Athale, told Disc Dish, "Most of these guys were our first choices with the exception of Margaret Qualley, simply because we weren't aware of her work at the time. But she's exploded over the past couple of years."
One other Strange But True cast member had a huge break after filming the movie: Mena Massoud, who has a small role in the film, would go on to become the titular star of Disney's live-action Aladdin remake.
Keep your eyes peeled for a cameo from the author, as well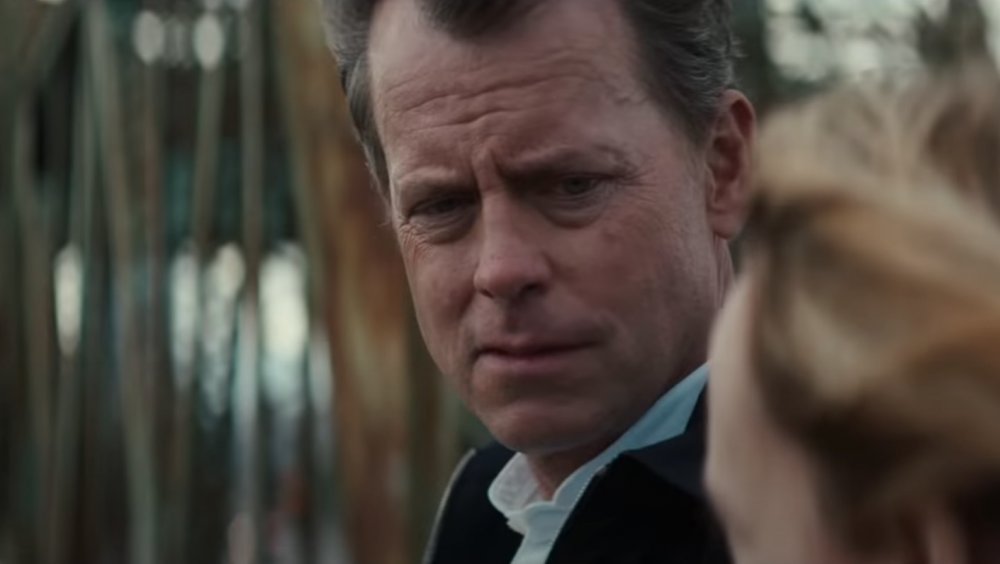 CBS Films
If Strange But True sounds like a particularly heady thriller, that's because it's actually based on a novel of the same name, written by John Searles. Although this is the first time one of Searles' books has been adapted for the screen, according to Athale, the author was very involved in the movie. Speaking to MovieHole, Athale said, "John was involved in the making of the film. He was involved at the script stage, and even during production. John was on the set often — he was there on the first day of the shoot, and a number of days during production [...] This movie exists because John created this wonderful story, and these beautiful, broken, yet strong characters. And I strongly felt that he should be involved in the film's production."
Searles' contributions didn't stop at behind-the-scenes work, either. The author even got a chance to do a little acting in the film. As Athale explains, "He's actually in the movie, by the way. John plays an author who is introduced to an audience by Amy Ryan's character in the library where she works."
Strange But True is available on Netflix.