What The Disgusting Brains In Umbrella Academy Season 2 Were Really Made Of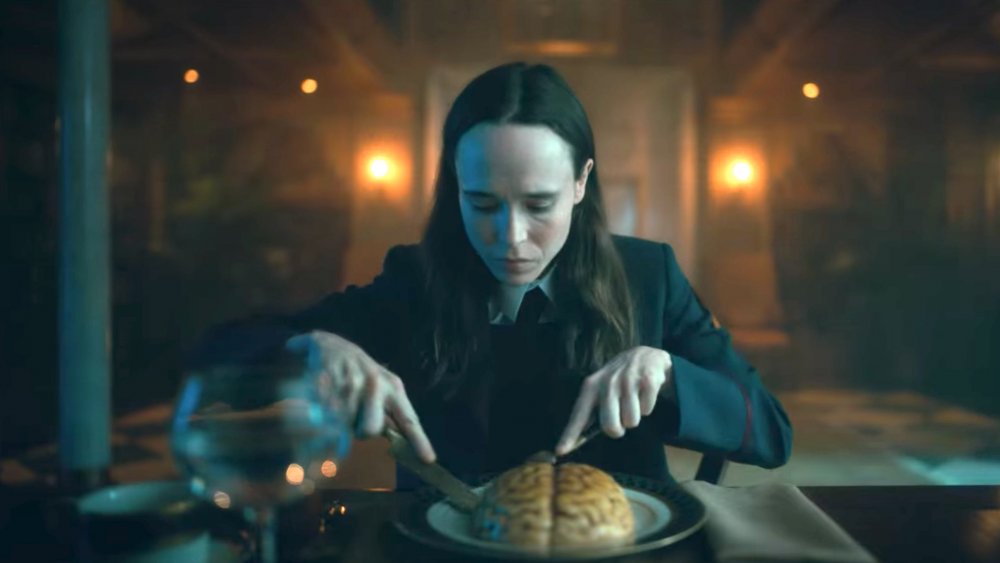 Netflix
Assuming you're among the millions who've already binged the second season of Netflix's The Umbrella Academy, you've likely got a bit of a neck ache from all the head-spinning twists the Hargreeves' encountered throughout. And yes, you probably ended the season with more questions than you came in with, because the final minutes of season 2 pulled the proverbial rug in ways nobody could've anticipated.
With any luck, Netflix will go ahead and greenlight season 3 of The Umbrella Academy sooner rather than later, if only so fans can start thinking about when (not if) we'll get full details about the newly not dead Ben Hargreeves (Justin H. Min) and his Sparrow Academy crew. While we wait, there are still tons of season 2 mysteries fans fans of the series to digest. As it happens, series star David Castañeda and The Umbrella Academy showrunner Steve Blackman recently spilled the beans to Digital Spy about a true digestive mystery from the show's second season: What the gang were actually eating in that brain-devouring episode 8 scene.
For a little context, that scene found Vanya (Ellen Page) being tortured-slash-interrogated by the FBI under the influence of LSD. It also found her digging deep into her own psyche in search of potential damning memories from her life prior to the time-jump to 1963. Those memories literally came served on a plate for Vanya who, in a moment of pure hallucinogenic catharsis, conjured a brain-centric family dinner that's bizarre even by Hargreeves standards. 
Per that Digital Spy interview, we now know the edible brains served as the main course for that dinner were indeed made to order for The Umbrella Academy cast. We also know the disgusting dishes were some sort of gelatin treat.
The Umbrella Academy prop team had to get quite creative to make those edible brains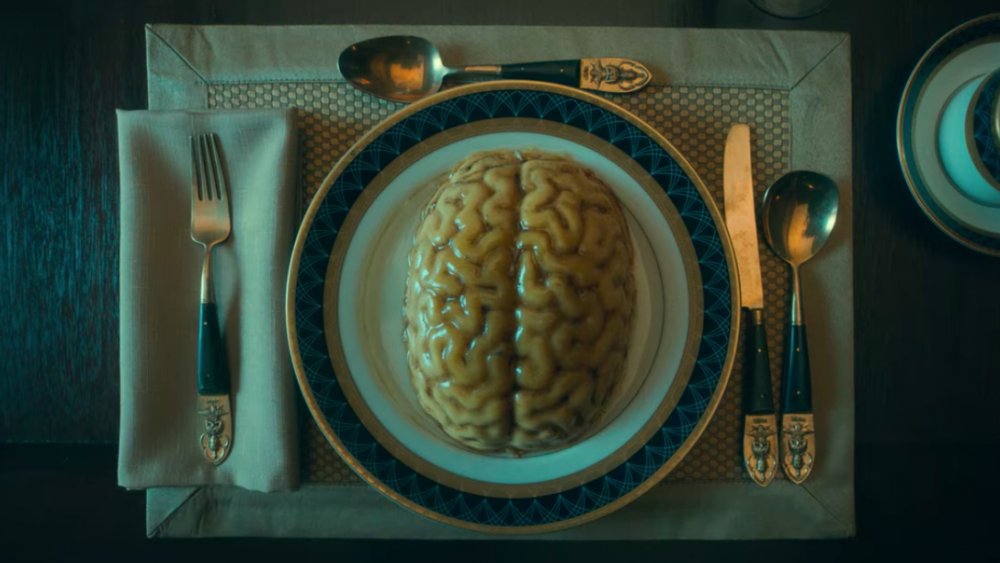 Neflix
While both Blackman and Castañeda confirmed the gelatinous nature of the dish, there's still some debate about of what exact flavor of gelatin those brains were made. It seems, however, the strict dietary habits of The Umbrella Academy cast members were indeed taken into account, and per Castañeda, the final dish was apparently a vegan-friendly, coconut milk-based concoction. "I think it was coconut milk jello," he said. "Because I think some were vegan, so we couldn't have dairy." The actor went on to say he didn't particularly enjoy the dish himself, noting, "It was not sweet, dude. It was not tasty at all. I would not wish it upon my enemy to try that."    
For his part, Steve Blackman is less certain what flavor the brains actually were. "It was, I think, a lemon gelatin, gluten-free — I don't know — thing that we found that they would all eat." While Blackman couldn't vouch for the tastiness of the brains, he was as turned off by the look of the dishes as anyone, and was quite proud of his cast for digging in. "I don't know if it tasted bad," he says. "It looked gross. So it was a really fun scene. But they looked at the brains for the first time on set, and they had to eat them. It was like, will they really eat them? But they're troopers. They all dug into that gelatin brain, and didn't complain."
Now that we've got an answer to one of The Umbrella Academy's grossest season 2 mysteries, who wants to tell us what the prop team used to make the grotesque bin of eyeballs in which Vanya's feet were stuck during the same scene?