This Chadwick Boseman SNL Sketch Makes Us Laugh And Cry And The Same Time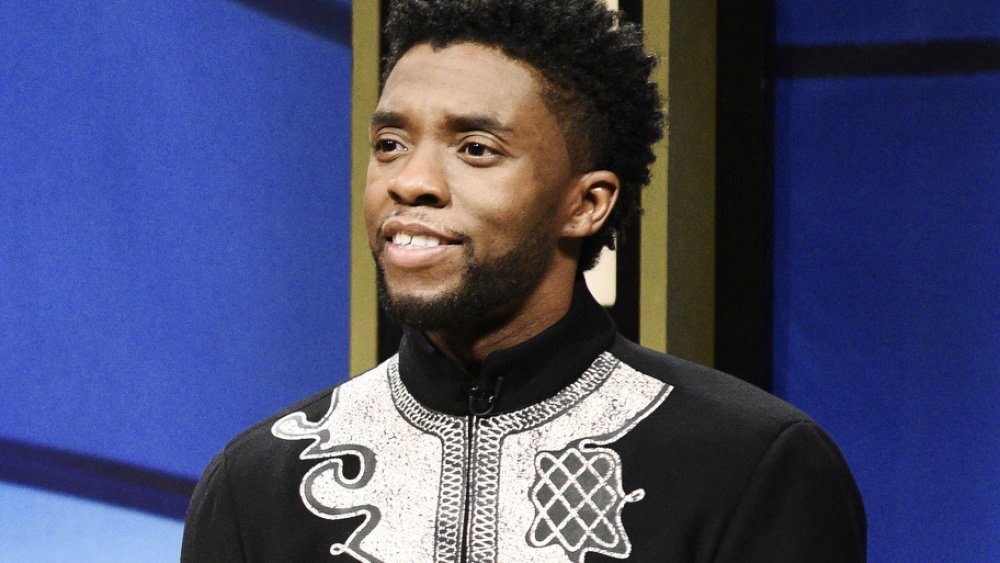 NBC
Chadwick Boseman has left behind plenty of amazing performances, including a Saturday Night Live sketch that might make you laugh and cry.
In April 2018, not long after Black Panther hit theaters, Boseman hosted the weekly New York-based sketch show alongside musical guest Cardi B. Though he only brought his Black Panther character to the small screen once, he used the persona to perfection in an installment of SNL favorite "Black Jeopardy."
In the wake of Boseman's passing — on August 28, 2020, Boseman's family confirmed that the actor passed away after four years of living with and bravely battling colon cancer — and as Hollywood and fans alike mourn the magnetic Marvel Cinematic Universe star, all of his performances are being shared across the Internet, even short SNL clips. This SNL sketch has gone viral once again, proving that Boseman could pull off a comedic turn with the same ease he brought to Black Panther's King T'Challa.
Chadwick Boseman blew SNL fans away on Black Jeopardy
A recurring sketch in recent years, SNL's "Black Jeopardy" has become a fan favorite, especially thanks to stalwart Kenan Thompson's hilarious turns as the show-within-the show's host Darnell Hayes. Usually, the sketch will pair two Black actors with a white host, who gets to blunder through the game cluelessly — but by bringing Boseman into the mix as his Black Panther character King T'Challa, "Black Jeopardy" got a new twist.
Thanks to his sheltered Wakandan life, T'Challa proves to be a pretty useless contestant, constantly getting answers wrong due to his radically uninformed view of Black American life. However, T'Challa eventually turns things around when he goes after "Karen," a hypothetical white woman who not only under-seasons her potato salad (though he acknowledges that, of course, he has never personally had potato salad), but also puts something unnecessary in it — like raisins.
By bringing the exact same gravitas to a sketch like "Black Jeopardy" as he did to Black Panther, Boseman elevates the entire experience. Losing the actor so early in the prime of his career — and before he could embark on any big comedic roles — is a painful loss for Boseman's fans and colleagues alike, but at least we can fondly remember all of his performances and continue to honor his talent and life.
Boseman's SNL episode is currently available to stream on Hulu.