Michael B. Jordan Posts An Emotional Tribute To Chadwick Boseman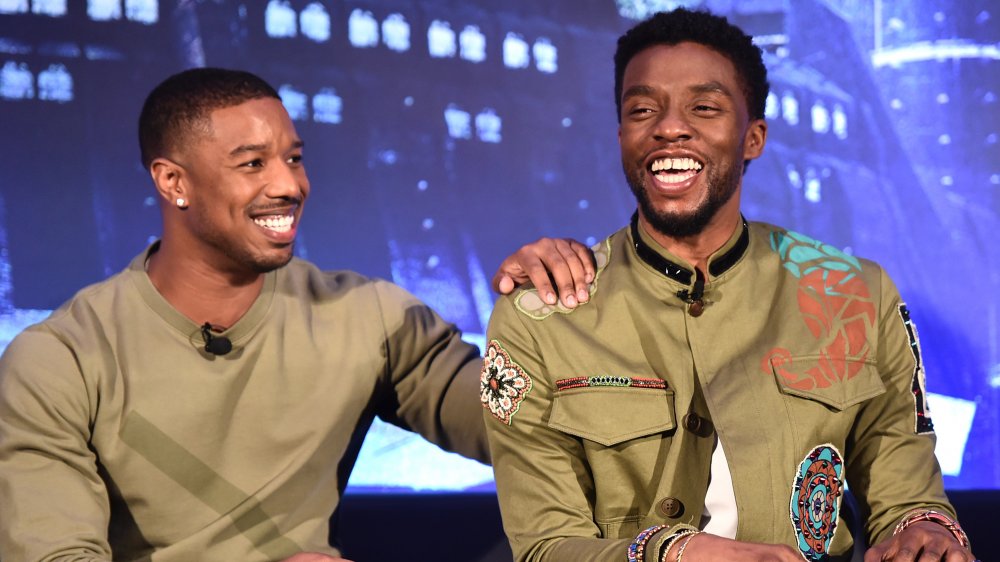 Alberto E. Rodriguez/Getty Images
Another one of Chadwick Boseman's Black Panther colleagues has paid tribute to the fallen hero.
Hollywood has been left reeling in the wake of Boseman's unexpected passing on Friday, August 28, 2020; late that evening, the Marvel Cinematic Universe star's family revealed, for the first time, that Boseman had been diagnosed with stage III colon cancer in 2016. Ultimately, Boseman continued working even as his illness progressed to stage IV, making a staggering seven movies throughout those four years as he underwent difficult treatments.
One of those movies was 2018's Black Panther, the superhero's first standalone film in the MCU. Guided by director Ryan Coogler's careful hand, Boseman's central performance as King T'Challa — who also occupies the role of the Black Panther, the super-powered protector of Wakanda — grounds Black Panther, putting it head and shoulders above typical superhero films. Universally adored and an enormous box office smash, Black Panther was ultimately nominated for Best Picture at the 2019 Academy Awards, becoming the first superhero film to score a Best Picture nod. In the end, Black Panther became the first MCU movie to win an Oscar, taking home statues for its production design, costumes, and score.
Alongside Boseman, Black Panther boasts an extraordinarily talented cast that includes Oscar-winners Forest Whitaker and Lupita Nyong'o, Walking Dead star Danai Gurira, legendary actress Angela Bassett, young upstart Letitia Wright, and more. Perhaps Black Panther's most notable supporting actor is Michael B. Jordan, who played the vicious yet righteous villain Erik "Killmonger" Stevens. In the aftermath of Boseman's passing, Jordan posted a tribute to his late friend. Here's what he had to say.
Michael B. Jordan wrote a heartbreaking message about Chadwick Boseman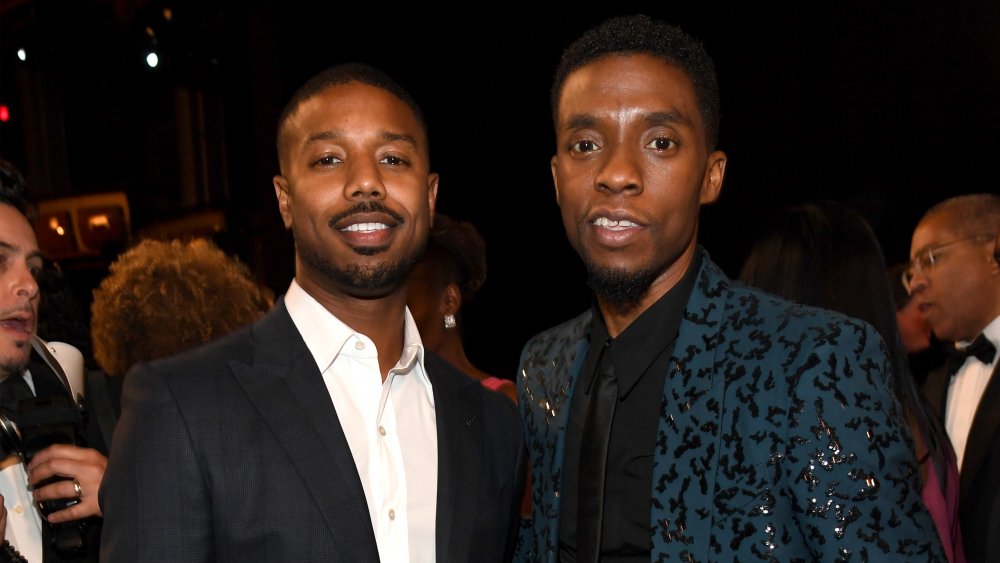 Kevin Mazur/Getty Images
On Instagram, Jordan posted a series of warm, jovial photos of himself and Boseman. Alongside those, he posted a lengthy caption about just what Boseman meant to him.
"I've been trying to find the words, but nothing comes close to how I feel," Jordan began. "I've been reflecting on every moment, every conversation, every laugh, every disagreement, every hug...everything. [...] One of the last times we spoke, you said we were forever linked , and now the truth of that means more to me than ever. Since nearly the beginning of my career, starting with All My Children when I was 16 years old you paved the way for me. You showed me how to be better, honor purpose, and create legacy. And whether you've known it or not...I've been watching, learning and constantly motivated by your greatness."
He continued, "Everything you've given the world ... the legends and heroes that you've shown us we are ... will live on forever. But the thing that hurts the most is that I now understand how much of a legend and hero YOU are. Through it all, you never lost sight of what you loved most. You cared about your family , your friends, your craft, your spirit. You cared about the kids, the community, our culture and humanity. You cared about me. You are my big brother, but I never fully got a chance to tell you, or to truly give you your flowers while you were here. [...] I'm more aware now than ever that time is short with people we love and admire. I'm gonna miss your honesty, your generosity, your sense of humor, and incredible gifts. I'll miss the gift of sharing space with you in scenes. I'm dedicating the rest of my days to live the way you did. With grace, courage, and no regrets. 'Is this your king!?' Yes . he . is! Rest In Power Brother."
In between nearly every paragraph, Jordan wrote the same heart-wrenching line: "I wish we had more time."
Chadwick Boseman's death has left his Black Panther co-stars bereft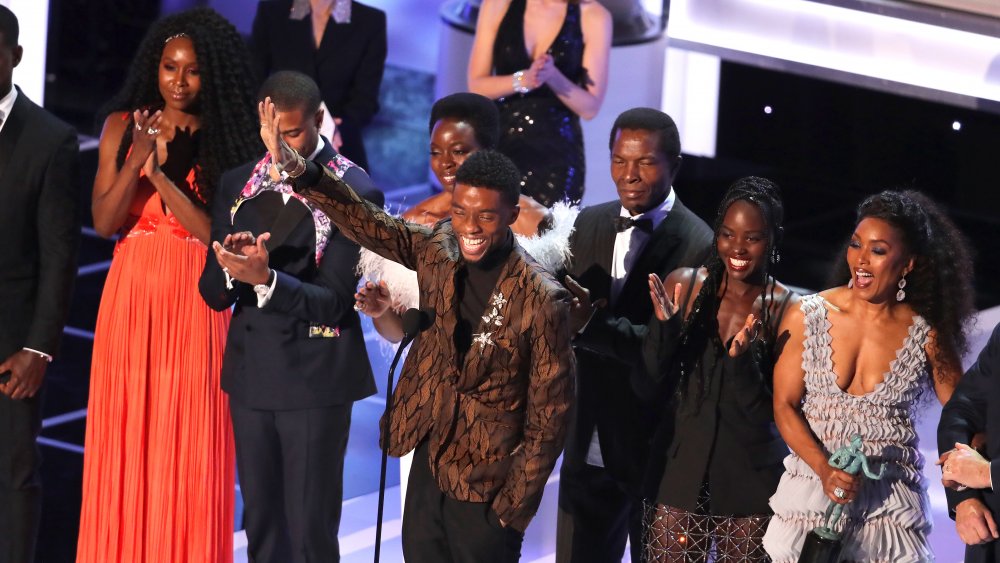 Richard Heathcote/Getty Images
In the days since Boseman's family announced his passing, several people involved with Black Panther have shared their condolences, sorrow, and remembrances. While some, like Wright, stuck to short, emotional social media posts, others, like Coogler, released a statement. Both Gurira and Bassett posted long tributes to Boseman like Jordan did.
Losing Boseman at this point in his career — after scoring his first major film role in 2013's Jackie Robinson biopic 42, the star had barely been a leading man for seven years — is undeniably tragic. Boseman defined grace and strength in his performance as King T'Challa in the MCU, stunned in many biopics, got hearts racing in action films like 21 Bridges, and remained a generous, kind person in real life. He will be deeply missed.