Danai Gurira's Heartbreaking Tribute To Chadwick Boseman
Matt Winkelmeyer/Getty Images
One of Chadwick Boseman's co-stars has penned a heartbreaking tribute to the Black Panther himself.
Danai Gurira — who appeared alongside Boseman in Black Panther, Avengers: Infinity War, and Avengers: Endgame as Okoye, head bodyguard to Boseman's King T'Challa of Wakanda – took to Instagram to share an emotional essay following the news of the actor's untimely death.
On Friday, August 28, 2020, Boseman's family confirmed that the actor, who had been quietly and bravely fighting colon cancer since his 2016 diagnosis (though the cancer was originally stage III, it reportedly progressed to stage IV), passed away at home at the age of 43 with his loved ones by his side. Losing a talented star like Boseman so early in his career has left fans and Hollywood reeling; Boseman had only been appearing in leading movie roles for about seven years, and incredibly continued working throughout several different surgeries and treatments for his illness.
Countless admirers, friends, and fans have taken time to honor Boseman's memory — from his Marvel Cinematic Universe co-stars to Black Panther director Ryan Coogler to his Black Panther co-stars. All are painting a picture of Boseman's talent and resilience, and when it comes to Gurira's social media tribute to the late actor, you may want to have a box of tissues handy.
Danai Gurira's honors her Black Panther co-star Chadwick Boseman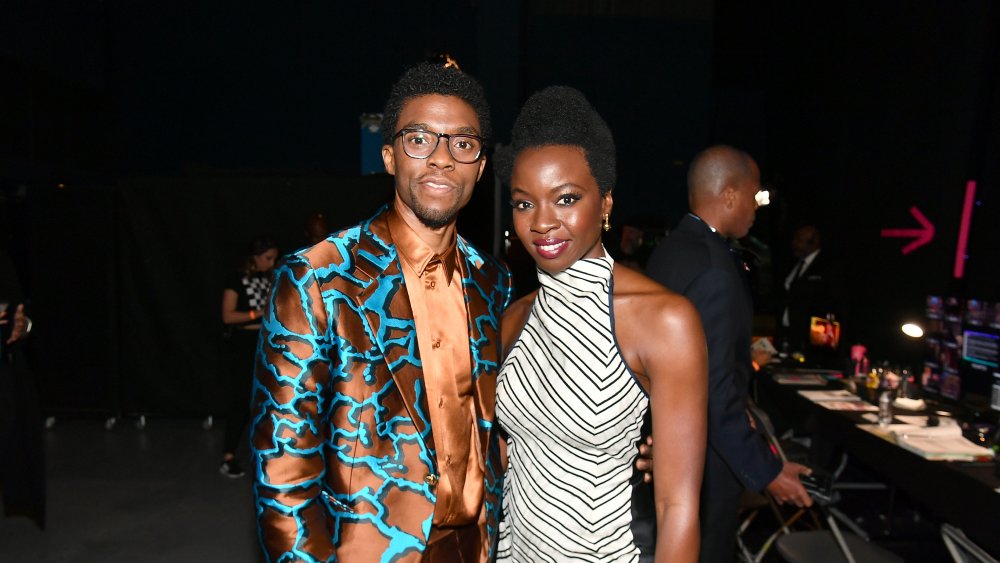 Paras Griffin/Getty Images
Gurira began her written tribute, which accompanied photos of her and Boseman, "How do you honor a king? Reeling from the loss of my colleague, my friend, my brother. Struggling for words. Nothing feels adequate."
She continued, writing that Boseman was truly a one-of-a-kind friend, colleague, and person. "I always marveled at how special Chadwick was. Such a pure hearted, profoundly generous, regal, fun guy. My entire job as Okoye was to respect and protect a king. Honor his leadership. Chadwick made that job profoundly easy," wrote Gurira. "He was the epitome of kindness, elegance, diligence and grace. On many an occasion I would think how thankful I was that he was the leading man I was working closely with. A true class act. And so perfectly equipped to take on the responsibility of leading the franchise that changed everything for Black representation."
In her tribute, Gurira confirmed what many saw Boseman as: someone who shone just as brightly off screen as he did on screen, a genuine and kind soul. "He made everyone feel loved, heard and seen," the actress shared. "He played great, iconic roles because he possessed inside of himself that connection to greatness to be able to so richly bring them to life. He had a heroic spirit, and marched to the beat of his own drum; hence his excellence as an artist and the incredible courage and determination as he faced life's challenges; while still guiding us all. He was zen and sweet and funny (with the very best laugh), attentive, and truly, truly, good."
She concluded, "I can't even wrap my mind around this loss. A loss resonating in my own heart as well as around the globe. The children he inspired, my heart aches for them, to lose their hero just as they finally found him. I am so thankful to have taken the Black Panther journey with him. To have known him, spent time in his light and leadership and to call him forever a friend."
Gurira then closed out her tribute by writing, "Lala Ngoxolo Kumkani," a Xhosa phrase that translates to English "Sleep in peace, O king."
The Black Panther team remembers Chadwick Boseman fondly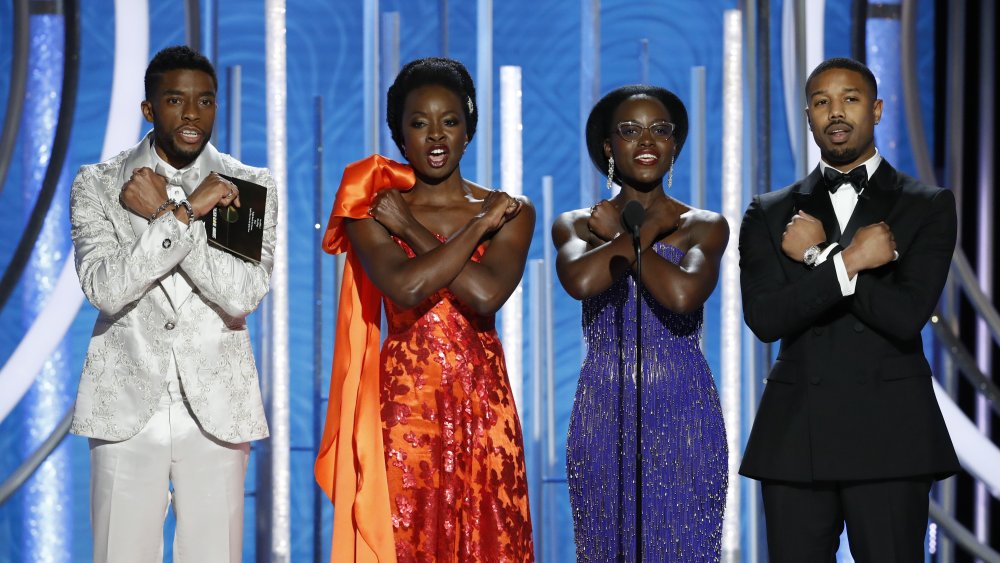 Handout/Getty Images
As one of Boseman's friends and frequent collaborators, it's no surprise that Gurira wrote such a touching, emotional letter to the late actor. However, it certainly speaks to his character that so many people have spoken out about what a kind and generous person Boseman was in life.
Letitia Wright — who also appeared in Black Panther as Shuri, T'Challa's younger sister – took to Twitter following Boseman's death, posting, "this hurts. really hurts." Their on-screen mother Angela Bassett, who plays the Queen Mother Ramonda, also posted a tribute to Boseman on Instagram. In it, Bassett shared a story about how Boseman was once assigned to be her student escort during the ceremony at which she received an honorary degree from historically Black college Howard University; that marked the unofficial start of their relationship. Black Panther director Ryan Coogler also wrote in The Hollywood Reporter an emotional essay about Boseman, mourning the loss of their working future together as well as the loss of the man himself.
Clearly, Boseman was both a consummate professional and a man of excellent character, and his loss is devastating to fans and colleagues alike. Though the world lost Boseman in his prime, he clearly left an impact on everybody he met, and fans and friends alike can always cherish his groundbreaking performances. 
You can stream Boseman's MCU movies on Disney+. His latest project, Spike Lee's Da 5 Bloods, is streaming on Netflix now.