Here's Why The Robot From Bill & Ted Face The Music Looks So Familiar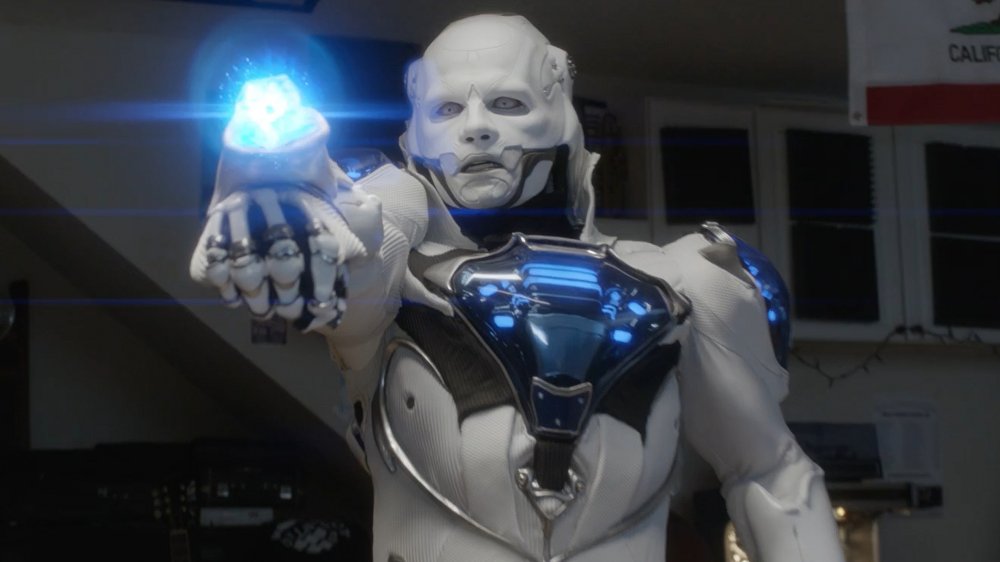 United Artists Releasing
There are a lot of familiar faces in Bill & Ted Face the Music. In the end, the long-awaited third film exists specifically to give us a final story about how Bill S. Preston Esquire (Alex Winter) and Ted Theodore Logan (Keanu Reeves), two goofballs from San Dimas, manage to bring peace and harmony to the universe.
In the universe of Bill & Ted, for every time traveling princess and physical embodiment of death as a bass player, there are also going to be faces we haven't seen before — some more difficult to make out than others. One face in particular belongs to a killer robot from the future. His name is Dennis. To be specific, the killer robot's full name is Dennis Caleb McCoy and he is the sleeper hit character you're going to hear a lot about now that Bill & Ted Face the Music is out in the world.
Underneath all the makeup and solid, robot dance moves is a great performer by the name of Anthony Carrigan — and this is not the first time he's played an affable killing machine. Here's where you've seen this talented character actor before.
Anthony Carrigan is NoHo Hank on Barry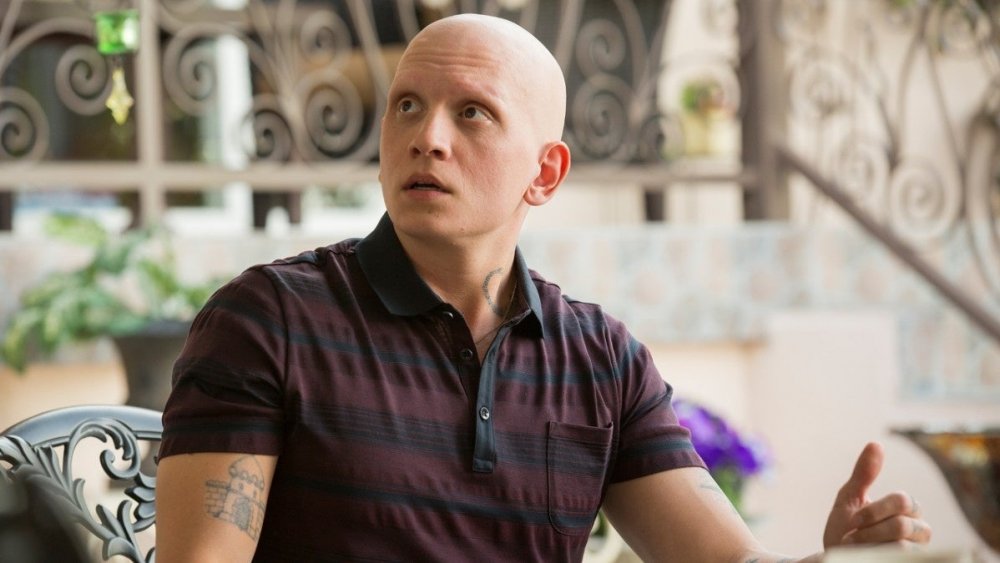 HBO
Back in March of 2018, HBO dropped the premiere episode of Bill Hader's charmingly bizarre series Barry. Barry Berkman is your typical actor in Hollywood: he goes to improv class, he connects with other actors for camaraderie and the hope that they can help each other find work, and he's also a hired killer.
Okay, so Barry is maybe not like most other actors (some, maybe, but not most). The offbeat series which features Bill Hader in the title role has an all-star cast — including dueling father figures Gene Cousineau (Henry Winkler) and Monroe Fuches (Stephen Root).
A lot of fans will tell you that the best character in Barry is NoHo Hank, played by Anthony Carrigan. While Hank may live in North Hollywood (hence the nickname) he is also a Chechen mobster with a great fashion sense and a real poetic flair for murder. NoHo Hank is a very bad guy, but he's the kind of bad guy you can't help but love. Sure, he's a brutal killer, but he does it with such flair. Hank's got his own bitmojis that he uses to communicate the murder instructions to Barry. He's a scamp — and he wouldn't be so instantly recognizable or beloved if not for Anthony Carrigan's unforgettable performance.
Anthony Carrigan is Victor Zsasz on Gotham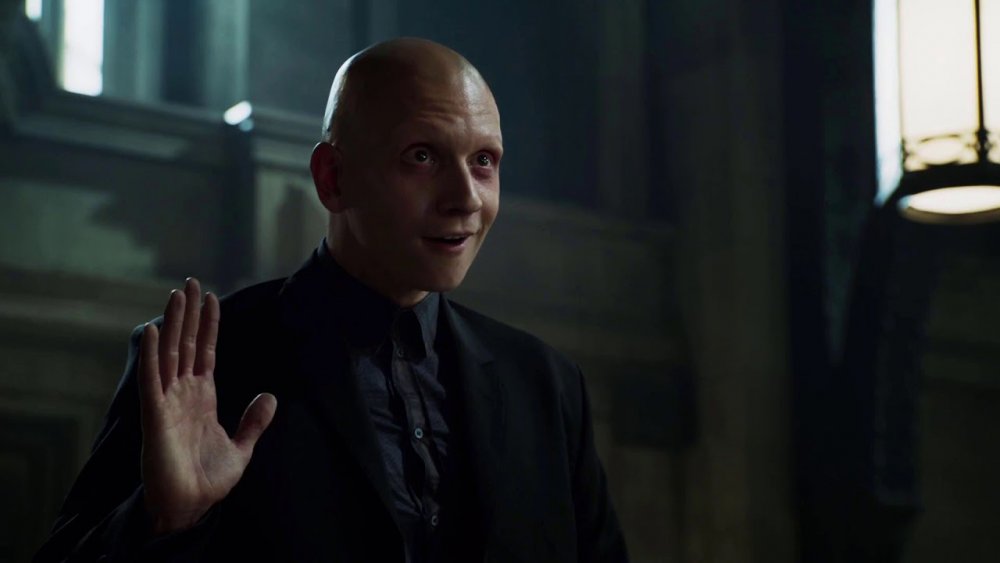 Fox
It feels like we're talking a lot about Batman these days, especially stories setting up how Batman becomes the hero of Gotham. The Fox series Gotham that took an absolutely wild and original stab at this origin story, focusing on a young Bruce Wayne and how each of his eventual enemies became the supervillains we know and love today.
While a lot of focus was paid towards Ed Nygma (Cory Michael Smith), Oswald Cobblepot (Robin Lord Taylor), and Selina Kyle (Camren Bicondova), there's one hired gun who always managed to break through: Victor Zsasz as played by the man himself, Anthony Carrigan.
The comics version of Zsasz is a kind of nihilistic serial killer whose whole shtick is that, because life is meaningless, killing people is actually doing them a favor. On Gotham, though, Carrigan's take on Zsasz is a much more playful, short-shooting, hitman who just loves what he does. And while Zsasz is usually allied with Cobblepot, part of what always makes him so much fun on Gotham is that he's a wild card — you never know who he might side with or unexpectedly kill off next.
Anthony Carrigan is Kyle Nimbus on The Flash
Warner Bros.
The Flash has been a central part of The CW's Arrowverse – second only to Arrow in importance. Over seven seasons, Barry Allen and Team Flash have taken on every type of villain you can think of: speedsters, time travelers, people who control weather, people who control disease. Sometimes Barry even has to fight alternate versions of himself.
Most of the original meta-human villains Team Flash faces off against exist as a result of the same S.T.A.R. Labs particle accelerator accident that created the Flash in the first place. One of those villains is Kyle Nimbus a.k.a. The Mist. Prior to the particle accelerator accident, Kyle was a hitman for the Darbinyan crime family. Unfortunately for him, Kyle was a caught hitman who was about to be put to death by gas chamber. Fortunately for Kyle, the particle accelerator saved him and transformed him into a killer who can turn himself into poison gas.
The Mist tore through Central City getting revenge on everyone who put him on death row. He was eventually stopped by Team Flash, at which point he became the first meta-human to be locked away in S.T.A.R. Labs' experimental meta-prison, the Pipeline.
Anthony Carrigan is Cory Smith on Parenthood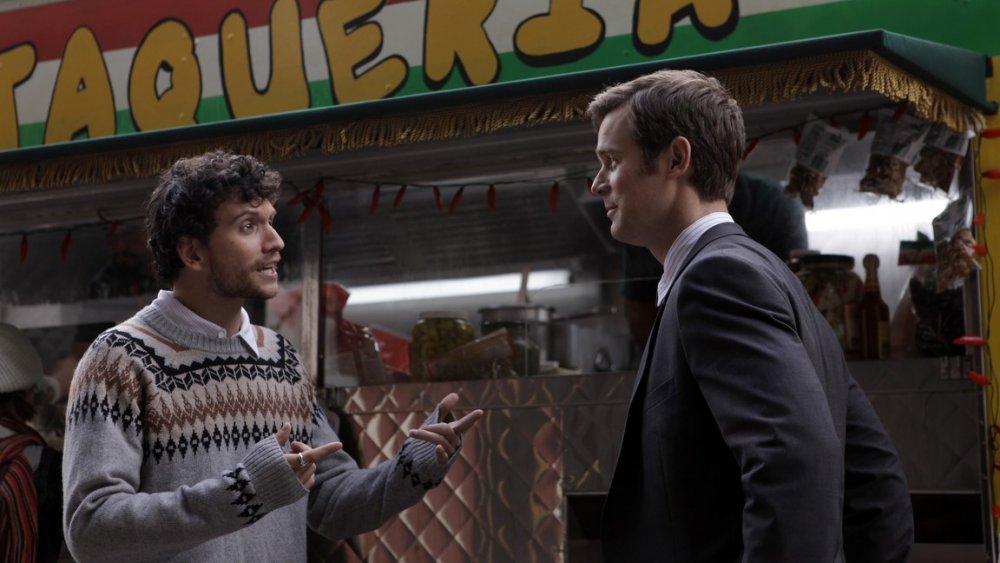 NBC Universal
The six-season, Craig T. Nelson-starring NBC series Parenthood (based on the 1989 Ron Howard film of the same name) focuses on three generations of the Braverman family. Part of eldest sibling Adam Braverman's (Peter Krause) story revolves around his career in the shoe business. At some point, Adam's boss is replaced with a much younger man, Cory Smith (Anthony Carrigan). Unlike Adam's former boss, Peter is extremely unconventional: He smokes weed on the job, he tricks Adam into eating an edible, and he fires people at will only to replace them with dudes name "Spyder."
Eventually, while dealing with the stress of his niece Amber's hospitalization, Adam finally loses it and expresses his anger towards Cory enough that is costs Adam his job. So while Anthony Carrigan wasn't an actual killer this time around, Cory Smith is still somehow his least likeable character — kinda ironic!