What's The Song In The Enola Holmes Trailer?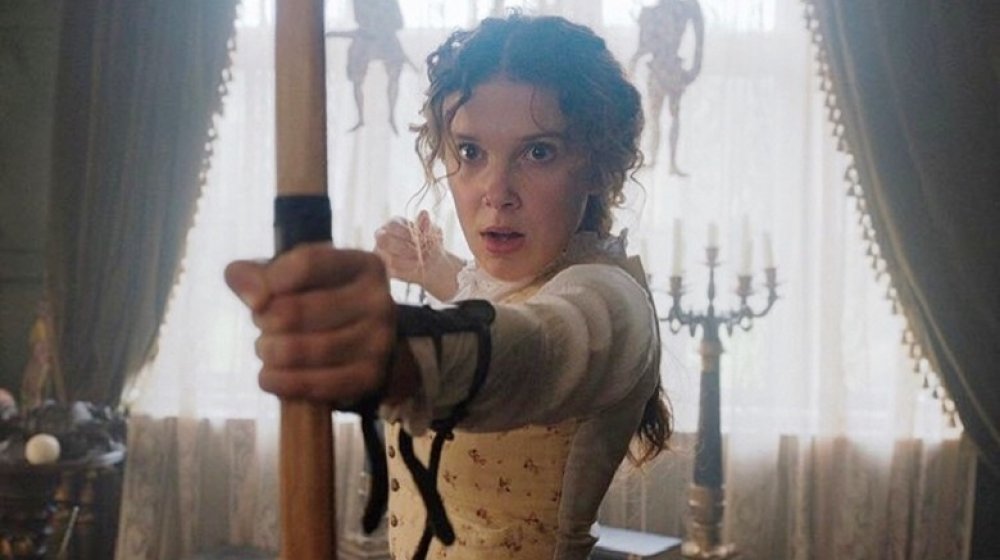 Netflix
The amazing new trailer for the Netflix original film Enola Holmes received a little kick in the soundtrack from a legendary band.
The back half of the spot prominently features a sweet, power chord-y guitar riff (which first creeps in as an orchestral version) that is guaranteed to have viewers of a certain age reeling with déjà vu. We won't keep you in suspense for too long (here's a hint: hard rock connoisseurs were in Love with this band in the '90s), but first... how about that trailer? We are totally digging the almost John Hughes-like teen movie vibe, the starchy uptightness of Sam Claflin's Mycroft Holmes, and the warm, almost fatherly vibe of Henry Cavill's Sherlock. But of course, the star of the show here is their teen sister Enola, and star Millie Bobby Brown simply exudes plucky brilliance as she continually, and adorably, breaks the fourth wall to fill us in on the flick's story.
That story: when Enola's beloved mother Eudoria (portrayed by the always-fantastic Helena Bonham Carter) goes missing, the precocious teen decides to enlist her brothers (particularly Sherlock, her "genius brother" who always has "all the answers") to help her solve the mystery. Enola comes to understand, though, that in order for her to get to the bottom of the disappearance, she'll have to follow her own instincts — and not worry so much about the polite conventions of English society to which her brothers would rather she conform.
It's the story of an extremely capable, confident young woman forging her own path with respect for, but apart from, a towering family legacy — and for our money, that's what makes the trailer's use of "Celebrity Skin" by Hole such an inspired choice.
Hole's "Celebrity Skin" was a smash hit in 1998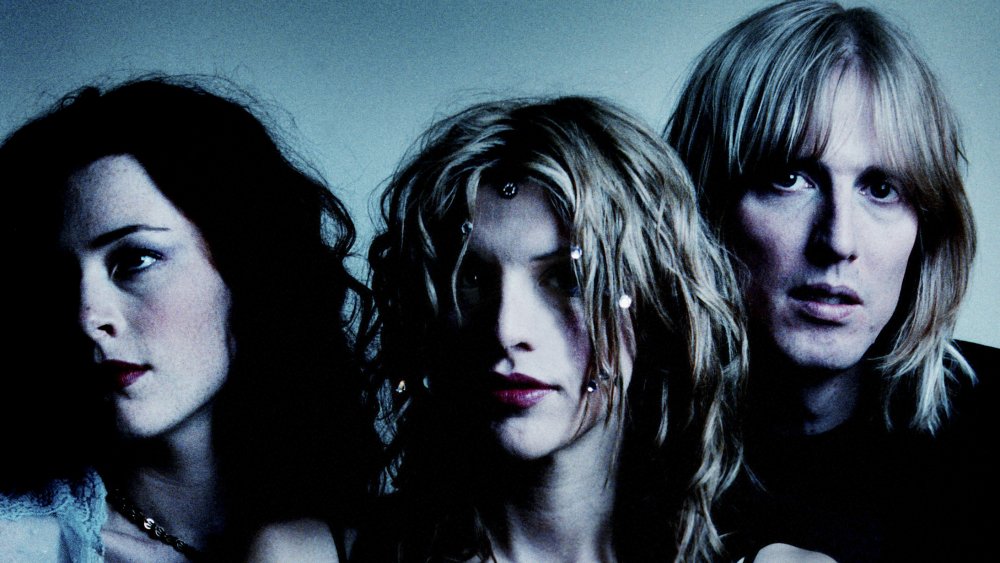 Niels Van Iperen/Getty Images
Hole was the band fronted by professional provocateur Courtney Love, largely remembered (unfairly) as the wife of the late, legendary Nirvana frontman Kurt Cobain. What some may not remember, though, is that Love wasn't simply following in her famous husband's footsteps. Hole was formed in 1989, before Nirvana's rise to prominence, and their first album Pretty on the Inside was released in 1991, shortly before Love even met Cobain. Hole's second LP, Live Through This, was released in 1993, and while Pretty on the Inside had been a moderate success, the band's second full-length was a smash. It moved well north of a million copies, and singles like "Miss World" and "Violet" garnered massive airplay on rock radio.
Celebrity Skin was Hole's third and final album, and it was released in September 1998, over four years after Cobain's death. Despite having publicly grappled with the loss of her husband, the album saw Love at the height of her formidable singing and songwriting powers, and it was once again a platinum selling hit. The title track, with its big, blaring guitar riff, scored the band its first (and only) Billboard #1 hit.
The tune's lyrics are a not-so-subtle screed on the pressures of public life, but they aren't featured in the trailer (a wise choice). That unmistakable riff serves its purpose perfectly, just as it did in 1998 (and more recently, on the Captain Marvel soundtrack). It announces that a unique, talented woman, long associated with a near-mythical figure, is quickly figuring out how to kick butt and take names all on her own... and if you don't like it, you may want to just get the heck out of her way.
Enola Holmes premieres on Netflix on September 23, 2020.