Why Chloe Bennet Hated Her Final Scene On Agents Of S.H.I.E.L.D.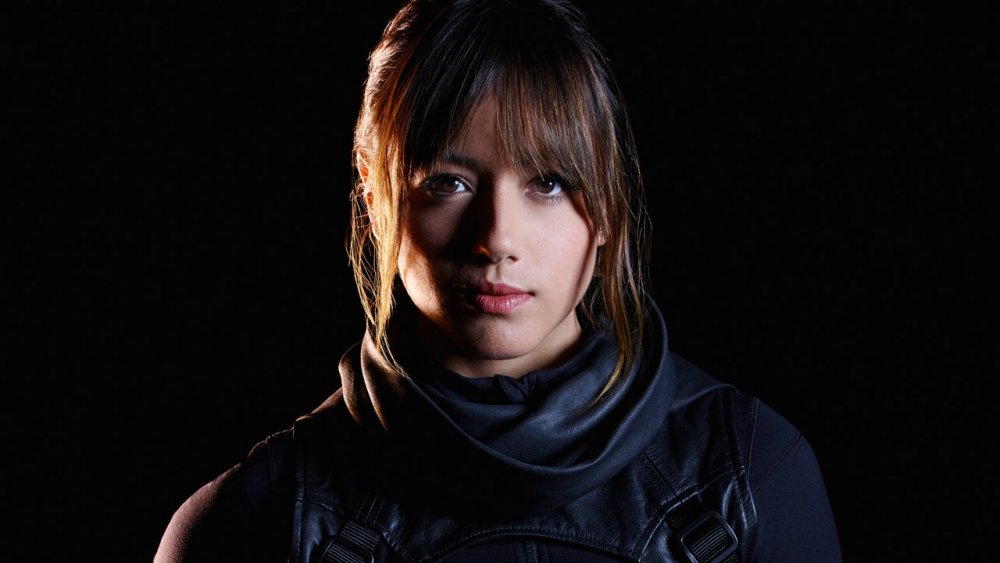 ABC Studios/Walt Disney Television
Contains spoilers for Agents of S.H.I.E.L.D.
Agents of S.H.I.E.L.D., the Marvel Cinematic Universe's first dalliance into TV, has come to an end, but the last scene for fans isn't always the final scene that the cast films. Production schedules and actor timetables made closure difficult for the MCU actors who had been together for seven years, portraying members of Marvel's elite secret agency. And while fans quarantining at home poetically end their time watching the going-ons from within S.H.I.E.L.D. headquarters on a superhero equivalent of a Zoom call, it was a different story for the cast.
Looper hopped on our own Zoom conference to participate in one last roundtable for the iconic show that paved the way for Marvel TV. We asked the cast what their final individual scenes were and how they felt when they wrapped. Chloe Bennet, who played Daisy "Skye" Johnson (and later Quake) since 2013, stepped up to the plate, spilling the tea about her less-than-ideal final scene.
Chloe Bennet's hated last scene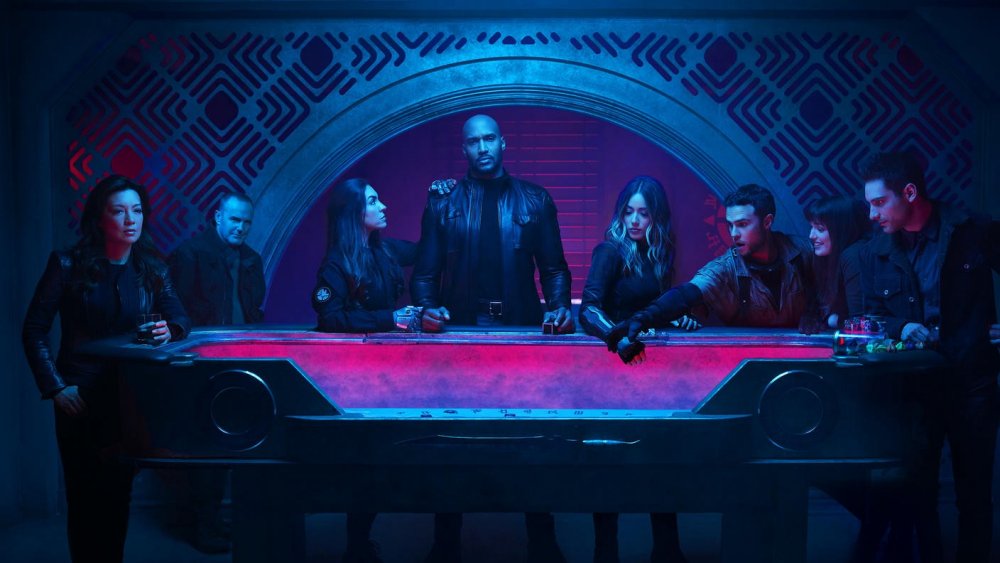 ABC Studios/Walt Disney Television
"I hated my last scene," Bennet said bluntly. "I'm going to be completely honest. I begged for our last scene to be the one where we're actually sitting in the chairs together."
In a tale as old as TV, the actress' fate was firmly in the hands of scheduling (the same reason why Iain De Caestecker's Fitz was largely missing from the final season of S.H.I.E.L.D.), and time wasn't on her side. She explained, "Because of scheduling reasons, we couldn't do that, and my last day was actually the entire Quake fight. And that is really hard to shoot — physical things when you're really emotional — because it's just the exact opposite parts of your brain just lighting up."
She continued, "My last, last shot — and this is very S.H.I.E.L.D. – was actually me on a green screen board with a bald cap, floating in space, looking dumber than you could imagine with a bald cap on, like an ironing board wrapped in green fabric with two green guys." Real talk, though: Bennet can pull off any look — bald cap, or no bald cap.
"That was my last shot, [I] was just laying there in space. I was like, 'This is so annoying, but it makes sense.' That's a very S.H.I.E.L.D. thing to have happened," she admitted. "And for scheduling, we couldn't get the big emotional scene. We did that kind of earlier on in the episode, so it was kind of a rag."
Series finales may be raw and emotional for fans, but they're even worse for the actors who have been on a show together for years. Many times, the cast becomes like a family at a certain point, and saying goodbye to their characters and co-stars is harder than filming the concluding episode itself  — especially when their last scene doesn't match the true final scene that closes out the show.
"I was just broken open from those scenes, and then to do the fights and then to have to lay on a green board, bald, was pretty odd," Bennet revealed. "So that's kind of funny."
The series finale of Marvel's Agents of S.H.I.E.L.D. aired Wednesday, August 12, and is available to stream on ABC.