Power Rangers Reboot Won't Include Any Of The Original TV Cast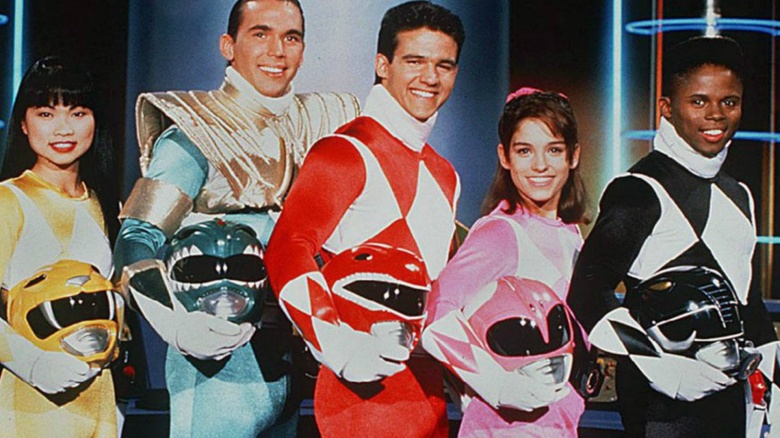 Saban Entertainment
From the looks of Elizabeth Banks as Rita Repulsa in the Power Rangers reboot, you'd think the heroes could use all the help they can get. But it sounds like none of the original team members from the '90s series Mighty Morphin Power Rangers will be in Dean Israelite's upcoming movie.
Walter Jones, who played Zack the Black Ranger on the TV series, told the Audibly Exquisite podcast (via CinemaBlend) that we shouldn't look for any of the original Rangers in the flick.
"Unfortunately, we were not invited to be part of the film," Jones said. "Which is confusing to me, but I'm excited about the film nevertheless."
The original Mighty Morphin Power Rangers also featured Austin St. John as the Red Ranger, David Yost as the Blue Ranger, Amy Jo Johnson as the Pink Ranger, Thuy Trang as the Yellow Ranger, and Jason David Frank as the Green and then White Ranger.
ScreenRant notes that most of the TV cast members still make appearances at conventions, with the exception of Trang who tragically died in a car accident in 2001. And although each of the surviving Rangers were reportedly invited to co-star in the 20th anniversary reunion episode of Power Rangers Super Megaforce back in 2013, Frank was the only one to appear.
The reboot stars Naomi Scott (The Martian) as the Pink Ranger, Becky G. as the Yellow Ranger, RJ Cyler as the Blue Ranger, Ludi Lin (Marco Polo) as the Black Ranger, and Dacre Montgomery as the Red Ranger. Elizabeth Banks plays the villainous Rita Repulsa, and Bryan Cranston (who did voiceover work on two episodes of the series in 1993) is set to portray Zordon, the giant face who tells the Rangers who to fight.
Power Rangers hits theaters March 24, 2017.