Spider-Man 3's Title May Have Been Revealed
Has the title of the Marvel Cinematic Universe's third Spider-Man film been hiding in plain sight?
The astute folks at Murphy's Multiverse have pointed out that multiple media outlets have been using a specific title for what everyone else has been calling "the untitled Spider-Man 3." That title is — drum roll, please – Spider-Man: Homesick. 
That alleged subtitle certainly fits with its predecessors Spider-Man: Homecoming and Spider-Man: Far From Home, but there hasn't been any explicit confirmation from Marvel Studios or Sony Pictures (which co-produces the film alongside the House of Heroes) that Spider-Man: Homesick is the official title of the third Tom Holland-starring Spidey movie.
Murphy's Multiverse claims that the pre-production crew in Atlanta is using Spider-Man: Homesick as the film's official title, but we were unable to confirm this to be the case. However, the site's reports that two outlets – Maxim and Esquire — have been referring to Spider-Man 3 as Spider-Man: Homesick are completely true.On its updated list of superhero movies set for release between now and July 2022, Maxim has the movie listed as Spider-Man: Homesick. Esquire also notes Spider-Man 3 as being titled as such.
While neither of those pages contain any information on how they caught wind of that title, given that two unrelated outlets are both reporting it, the info must have come from somewhere — either from an inside source at Marvel or Sony, an anonymous spokesperson, or just a random rumor online. Of course, if the title eventually turns out to be something else, it's not like this would be the first time that generally solid sources have reported inaccurate info about an upcoming Marvel movie. Unfortunately, in this case, there's a strong chance that this info won't pan out.
This isn't the first Spider-Man 3 'reveal'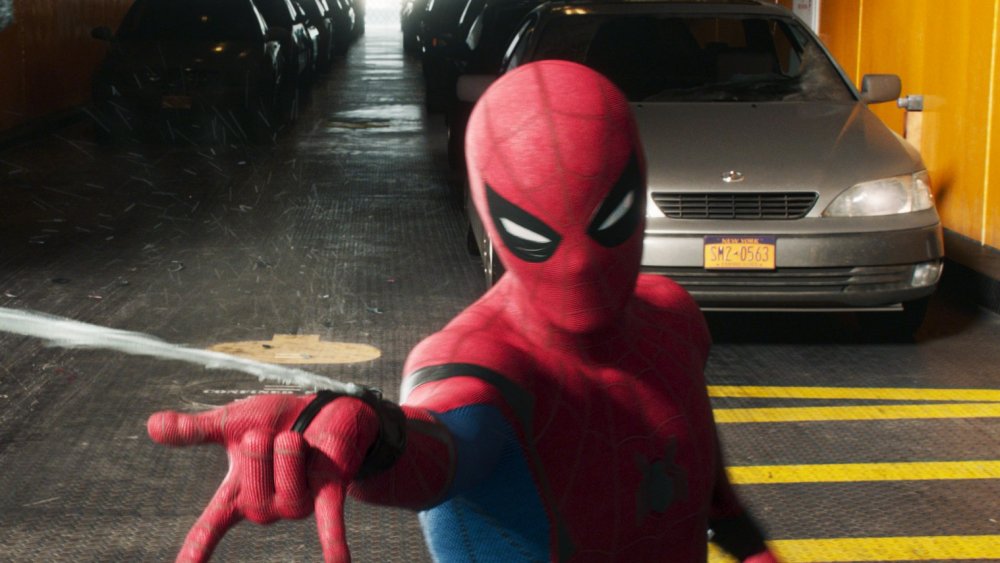 Sony Pictures/Marvel Studios
For one thing, fielding a Marvel blockbuster with the word "sick" in the title probably won't sound like a good idea to anyone for a very long time, considering the events of 2020. For another, this isn't the first time that the title of Spider-Man 3 has been "revealed" ... but the previous "leak" came from 4Chan ... and was reported on by Cosmic Book News and We Got This Covered, both of which have a spotty track record when it comes to accurate reporting. The 4Chan rumor claims that the film will be called Spider-Man: Home Run. 
While it's also a totally unconfirmed title originating from an uncorroborated internet rumor, Spider-Man: Home Run sounds like a more plausible title than Spider-Man: Homesick, particularly considering the events of Spider-Man: Far From Home. That film concluded with Peter Parker (Tom Holland) being publicly outed as Spider-Man and framed for the "murder" of Mysterio (Jake Gyllenhaal) through the use of a doctored video. Evidently, Mysterio's lackeys created the fake video from footage captured during his battle with Spider-Man in London; then, they shuffled the clip to TheDailyBugle.net head honcho J. Jonah Jameson (J.K. Simmons), who played it for all of New York City to see.
After that twist, Spidey seems poised to go on the "run" in the upcoming third movie — and that's not all. According to the 4Chan rumor, the film's villain will be Kraven the Hunter, who will presumably be tasked with tracking the fugitive Spider-Man down in a story inspired by the classic Spider-Man storyline "Kraven's Last Hunt."
It's also worth mentioning that in a recent poll by The Direct, MCU fans were asked to pick what they thought would be the official title of the next Spidey movie. They selected Spider-Man: Home Run by a very wide margin.
Of course, ahead of any official announcement, we'll probably get a better idea of what Spider-Man 3's title will really be as soon as Sony starts registering domain names for the film's eventual website. That process doesn't appear to have begun yet, but this is how fans were able to sniff out the title of the wall-crawler's first solo flick — Spider-Man: Homecoming, which was released in July 2017 — as early as April 2016.
What has Tom Holland said about Spider-Man 3?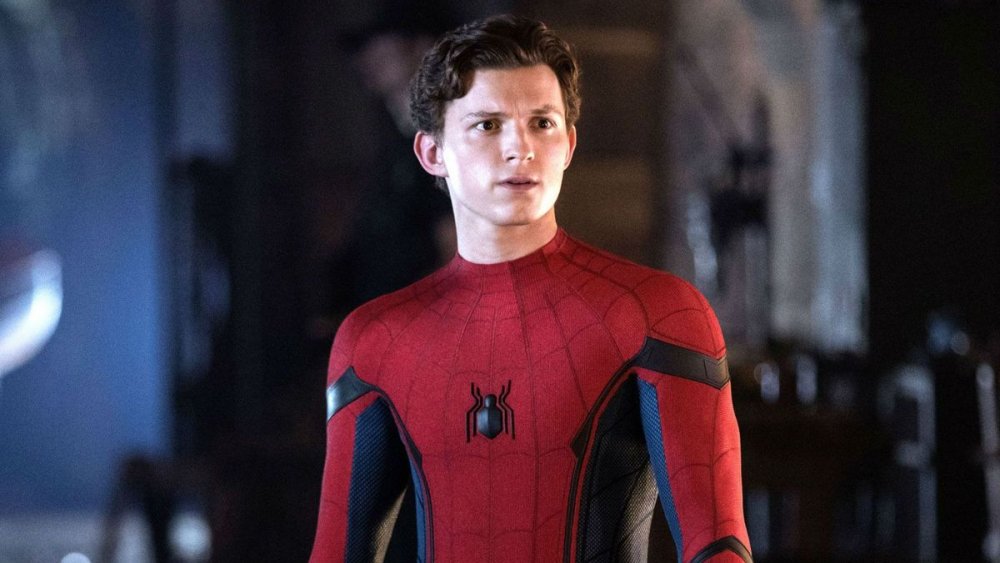 Sony Pictures/Marvel Studios
With several potential titles for Spider-Man 3 now floating around in the public sphere, it's prudent to ask whether Tom Holland has spilled the beans on the real title yet. The 24-year-old star has never come across a pertinent detail he couldn't accidentally spoil – and he even inadvertently "leaked" the title of Spider-Man: Far From Home in June 2018, over a year before the film's release. (Though it's worth noting that he was definitely being tongue-in-cheek about the whole thing.) Unfortunately for fans (but good news for Marvel and Sony), Holland has seemingly learned his lesson about spoilers. So far, he hasn't blabbed on the title of the third Spider-Man movie.
In fact, Holland has been given only enough clearance to offer up a few decidedly non-spoilery details about the film. First, the actor disclosed in an interview with Inquirer in March 2020 that Zendaya, who portrayed MJ in the first two movies, will be back for the third franchise installment. (Holland noted at the time that he was "not too sure" as to whether Peter and MJ will still be a romantic item, given Spidey's fugitive status and all). He also promised that the story is "totally insane," but kept a lid on any additional information.
Second, Holland revealed in July 2020 that Spider-Man 3 is expected to wrap shooting in February 2021. He first has to finish work on the video game movie Uncharted, which has reportedly resumed shooting in Germany after an extended pause due to the COVID-19 pandemic. 
But that's all, folks. Holland seems to be keeping his usually-loose lips shut this time around. And since fellow spoiler master Mark Ruffalo isn't in Spider-Man 3, he won't be of any help in accidentally dropping details about the film either.
The still-untitled Spider-Man 3 currently slated for release on December 17, 2021.