The Underrated Horror Film Blazing Up Netflix's Charts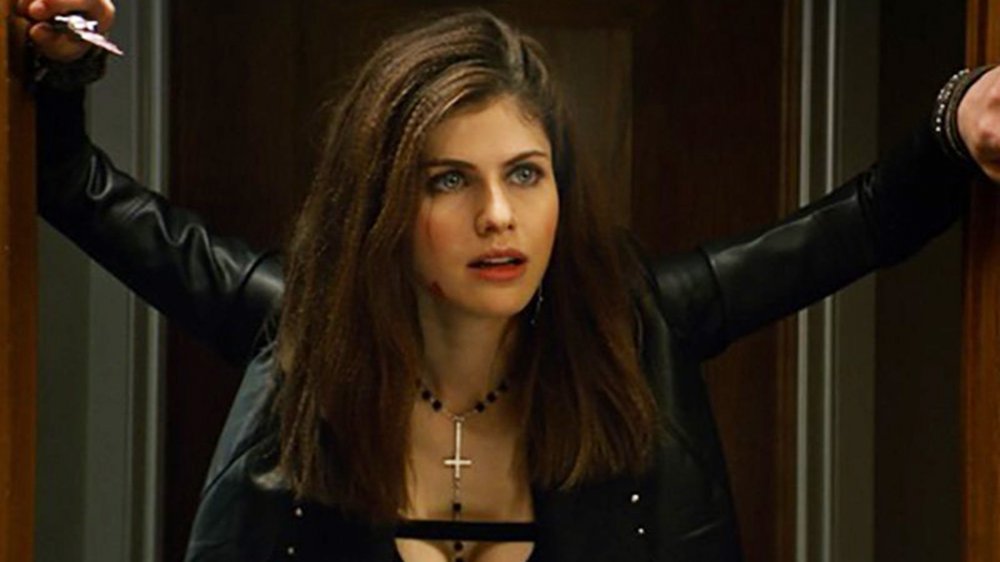 Saban Films
In the market for a gory fright-fest with a sly sense of humor? We've got a flick for you to summon up on Netflix.
We Summon the Darkness, a horror-thriller starring We Have Always Lived in the Castle's Alexandria Daddario, has made its entry onto the streamer's Top Ten list for movies in the U.S. Audiences are appreciating the flick's ability to make them chuckle, and also make them wince, often at the same time.
The film comes from director Marc Meyers, whose previous credits include last year's crime drama Human Capital and the 2017 biographical horror film My Friend Dahmer. He directs from a screenplay by Alan Trezza, whose sole prior credit is 2014's Burying the Ex, also starring Daddario (who's developing quite the flair for comedy-tinged horror). We Summon the Darkness surrounds Daddario with a solid supporting cast that includes Mr. Mercedes' Maddie Hasson, Channel Zero's Amy Forsyth, Alita: Battle Angel's Keean Johnson, Escape Room's Logan Miller, Live By Night's Austin Swift, and Johnny Knoxville, who has amused us all for years as the brilliant mind behind the television and film series Jackass.
We Summon the Darkness relies pretty heavily on an early twist, so please be advised that we'll be venturing into spoiler territory.
What is We Summon the Darkness about?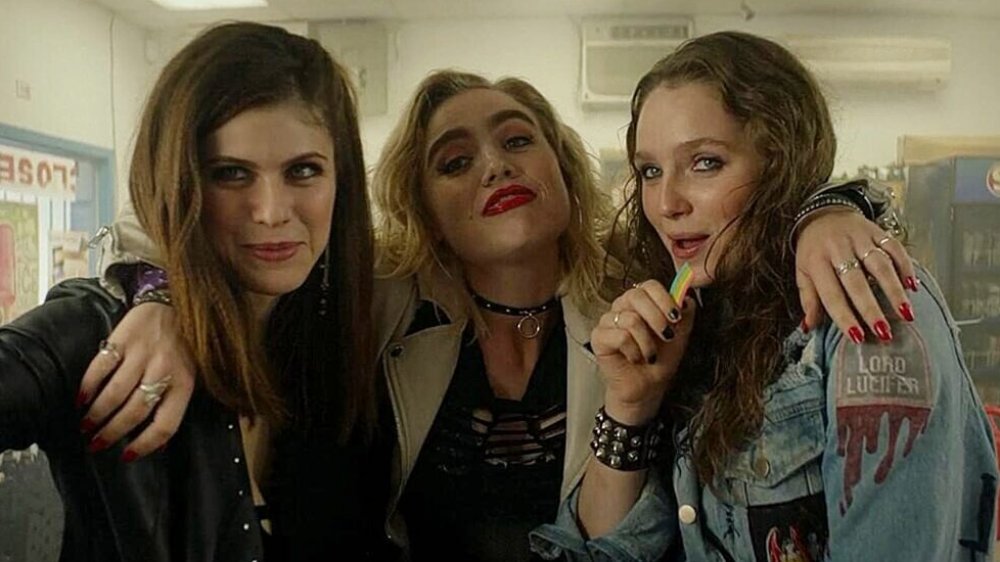 Saban Films
In We Summon the Darkness, Daddario stars as Alexis — a young woman who, as the film opens in July 1988, is on the way to a heavy metal concert with her best friends Val (Hasson) and Bev (Forsyth). Along the way, they have a run-in with a trio of boys: Ivan (Swift), Kovacs (Miller), and Mark (Johnson), with whom they strike up a flirty rapport.
After the concert, Alexis invites them all to her father's empty mansion, where they take part in a game of "Never Have I Ever" that quickly turns sinister. After the girls slip drugs into the boys' drinks, Alexis reveals their plan: to kill the boys and make it look like the work of a Satanic cult. The girls further reveal that they have done this many, many times before; they're members of a hardcore church called Daughters of the Dawn, and are trying to whip up fear of such devilish doings in order to drive people toward their religion.
Of course, complications arise. There's infighting among the girls, some of the boys prove to be more resourceful than they look, and the timely arrival of a police officer threatens to sink the entire murderous plot. But then, things get even weirder when the Daughters of the Dawn's pastor shows up — Alexis' father, John Henry Butler (Knoxville). He's determined to show his daughter the right way to carry out a fake Satanic ritual sacrifice, even if it kills him ... or her ... or, well, everybody.
Why have you never heard of We Summon the Darkness?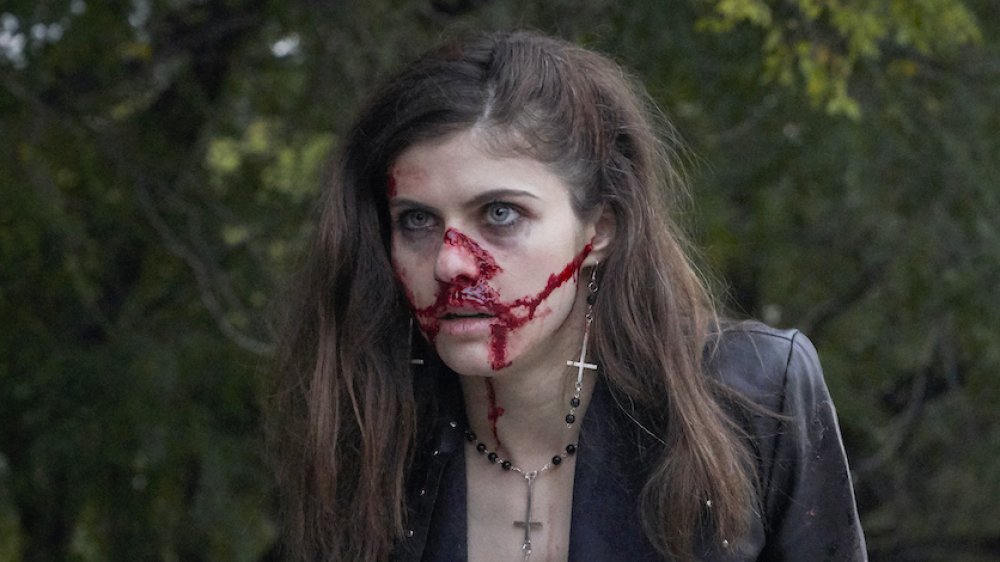 Saban Films
We Summon the Darkness debuted in early 2019 at Fantastic Fest, where it wowed the crowd and garnered strong reviews from critics. Saban Films, which tends to go with conservative release strategies for its genre films, picked up We Summon the Darkness for distribution. Among the company's more high-profile recent releases are the Rob Zombie horror movie 3 From Hell and Kevin Smith's Jay and Silent Bob Reboot, both of which received extremely limited theatrical releases despite having built-in audiences.
The film's stateside distribution probably doomed its shot at a theatrical run even before the COVID-19 pandemic shuttered theaters nationwide, as it was released directly to digital and video-on-demand platforms in April 2020 before hitting Blu-ray and DVD in June 2020 (through Lionsgate Home Entertainment). With no promotional campaign to speak of, it's not terribly surprising that virtually nobody had heard of We Summon the Darkness before it popped up on Netflix. 
It just so happens, though, there are a heck of a lot of housebound folks looking for something new and interesting to chill them to the bone during this long, hot, seemingly endless summer, and We Summon the Darkness fits the bill.
A split consensus hasn't stopped We Summon the Darkness from attracting an at-home crowd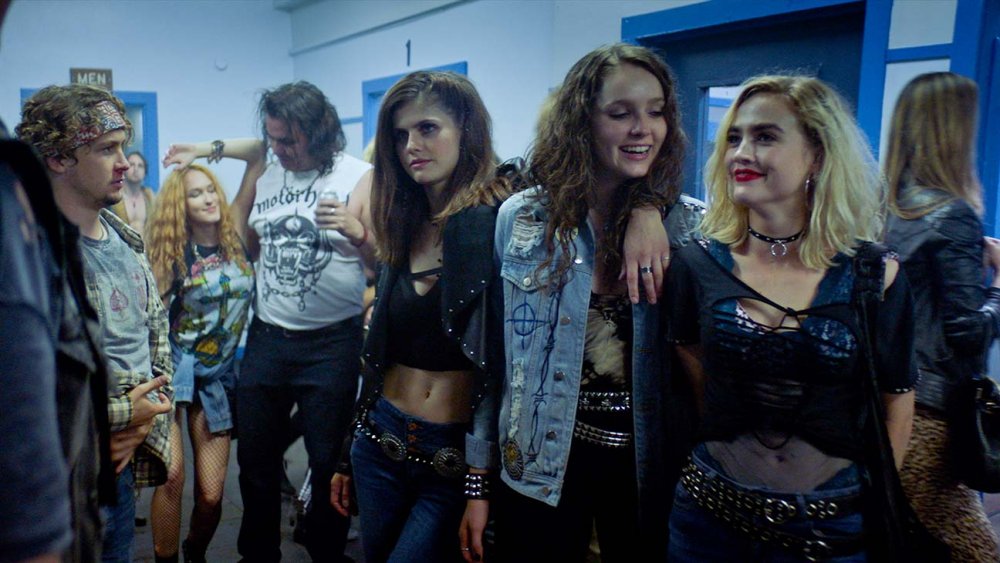 Saban Films
As mentioned, when We Summon the Darkness had its world premiere on the festival circuit in 2019, the majority of critics loved it. The same can be said for when the film dropped on digital, VOD, Blu-ray, and DVD earlier this year: More critics found We Summon the Darkness to be a terrifyingly enjoyable horror treat with "palpable affection for genre formula, an appealing cast, and a sharp sense of humor" (via Rotten Tomatoes). Variety's Owen Gleiberman wrote in his April 2020 review of the film, "We Summon the Darkness is a psycho thriller that pulls the bloody rug out from under you, and does it in a shivery sly way." Jeffrey M. Anderson of The San Francisco Examiner said of the film, "[It] is a sturdy little cat-and-mouse thriller [that has] a pretty good twist, as well as taut, suspenseful filmmaking and a strong use of space. It knows how to rock.
No film is for everyone, of course, so not all reviewers were picking up what We Summon the Darkness was putting down — and general audiences at the time appeared to agree with the more critical of the professional set. Registered Rotten Tomatoes users gave the film a less-than-optimal score, and some critics wanted a bit more from We Summon the Darkness than it delivered. 
However, that clearly hasn't kept the movie from making headlines and attracting a new wave of attention. It's evident that no matter what odds were stacked against it, We Summon the Darkness deftly summoned success.