The Boys Season 2 Trailer Is Finally Here
The Boys are back in town, and season 2 is shaping up to be even more devastating than the first. With the September 4 release date bearing down upon us, fans of The Boys have been champing at the bit for a sneak preview of what the next set of episodes has in store. Until now, Amazon Studios has kept as tight-lipped as a Vought executive about the second round of its marquee comic book adaptation; thankfully, the pay-off is certainly worth the wait.
The Boys' season 2 trailer is frenetic, gross, violent, witty, fast, brutal, loud and undeniably exciting. It's basically all of the adjectives. The three-minute preview of the upcoming eight episodes is sure to get any fan of grimdark superhero carnage amped up for what this fall season has in store. As has become Amazon's tendency, the company plans to release its hotly anticipated property simultaneously in 240 territories around the world, so no fear of spoilers — no matter where you are.
The subversive streaming series is based on the comic series of the same name by arch-provocateur and Preacher scribe, Garth Ennis. Ennis' series came along at a time when it was trendy for adventurous creators to undercut the traditional superhero format with grim takes on the reality of what it might actually be like to live in a world populated by superpowered demi-gods unbound by the rules of civil society. The creative debt owed to Alan Moore and Dave Gibbons is an obvious one, but The Boys is several magnitudes more cynical than even Watchmen, a book that essentially ends in a politically motivated act of mass murder intended to cause an enduring state of global paranoia. 
While Ennis' work is certainly bleak (Ennis famously claimed The Boys would out-Preacher Preacher), the television adaptation somehow manages to turn the dial up even further; that hasn't stopped fans from showing up for it. Amazon bet big on The Boys' essential brand of wide-eyed cynicism, and that bet paid off big. Season 1 found a massive audience, and ever since that 2019 debut, fans have been clamoring for more.
The Boys season 2 looks ready to pick up right where season 1 left off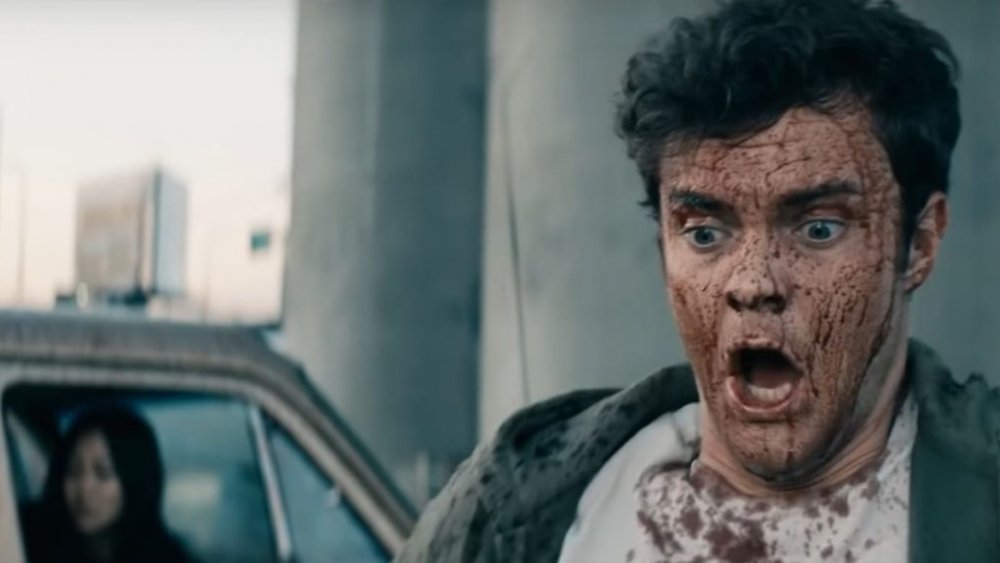 Amazon Studios
Amazon's accompanying press release promises an "even more intense, more insane" second season as Hughie Campbell (Jack Quaid) and his outlaw band of Supe killers find themselves hunted by the very same superpowered celebrities they've been after. All is not exactly copacetic over at Vought either, however. Starlight (Erin Moriarty) continues to question her place among The Seven even as the sociopathic Homelander (Antony Starr) continues his unhinged quest for autocratic control of the team. He has to manage a clash of personalities with Seven newbie Stormfront (Aya Cash), a powerful Supe with new media skills to match that make her an explicit threat to Homelander's hegemony. The trailer gives us plenty of clips to get acquainted with Stormfront, who seems likely to be the most dynamic addition to season 2's cast.
All the old faves are present and doing what they do best — A-Train (Jessie T. Usher), Queen Maeve (Dominique McElligott), The Deep (Chace Crawford) — even Karl Urban's grizzled Billy Butcher, whose quest to liberate his wife from the clutches of Vought seems to be a major driving force in the season 2 plot.
Unlike many streaming series, The Boys is only set to debut the first three episodes on Prime Video September 4. The rest of the season will debut weekly on Fridays, with episode 4 following the premiere on Friday, September 11.