Why George From Lovecraft Country Looks So Familiar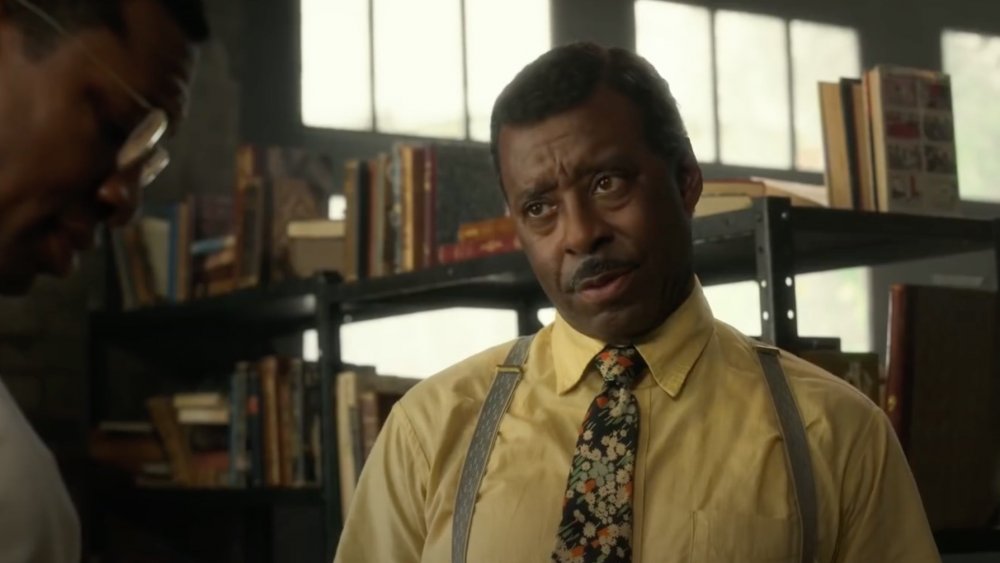 HBO
Lovecraft Country is finally coming to HBO Max and bringing with it all manner of frightful beings that are guaranteed to fully creep-ify your summer. If you're already familiar with Lovecraft Country's setup, you know that, while many of the beasts in the show take inspiration from the pages of horror master H.P. Lovecraft, some of the more frightful creatures in the series are far too real, and therefore far more terrifying. If you're new to the terrain, we can tell you Lovecraft Country is set in the U.S. circa the 1950s, which means racial segregation and unjust Jim Crow laws still factored heavily into the day-to-day struggle for African-Americans. 
Thus it is that this harrowing new story — sprung from the minds of co-creators Misha Green (Underground) and Jordan Peele (Get Out, Us), and produced by J.J. Abrams (Lost, Star Wars: The Rise of Skywalker) – of a Black man's journey through the heartland in search of long-lost father is fraught with perils only persons of color can truly understand. That man is Atticus Black (played by Da 5 Bloods breakout Jonathan Majors), who's joined on his perilous campaign by an adventurous childhood friend (Jurnee Smollett), and his more level-headed Uncle George.  
It's highly likely entertainment enthusiasts will recognize both Majors and Smollett from their recent film and television projects, and we're betting most of you will almost certainly recognize the face of the actor who portrays Uncle George. It belongs to Courtney B. Vance, and it's been featured in dozens of high-profile film and television projects over the past few decades. Here's why George from Lovecraft Country looks so familiar.
Courtney B. Vance played an infamous attorney on American Crime Story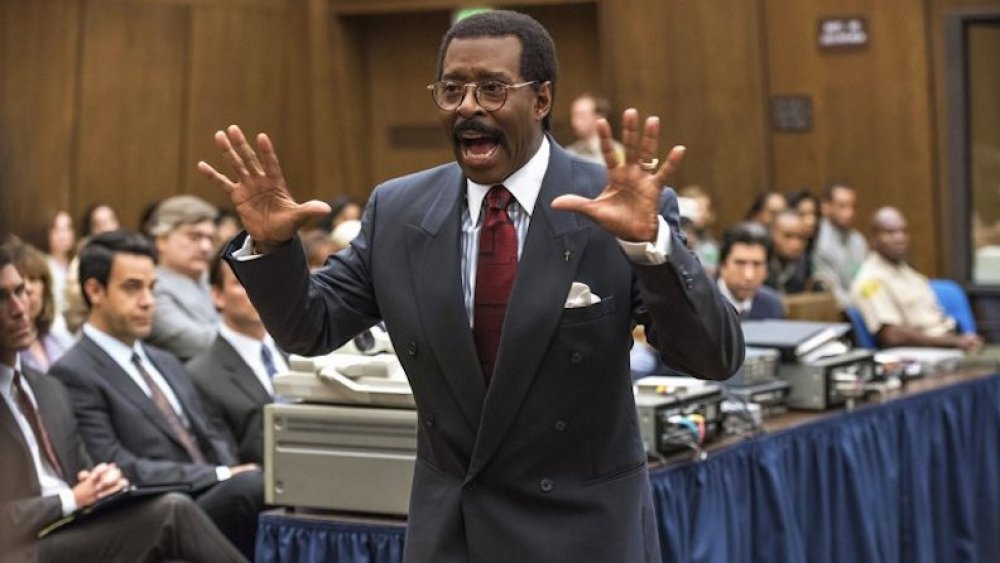 FX
For the children of the '90s, there were few cultural events quite as prominent as the trial of O.J. Simpson. It so dominated television and news headlines over its run that it was virtually impossible to not be at least casually aware of its proceedings. Even if you were among that "casually aware" set, you no doubt recall the smooth-talking attorney who shouldered the load of Simpson's defense. Much like narrative of the trial itself, Johnny Cochran often felt like as if he was scripted by Hollywood writers. Truth is, there's probably not a scribe in Tinseltown who could've so effectively crafted such a tragically entertaining story, nor such a colorful character as the defense attorney who frequently stole the spotlight in the infamous trial. Almost the day after the trial was over, it became a matter of not if, but when the trial would be adapted into one sort of entertainment confection or another.
Surprisingly, that didn't happen for more than 20 years. When it did, the creative team behind FX's crime anthology series American Crime Story made the most of the moment, putting together a searing, 10-part mini-series that dramatized the trial in fascinating and genuinely heartbreaking ways. They also put together an all-star cast of actors for the series, none of whom were quite as brilliant as Courtney B. Vance as the great showman-slash-lawyer Johnny Cochran, who some believe helped Simpson get away with murder.
Of Vance's performance in American Crime Story, we'll say it's a uniquely showy turn that sways skillfully between carny-like boisterousness and the stoic introspection of a legal wizard. As such, it's sort of the legit scene-stealer in a series where every performance could qualify.     
Courtney B. Vance played a Terminator franchise icon in Terminator: Genisys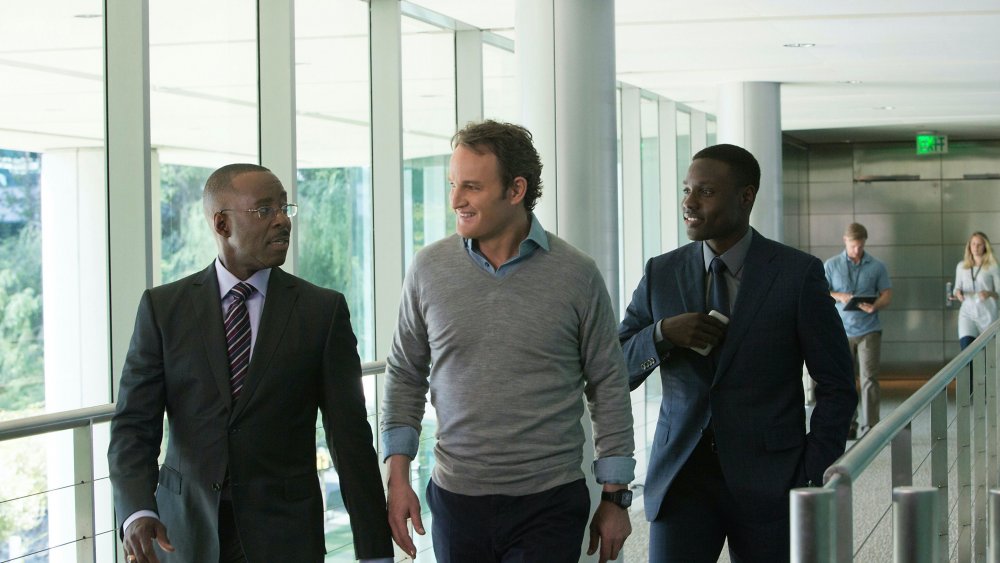 Paramount Pictures
Like the unstoppable robots who've so fervently stalked largely unsuspecting humans over numerous Terminator films, the franchise itself seemingly cannot be killed, with the most recent addition coming in an underwhelming 2019 offering that even the return of Cameron and franchise stalwart Linda Hamilton couldn't save.
As undercooked as 2019's Terminator: Dark Fate ended up being, it was far more palatable than the entry that preceded it. Released to punishing reviews in 2015, that timeline-warping box office bomb was called Terminator: Genisys, and found former Game of Thrones star Emilia Clarke claiming the role that Hamilton made famous years prior. We won't bore you with details about Terminator: Genisys, except to offer that it remains a conceptually compelling entry in the Terminator franchise. Unfortunately, the film's creative forces did absolutely nothing interesting with the clever concept, delivering a muddled mess of a film that further soured the already shaky goodwill of Terminator faithful. 
Not that we're asking you to, but if there is one reason to revisit Terminator: Genisys, it would be to watch Courtney B. Vance do his thing as Cyberdyne mastermind Miles Dyson, because he really is quite good in the film. Franchise fans no doubt remember that name from T2, in which Joe Morton played the part of the tech genius who paid the ultimate price in fighting the future. Vance stepped into action as Dyson for Genisys, and ably filled out the under-explored duality of the character, imbuing Dyson with an overconfident intellectualism that brashly enables the fall of mankind even as he essentially seeks to secure mankind's future. 
While Terminator: Genisys certainly doesn't rank among Courtney B. Vance's best films, it still features one of his strongest performances.   
Courtney B. Vance played a noble Assistant District Attorney on Law & Order: Criminal Intent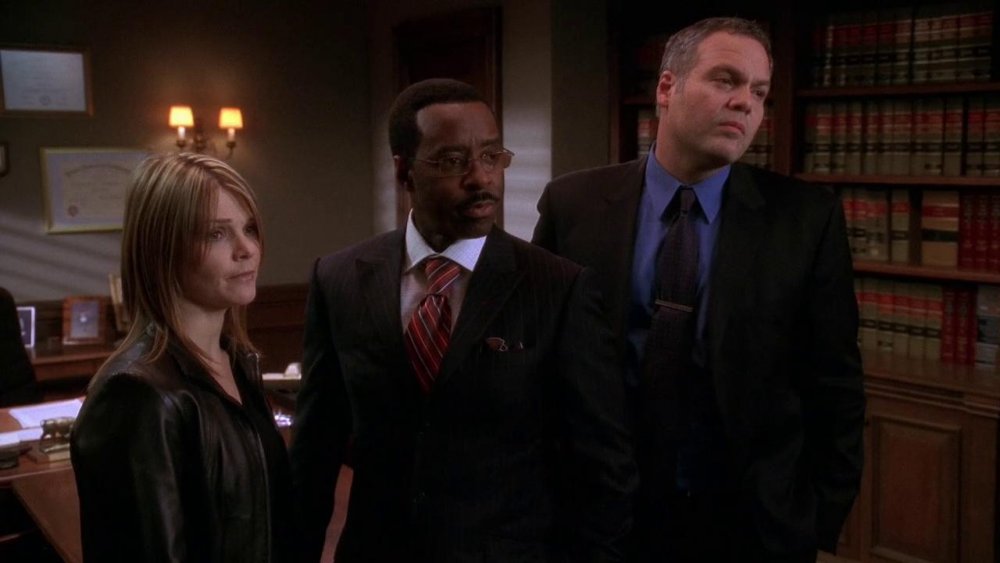 NBC Television
There's sort of an unspoken knowledge in and around Hollywood that pretty much every single working actor on the planet has at one point appeared on one Law & Order series or another. Of course, one of the reasons for that is that there have so far been six different Law & Order series on the airwaves over the past 30 years, going back to the original's 1990 debut.
Law & Order: Criminal Intent was the second series in the fabled small-screen franchise. It arrived in Fall of 2001 with storied character actor Vincent D'Onofrio (Netflix's Daredevil) and Kathryn Erbe playing hotshot detectives in the NYPD's Major Case Squad. Criminal Intent ran for a decade on NBC, earning as devoted a following as the iconic series that preceded it, though its popularity flagged in later seasons (about the time the series started splitting time between detective pairings).
Still, Criminal Intent was often the best of the Law & Order series, with D'Onofrio delivering transfixing work as the brilliant Detective Robert Goren. For much of that run, he was joined on screen by Courtney B. Vance, who portrayed the hardworking ADA Ron Carver over the course of Criminal Intent's first five seasons. Yes, we'd freely admit Courtney B. Vance absolutely burned up the screen as Johnny Cochran in American Crime Story, but his work on Law & Order was often every bit as electrifying. That's in large part due to the actor's uncanny ability to feed off of whatever energy his co-stars are feeding him. 
Given that Law & Order: Criminal Intent was such moody, emotionally wrenching affair, you can only imagine how vital Vance's steadying, and marvelously dexterous presence was to the series' tempestuous early days. Likewise, it was sorely missed after he left the show.