Why Vinnie Jones' New Movie Means So Much To Him - Exclusive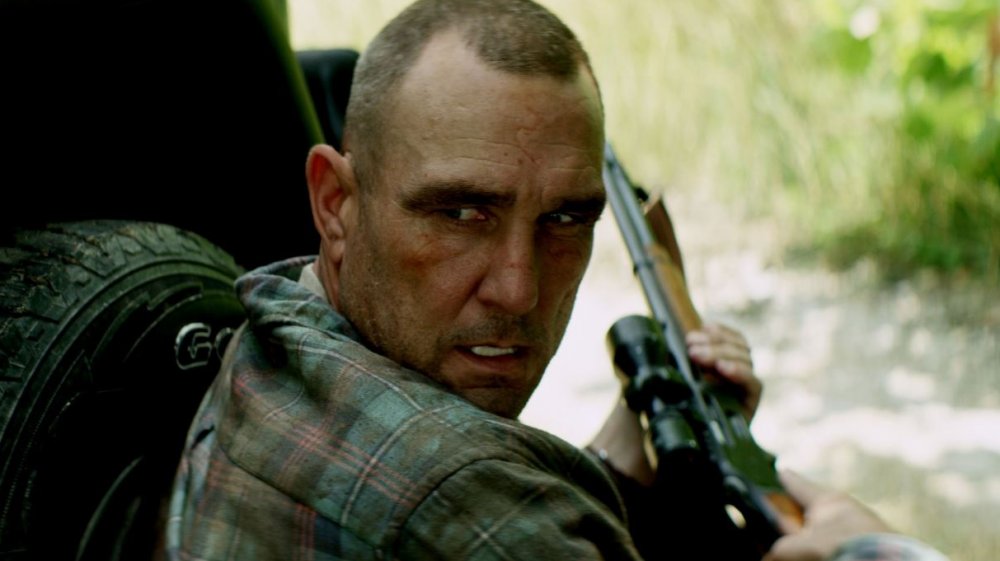 Vertical Entertainment
Vinnie Jones adores his new movie, The Big Ugly. He wants you to feel the same way. It was a labor of love for Jones — one with which he was intimately involved beyond just his starring role as Neelyn, an enforcer-slash-henchman who works for the powerful British crime boss Harris, played by Malcolm McDowell. Harris sends Neelyn out to West Virginia to establish a money-laundering operation with the oil baron Preston (Ron Perlman), but Neelyn's girlfriend Fiona (Lenora Crichlow) suddenly disappears and his priorities shift to seeking revenge.
"If Taylor Sheridan would have written or directed this," Jones would tell people, referencing the Hell or High Water screenwriter and Yellowstone creator, "this would be the biggest movie in America right now. Everyone would be shouting about it." 
In an exclusive interview with Looper, Jones told us all about his part in making the movie.
The English actor first met The Big Ugly writer-director-producer Scott Wiper when they worked together on The Condemned in 2007, a movie by WWE Studios. Wiper recognized that Jones had more to offer than the movie provided, and said they'd make a film together. "Scott wanted to get out from under that rock of WWE," Jones told us, "and I wanted to get out of the Rock of being killed in every movie."
Jones raised all the money for the movie himself. After shopping the script around Hollywood to minimal interest, one of Jones' friends clued him in to possible investors in Detroit. "We made a sizzle reel, took it out to them — they loved it," Jones shared. He told the investors, "The only guarantee I've got is my word. I give you my word that we're going to work very hard on this." 
All his legwork resulted in getting the six-million-dollar budget for The Big Ugly in the bank. Jones cast much of the movie himself just by calling people — recruiting McDowell especially and ensuring he was paid quickly.
During production on The Big Ugly, Jones' wife Tanya was continuing to fight a long battle with cancer. Tanya insisted that Jones and Wiper, no matter the situation, get the movie finished. She was deeply involved in the production of The Big Ugly – watching the auditions and helping cast most of the female characters. Tanya even picked out the music played in the final scene of the movie, and was fortunate enough to see The Big Ugly before she sadly passed away in July 2019. The Big Ugly sees Jones' character Neelyn's girlfriend be placed in grave danger, and Jones' real-life situation factored into how he played the character.
In the lead-up to production, Wiper's parents also died. As Jones shared with Looper, he and Wiper looked out for one another, bolstering the other up whenever they were feeling down. "If he was low, I'd pick him up, I'd put him on my shoulder, and we'd walk through the trenches together," he said. "And when I was shattered and I was out emotionally, he would do the same. And that's what turns friendship into brotherhood, I think."
Tough guys + fun times + hard work = The Big Ugly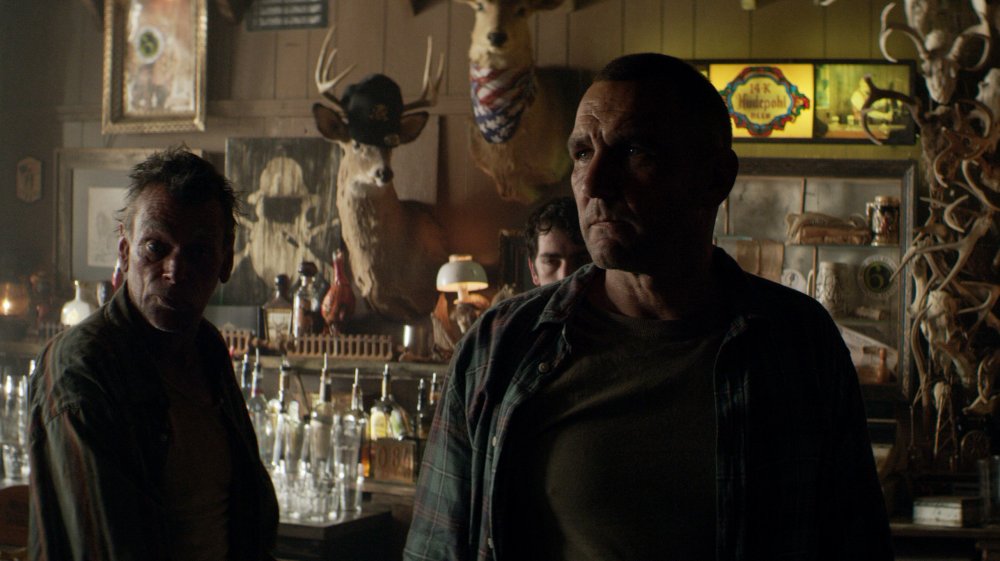 Vertical Entertainment
Jones' background in football — call it "soccer" around him and you might get "get smacked around the head for it" — absolutely plays into his style on set. "I'm very much a team player, and I think that's why I'll make a good producer," the Brit told us. 
He kept the younger Big Ugly cast members on task by letting them know one important thing: "If you think you've come here to West Virginia to f***ing waste my time, there's too much blood and sweat gone into this, [so] you are very much mistaken."
This also factored into his interactions with McDowell and Perlman. There was a lot of playful alpha male mockery, which Jones called "funny as f***." He said of the banter-filled dynamic, "Malcolm would constantly tell me that he saved the movie and we're very lucky we had him. Ron was constantly telling us that he was the best actor on the whole set and we should all watch him and learn."
At one point, they were all joking about whether McDowell or Perlman would be second or third on the call sheet behind Jones. On day one of shooting The Big Ugly, Perlman was first and McDowell was second. Jones put himself at spot 100 on the call sheet, right around the stunt doubles. He did it to show "that this was a team effort and being number one, two, three, four, five on a poxy f***ing cast list or shooting list didn't matter. What mattered was the end product." This impressed his fellow cast mates, as they'd never seen that before. 
"The only problem is," Jones said to his co-stars with a laugh, "you two w***ers, you've got nowhere to go. I've got 99 places to go up — me. I can always go up now."
The Big Ugly is now in select theaters and will be available in virtual cinema and on video on demand and digital on July 31.