Archer Fans Just Got Incredible Season 11 News
Attention, Lana Kane. Lana! Lana! LAANNNAAA! The world is going to need your assistance in celebrating the awesome news that just dropped for Archer season 11. 
Held on Friday, July 24, 2020, the San Diego Comic-Con@Home panel for Archer packed a number of punches in the breaking news department — announcing the new release date for season 11, preceding the unveiling of a fresh season 11 trailer, and revealing two A-list celebrities who will guest star on the upcoming season. (Though, we must admit, the rest of the panel was pretty heavy on pandemic-related chatter and talk of toilet paper.)
Let's start with the first bit of news: Archer season 11 will premiere on FXX on Wednesday, September 16, 2020 with two back-to-back episodes. That puts a roughly 14-month gap between the air date of the final episode of Archer season 10 (July 31, 2019) and the debut of the first two episodes of season 11. Considering the fact that many studio executives and showrunners have been forced to place long stretches of silence between seasons of their series, Archer fans are lucky that the wait for season 11 has been relatively short — even with the release date delay from May to September 2020.

The next order of business to address is the Archer season 11 trailer. While the footage wasn't released during the show's panel, it hit the internet shortly thereafter. It opens with Sterling Archer (voiced by H. Jon Benjamin) explaining that he lived many lives in many genres while he was in his coma, from which he awoke during the Archer season 10 finale. "I couldn't get a handle on who I was or what it all meant," Archer says in voiceover as shots of him wearing various different costumes flicker across the screen.
With a cane in hand and a new-old lease on life, Archer is determined to get back into the swing of things and continue his regular bad habits. But, as he comes to realize, a lot can change in the three years one spends in a coma. As the Archer season 11 synopsis tells us, "While many things changed during his absence, Archer is confident it will take just a little time for him to reset things back to the old ways. The problem: Does the rest of the team want that? Everyone else has been doing pretty well and may not be ready for his return to throw a wrench in their well-oiled machine."
Archer season 11 will feature two big-name guest stars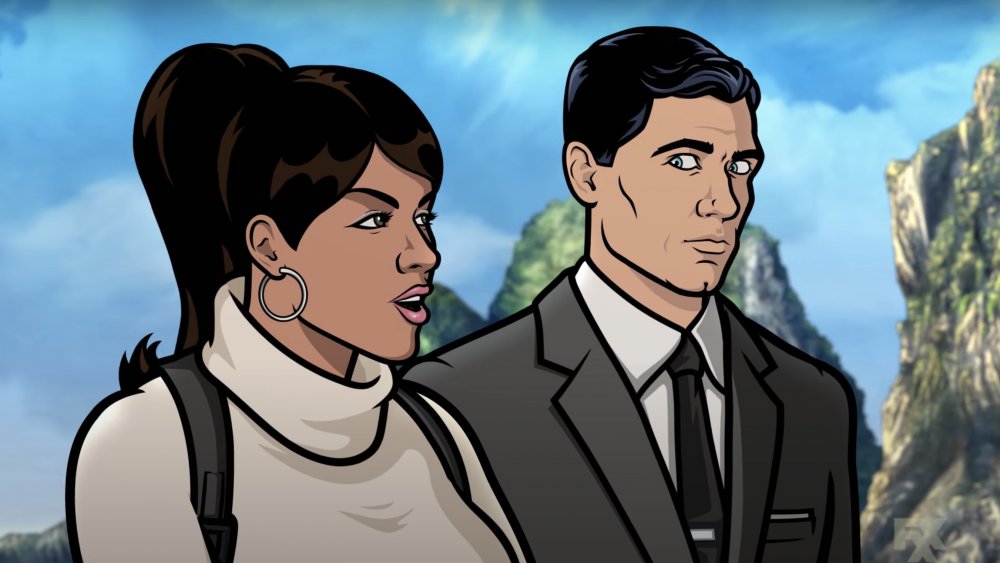 FXX
Now for the third announcement made during the Archer Comic-Con@Home panel: Archer season 11 will feature guest appearances from none other than Halloween franchise legend Jamie Lee Curtis and Shaun of the Dead, Star Trek, The Boys, and Mission: Impossible actor Simon Pegg. 
Securing Curtis for Archer season 11 was easier than one might think. Judy Greer, the voice of Cheryl on Archer, actually worked with Curtis for the 2018 Halloween reboot, in which she played Karen Nelson, the estranged daughter of Curtis' scream queen Laurie Strode. Plus, Curtis is a diehard Archer fan; she and her son, Thomas, bond and geek out over the show. Taking all that into consideration, it was a no-brainer to bring Curtis in to voice an Archer character, and it was no surprise that Curtis agreed to the gig.
"When we first showed up [to the set of Halloween], to do rehearsals and stuff in Charleston, where we shot, I introduced myself to [Curtis], and she just went right in for Archer," Greer said during the panel. "So much so — and I've never actually asked her this — but I do think that's why I got the job [in Halloween] because she's an executive producer on the movie. She and her son really bond over Archer. They watched it all the time. And it's his favorite show, and she loves it. It's one of her favorite shows."
Greer added, "I said, 'Jamie, you know [I] 100 percent could get you on the show." The rest, as they say, is history.
As for how the team pegged Pegg for Archer season 11, there wasn't any anecdote to go along with his involvement, but that doesn't make it any less exciting. The charming Brit has lent his voice to a number of projects in the past — like The Chronicles of Narnia: The Voyage of the Dawn Treader, The Boxtrolls, Ice Age: Collision Course, The Cloverfield Paradox, and, most recently, The Dark Crystal: Age of Resistance. Pegg's got the pipes and the professional experience to fit right in amongst the Archer crew. 
No details about Curtis and Pegg's Archer characters were shared, but that's no cause for worry. Archer season 11 is less than two months away, so all shall be revealed in just a little while. 
As a reminder, Archer season 11 premieres with its first two episodes on FXX on Wednesday, September 16. Fans can stream new episodes the following day on FX on Hulu.