3 Ways The Reno 911! Revival Is The Same And 3 Ways It's Different Than The Original
Quibi
This content was paid for by Quibi and created by Looper.
Cops may be canceled, but Reno 911! lives on. The officers of the Washoe County Sheriff's Department have faced a lot of trials and tribulations since the mockumentary Reno 911! began airing way back in 2003. After six seasons and a movie, the series went off the air in 2009. But now, thanks to Quibi, the team is back. In some ways, they are better than ever. In others, well, nothing has changed.
For some shows, Quibi's quick-bite formula might pose a challenge when it comes to adapting an existing style to the shorter format. But Reno 911! almost feels like it was always meant to be enjoyed in shorter bursts. Of course, that doesn't mean that the show hasn't made some changes for its seventh season. It has been nearly a decade since we last checked in with Lieutenant Dangle (Thomas Lennon) and the rest of his deputies, and the series has adapted accordingly.
If you're a fan of the series from back in the day and are curious about checking out the new season on Quibi, we'll break down what will feel familiar about season 7 of Reno 911!, and what new twists you might not expect.
The original cast is back...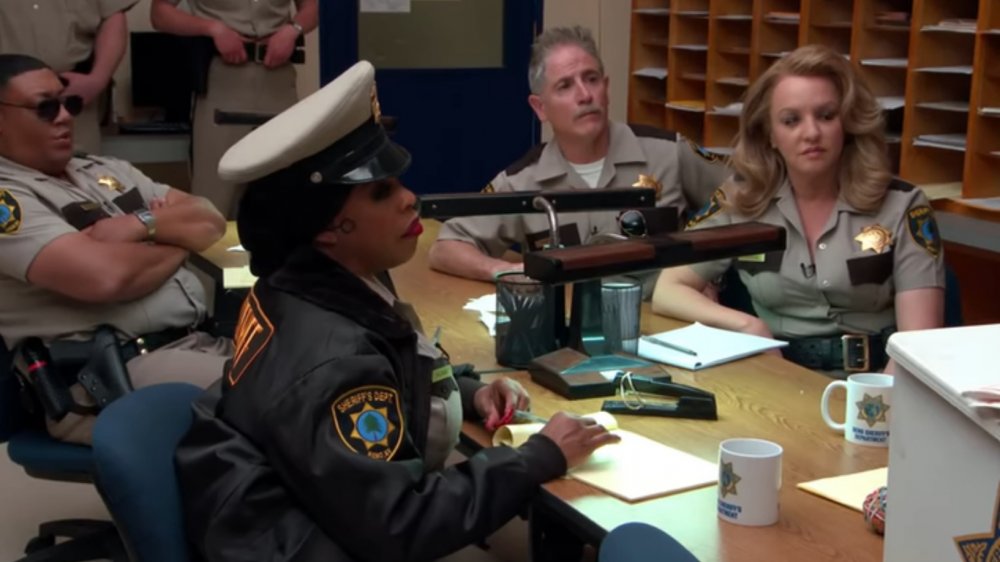 Quibi
Even though Deputies Garcia (Carlos Alazraqui), Johnson (Wendi McLendon-Covey), and Kimball (Mary Birdsong) were killed off in an explosion at the end of season 5, the new season smartly retcons those deaths in order to reunite the cast. All seven of the original officers return. They even bring back some of the later recruits, such as Sergeant Declan (Ian Roberts) and Deputy Rizzo (Joe Lo Truglio).
Because of the shorter format, don't expect every officer to get tons of screen time in each episode. Rest assured, though, everyone gets a chance to shine at some point over the course of the season.
...and they are joined by some new faces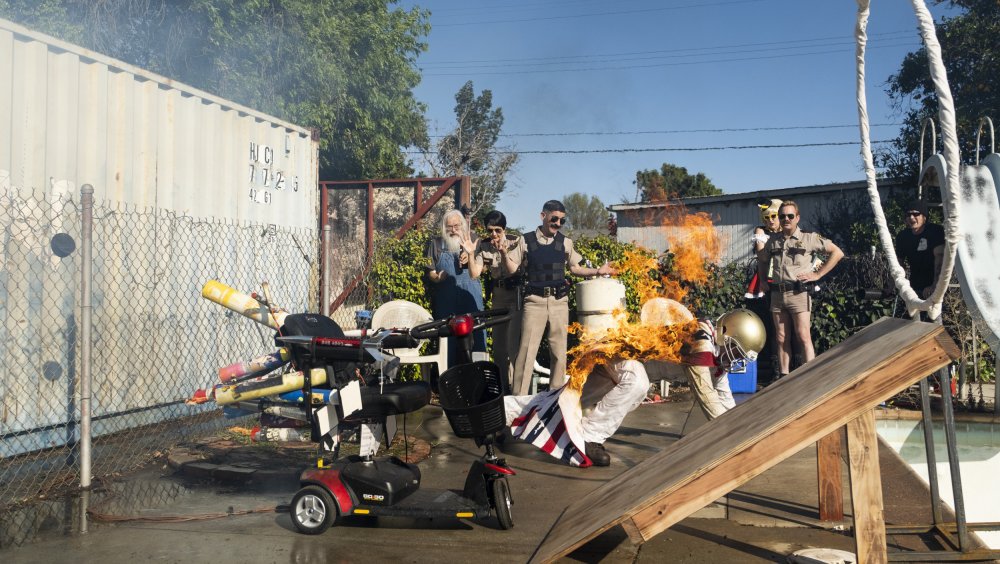 Quibi
Quibi's Reno 911! revival knows why fans of the original series tune in. The show makes sure that the characters we've come to know and love (or loathe, in some cases) are front and center. However, the new season does make room for some new additions to the cast.
One of the best newcomers is Jeffy (Paul Walter Hauser). The hapless security guard is hired to protect the station after a series of break-ins, but his lackadaisical attitude means he mostly just ends up underfoot. Jeffy only appears in a few episodes, which feels like just enough to keep the show feeling fresh, while not distracting from the stars at its center.
The sketch show format remains mostly unchanged...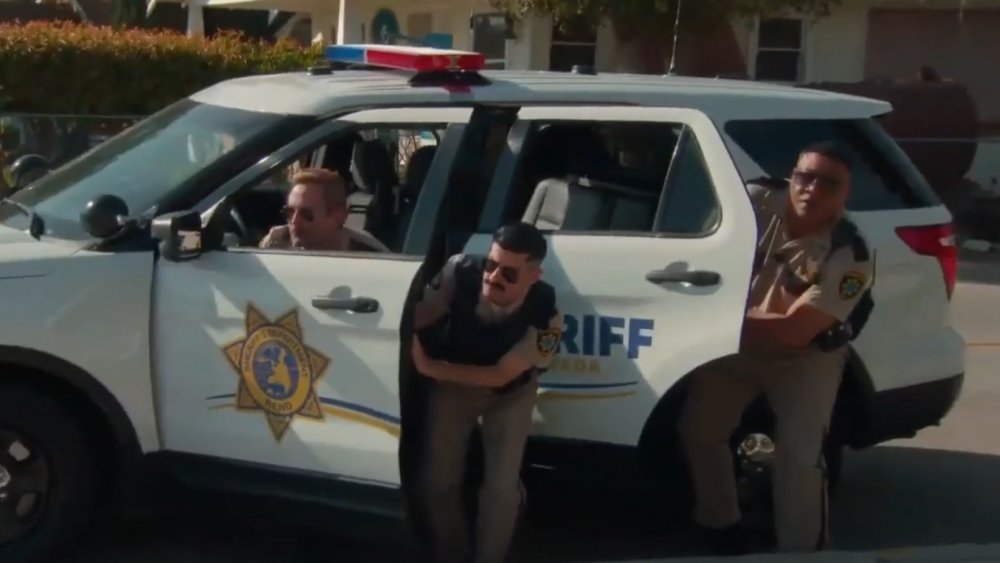 Quibi
When it comes to updating the format for its revival, Reno 911! took a note from the idiom "If it ain't broke, don't fix it." The show began life as a parody of Cops, and it uses the formula of jumping between the deputies answering various calls to great effect. For the most part, that remains unchanged in the new season. The sketches still come fast and furious, often with no connective tissue in between. Most of the situations the officers find themselves in are highly absurd, and the show lets them exist just as long as they need to before moving on to the next wild set piece.
...but the Quibi format keeps everything tight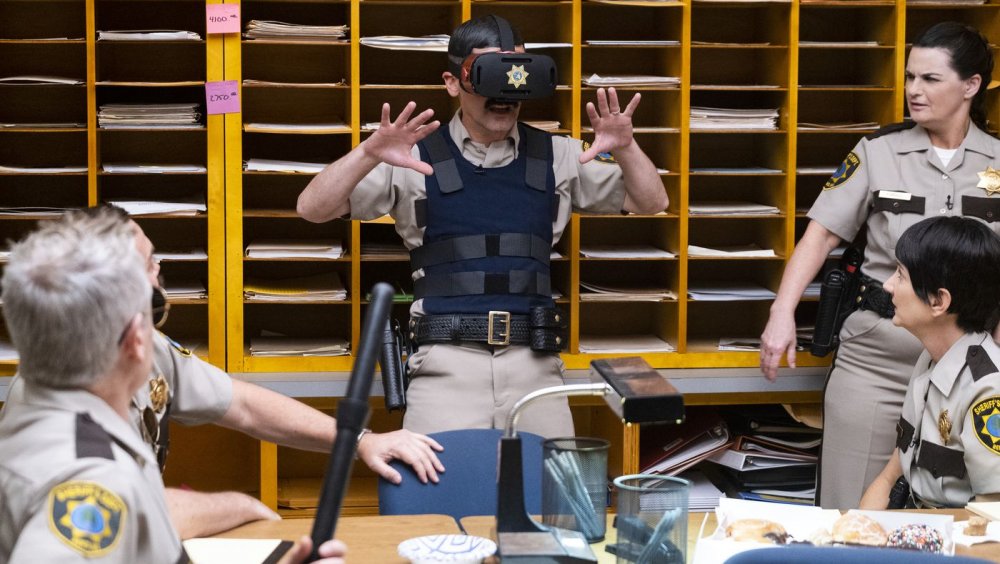 Quibi
Of course, the thing about sketch comedy is that less is sometimes more. While the original seasons of Reno 911! typically kept things moving, in order to fill a traditional 30-minute timeslot, sometimes bits overstayed their welcome. Whether it was a sketch that went on too long or a storyline that got returned to one too many times, the show wasn't without its fat.
For the most part, the shorter episodes allow Quibi's version of Reno 911! to keep things tight. Sketches end as soon as the punchline has been delivered, and there are fewer recurring storylines (although they do still exist). Overall, the show feels a lot snappier in its shorter format.
The show brings back some classic bits...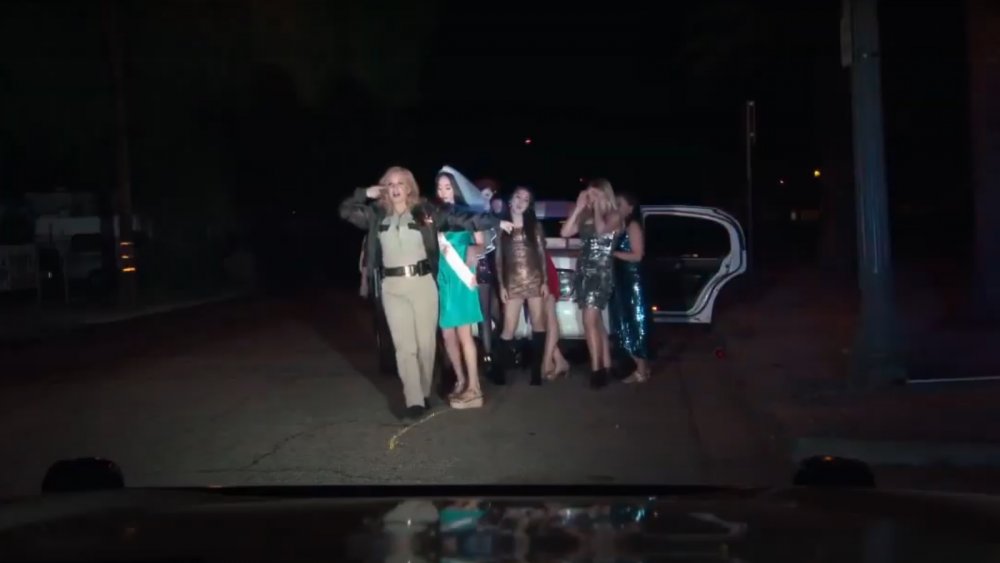 Quibi
Old school Reno 911! fans will be happy to hear that it's not just the officers that return for the new season. Some of the show's best frequently seen perps and recurring bits come back in innovative ways.
Early on in the season, the always inconsolable T.T. (Niecy Nash) makes an appearance when the officers act as pallbearers at her aunt's funeral (spoiler alert: it doesn't go well). In another episode, Deputy Johnson pulls over a limo full of rowdy of bachelorette party attendees. It only takes a few moments for the ensuing sobriety test to turn into rehearsal for a dance number. It's a callback to a classic sketch in which she coaches a potential drunk driver on how to strut while he's demonstrating whether he can walk in a straight line.
...but the content feels very contemporary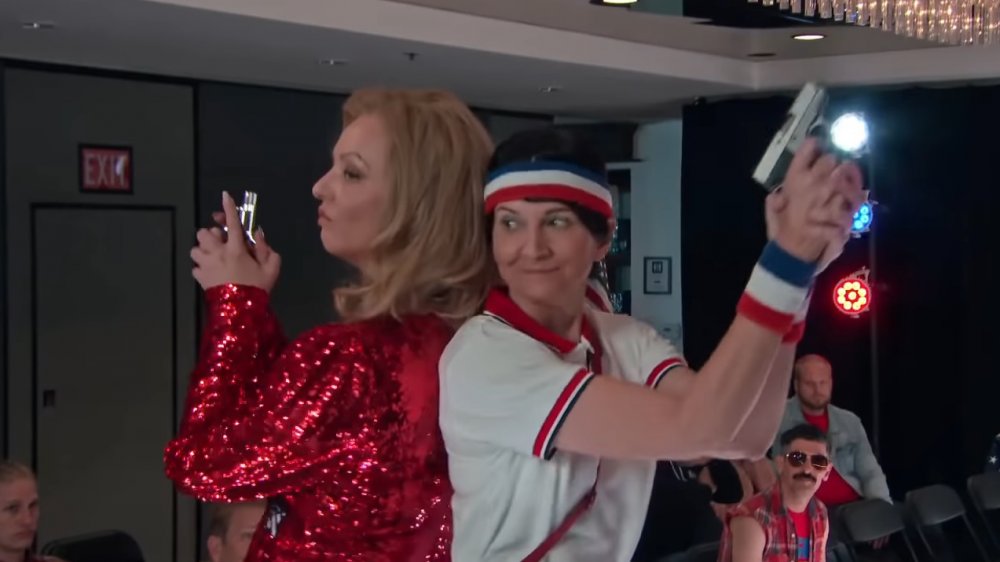 Quibi
The humor on Reno 911!'s early seasons tended to be pretty broad. It was the characters themselves that drove most of the laughs, and the situations they found themselves in often were just there to give them an excuse to react to something. That trend continues in the new season, but the show has also incorporated a lot more direct commentary on contemporary politics and social mores.
Issues like police brutality, race relations, and gun control are all addressed explicitly over the course of the latest season. Of course, it will be up for each viewer to decide for themselves how skillfully the show addresses these sensitive topics. But the series certainly seems aware that things have changed considerably since the first season premiered nearly two decades ago.
In its move to Quibi, Reno 911! has changed just enough to keep itself fresh, while sticking with the things that worked.