The Umbrella Academy Fans Just Got Seriously Cool News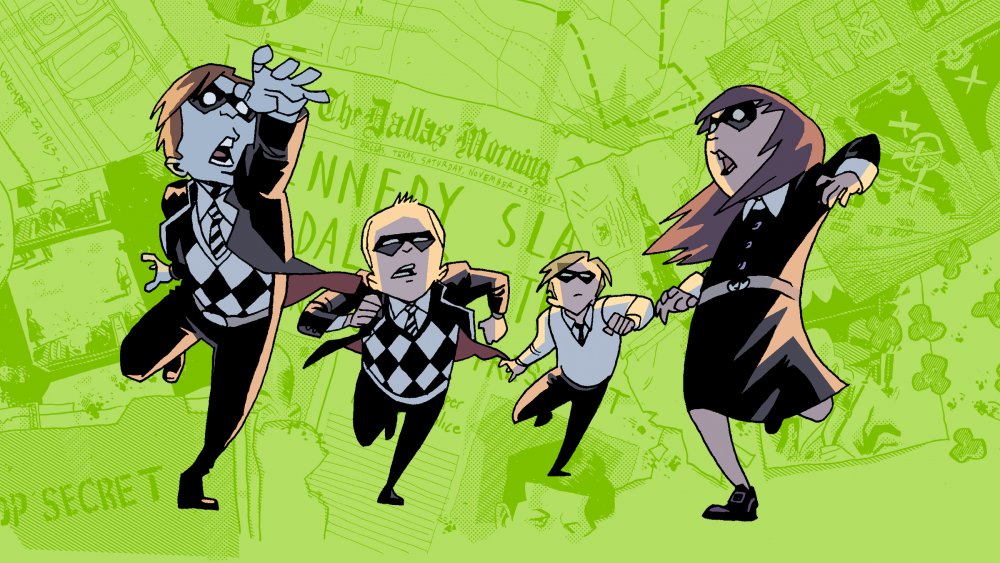 Studio71 Games/Dark Horse Comics
The second season of Netflix's comic book adaptation The Umbrella Academy is set to drop on July 31, and we're already excited about what the new episodes might have in store for the Hargreeves clan. As if that wasn't exciting enough, fans of the show and the comics it's based on now have something else to look forward to. Studio71 Games just announced a team-up with Dark Horse Comics to produce a battling card game inspired by the world created by Gerard Way and illustrated by Gabriel Bá.
Tabletop and card game enthusiasts will recognize Studio71 Games as the people behind Shady Agents and Half Truth. The company is known for harnessing fan power to fund successful Kickstarter campaigns, including one for The Binding of Isaac: Four Souls, which was fully funded within two hours of its launch, according to Yahoo. The company appears to be ready to try a similar feat with The Umbrella Academy. Interested fans can receive future updates and a free holographic card by committing to buy the game ahead of its launch on the project's BackerKit page.
Thanks to a press release obtained by Looper, we have some early information on how the game itself will play.
What we know about The Umbrella Academy card game
According to the game's official press release, players will take control of one of the seven Hargreeves siblings and team up to do battle against some of the series' most infamous villains. Five, Séance (Klaus), Spaceboy (Luther), the Rumor (Allison), the Horror (Ben), the Kraken (Diego), and Vanya are all set to appear in the game — each with their own unique set of powers that players will have to use strategically in cooperative battles.
The battles are heroes versus villains, with the players controlling the team of heroes and the number of villains determined by how many players are in the game. One exciting feature is that the game will incorporate the complicated family dynamics at play in the series. Even as the heroes are doing battle with the forces of evil, they may also find themselves fighting each other. Dysfunctional family cards will be scattered through the game to make things that much harder for The Umbrella Academy squad. Of course, no one ever said saving the world would be so easy.
We hope this new addition to the franchise will be a balm for those still bitter about The Umbrella Academy movie falling through. At the very least, it should provide some entertainment after fans inevitably binge-watch the second season when it drops on July 31.