New Umbrella Academy Season 2 Poster Is Extremely Revealing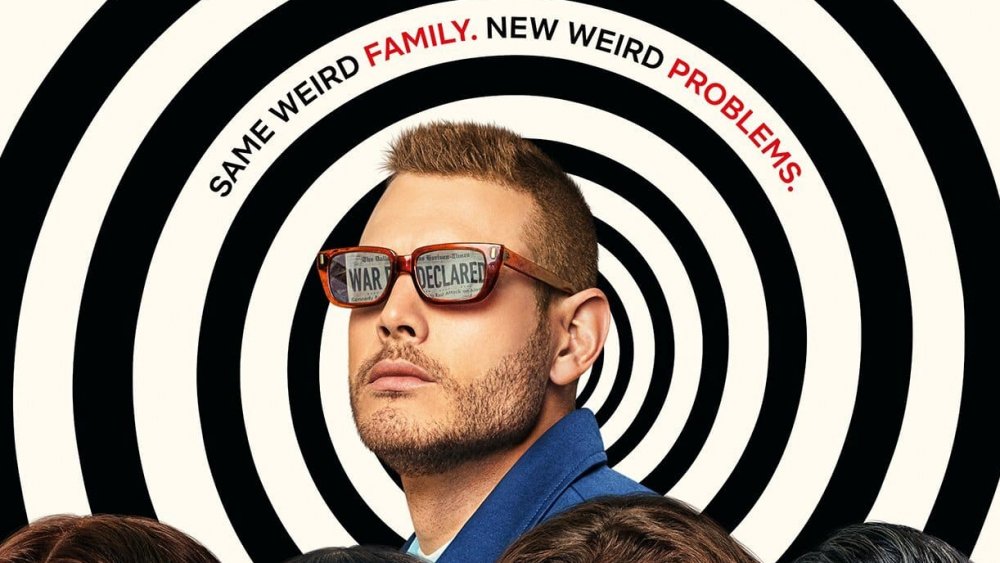 Netflix
With The Umbrella Academy's return now just a little over a month away (season 2 of the series drops on July 31), Netflix is gearing up for the Hargreeves' blast through the past with yet another poster that has fans clamoring to get a closer look. 
The new image, which features a group shot of the Umbrella crew, was tweeted out by the show's official account and posted to Instagram by comic creator and My Chemical Romance frontman Gerard Way. In a caption harkening back to The Rocky Horror Picture show, Way wrote, "Let's do the Time Warp again..." while the Netflix-run account made its own pun, tweeting, "They're back ... in time." With the new art also comes to a new tagline — "Same weird family. New weird problems." — with both "family" and "problems" in red. In the poster itself, all members of the Hargreeves family are seen wearing sunglasses. 
Several cast members shared the photo as well — with fan-favorite Justin M. Lin (Ben) tweeting, "Ugh. y'all are too smart. we can't get anything past you. so yes, we do get jobs at sunglass hut this season." His Umbrella Academy co-star Robert Sheehan (Klaus) made a joke about his character's peering pose, asking "Who farted?" on Instagram. Ellen Page (Vanya) then dropped a sunglasses emoji after David Castañeda (Diego) warned on on Twitter, "Don't give me the mic."
Jokes aside, the poster is quite telling. While the first season 2 character shots obscured the faces of the team, Diego, Ben, Klaus, Vanya, Luther (Tom Hopper), Allison (Emmy Raver-Lampman), and Number Five (Aidan Gallagher) are almost totally unobscured in this new poster — save for a signature pair of sunglasses. Take a closer look at the huddled group, and it becomes clear that the eyewear doesn't just lend itself to everyone's face shapes and outfits: What's reflected in the frames contain images offering a glimpse at what's ahead on The Umbrella Academy season 2. 
The images reflected in the Umbrella Academy's sunglasses paint a picture about season 2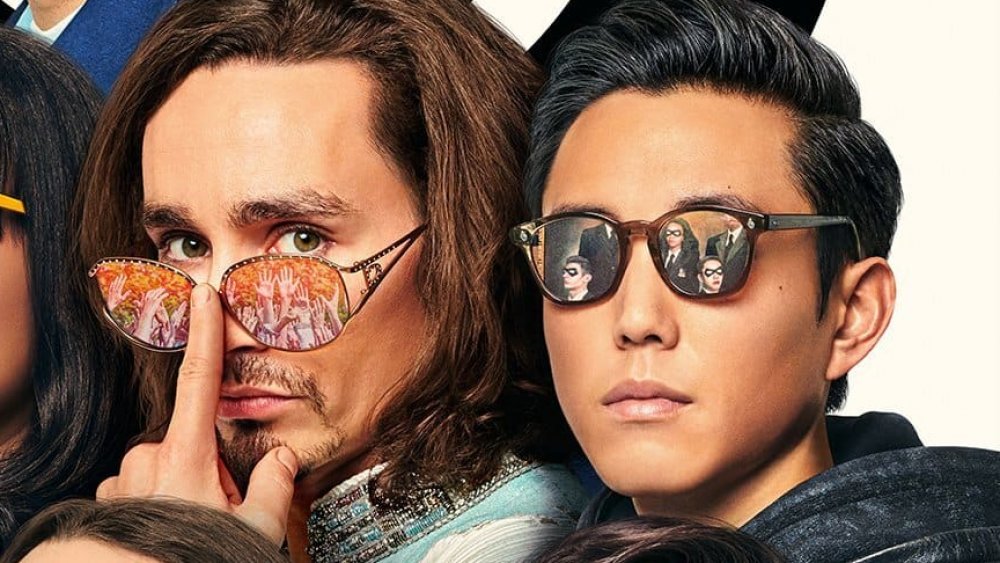 Netflix
Shortly after Netflix released its first character posters for The Umbrella Academy season 2, it offered fans an idea of where their favorite reluctant hero family was headed (via IGN). After the grown-up Hargreeves kids time-jump to escape the 2019 apocalypse, according to the season 2 synopsis, the siblings won't be landing at the same time or place in the past. Instead, they'll be scattered across three years, beginning in 1960 in and around the city of Dallas, Texas. That means the images in their sunglasses may tell fans exactly where each member of the Umbrella Academy lands, or at least a crucial part of where their storylines will take them. 
Luther, who sits at the top of the superhero pack, has lenses that seemingly tease a Dallas newspaper headline that reads "War Declared," with text beneath featuring the words "red attack." Considering when the Hargreeves arrive in Dallas, it's likely the headline alludes to the Vietnam War or the building tension between the United States and communist countries China and the Soviet Union. 
Klaus' glasses are the most difficult to unpack among the Hargreeves siblings. On the surface, a sea of waving hands in a rolling green field points to some kind of large-scale hippie gathering, but one fan on Twitter cleverly pointed out that Ben's arms are visible in the image. None of the other Academy members can be seen in their lens reflections; coupled with his previous war and romance-filled visit to the 1960s on season 1 as well as his power of "sight," Klaus' image could allude to something much bigger than a mere free-love festival.
Speaking of Ben, his glasses paint an easily distinguishable picture — or rather, portrait. His lenses offer one version of the family paintings Reginald Hargreeves (Colm Feore) had hung in the mansion during season 1. Because Ben's imagery doesn't seem to match up with the more '60s theme of everyone else, the deceased Hargeeves' storyline may force him to confront his post-humous role in the Academy. 
The images reflected in the Umbrella Academy's sunglasses reveal new characters and comics connections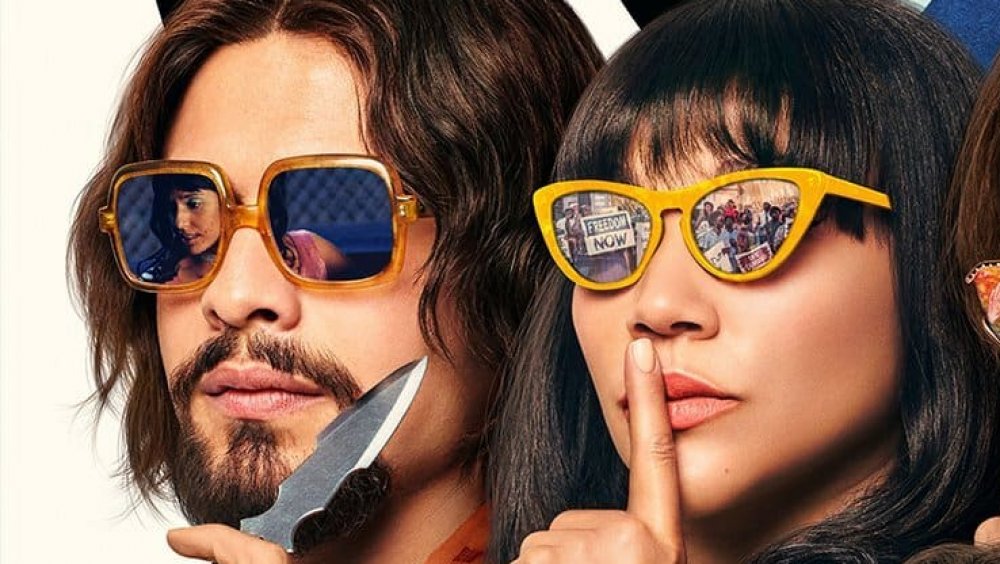 Netflix
Allison's glasses are arguably the easiest to understand. Smattered among a large crowd of Black protesters are signs, including one demanding "Freedom Now." Those clues make it reasonably obvious that her season 2 storyline puts her squarely in the center of the Civil Rights movement. 
On the flip side, the rest of the Academy's in-sunglasses images either tease new characters or are so obscure that you'd need casting or comics spoilers to parse through them. Diego's glasses point to a potential relationship with newcomer Lila (Ritu Arya), described in a Netflix release as "a chameleon who can be as brilliant or as clinically insane as the situation requires" with "a twisted sense of humor." While we know Diego is gifted with knives, this might better explain why he's holding a knife so prominently and so close to his glasses. 
There are Easter eggs to be found beyond the sunglasses in The Umbrella Academy season 2 poster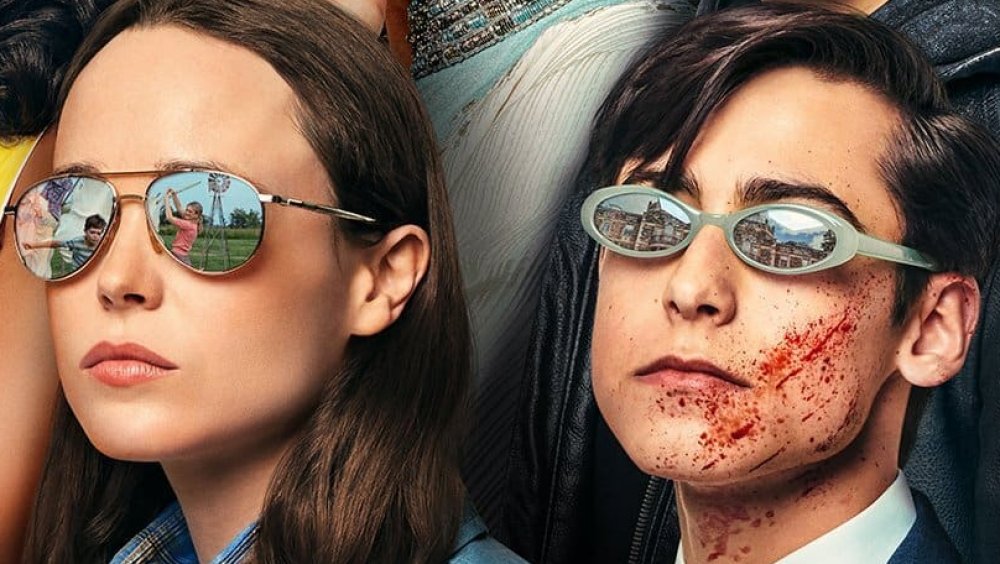 Netflix
Similar to Diego's shades, Vanya's sunglasses also feature a character set to be introduced on The Umbrella Academy season 2: Texas housewife Sissy (Marin Ireland), a woman who is "eager to discover what life and love" have to offer. The connection between Vanya and Sissy is presently unclear, but their pairing might be connected to where and how Vanya arrives in 1960s Dallas.
Number Five, who stands right next to Vanya in the poster, has one of the most revealing images captured in his sunglasses. The season 2 synopsis pointed to the Hargreeves re-teaming to stop another Doomsday event, but fans of the Umbrella Academy comics — and anyone familiar with the 1960s — will easily connect the towering buildings and rooftops pictured in Number Five's glasses to one of the most significant events in American history. It appears that while Number Five will be dropped in the middle of a nuclear crisis, he may also become involved in the political turmoil of John F. Kennedy's assassination. It's a plot the comic explores, but it's not yet clear how or how much the show plans to tackle it.
As if those teases weren't enough, beyond the shades, a few characters have additional clues that reveal their future fates in the past. Matching his earlier poster, Diego stands with his previously mentioned knives. To further support the JFK assassination theory, Number Five has blood on his face — an extra detail that matches the blood spatter seen in his single character poster. 
Most of the Hargreeves only have the sunglasses obscuring parts of their face, but Allison is holding her index finger to her lips — a "hushed" look alluding to her now-sliced vocal cords. Placed in the middle of one of the metaphorically loudest and most influential civil rights campaigns in American history, being "voiceless" could have huge implications. Then, of course, there's Klaus. Among all the other things that make his appearance on the poster interesting, he happens to be the only one whose sunglasses aren't obscuring their eyes. Klaus may see something the others don't — beyond their brother Ben.
With the group split apart, it's hard to know who will step up and whose powers will become particularly vital in the chaos of time-jumping. Still, if this poster is any indication, the entire Academy has quite a colorful season 2 in store.
New episodes of The Umbrella Academy drop on Netflix on July 31.