The International Comedy That's Crushing It On Netflix Right Now
Steamy titles like Fatal Affair, 365 Days, and Dark Desire, and have dominated Netflix's most-watched list so far this summer, but a new addition to the streaming platform is swapping the sexy drama and thrills for laughs. 
Released in 2018 and added to Netflix's library on July 16, 2020, the French-language film MILF has quickly risen to the number five spot on Netflix's top ten list. A perfect fit among the platform's collection of sexy romps, the comedy explores the exciting and awkward parts of love and sex in your middle-age. Both directed and led by French actress and comedian Axelle Laffont, with a script co-written by Jérôme L'hotsky and Stéphane Kramer, the movie centers on a trio of 40-something friends who let loose with younger men during a long summer holiday on the Cote d'Azur in the south of France. 
Elise (Laffont), a single mother and recent widow, arrives at her beach house to pack-up before it's finally sold off. She's joined by her best friends Sonia, Munich's Marie-Josée Croze, and Cecile, played by Virginie Ledoyen, who starred opposite Leonardo DiCaprio in Alex Garland's 2000 drama The Beach. Together, they encourage Elise to stop drowning in her sorrow. To lift her spirits, they go on several wild adventures, one of which crosses their paths with three attractive and significantly younger men running a sailing school. Sonia and Cecile immediately hit it off with the two, but Elise's own broken heart proves to be a momentary hurdle to her finding fun and happiness with a new boy toy. 
As a young man and her friends slowly chip away at Elise's reservations, she begins to embrace living life to the fullest in a movie that offers a bare-skinned comedic take on sex, love, and relationships in a cinematic genre long dominated by men. 
MILF tries to be as funny as it is sexy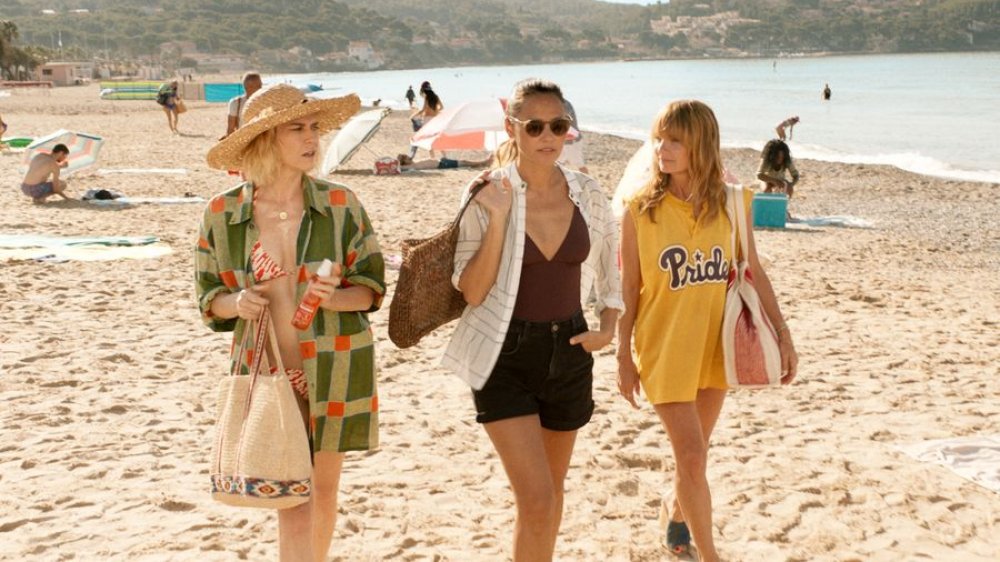 StudioCanal
Unlike some of the other recent Netflix top ten entries, this film leans just as heavily into laughs as it does sex appeal. Being a French film, it should come as no surprise how comfortable the camera and story are with nudity or semi-nudity. One of the film's most consistent elements is how much the camera's eye stays trained on its attractive male and female leads. MILF, as the tone of the title might suggest, is unabashed in its appreciation for its older female leads and their love lives. 
But the film also functions far more as a comedy than any of its genre-brethren on the streamer. Jokes about pubic hair and the Red Hot Chili Peppers famous sock gag are cast against musical montages and moments of celebration in clubs and along the coastline. At one point, a literal "MILF" sign flashes on the screen, a casual reminder that nothing about this movie is subtle. 
Much of the humor is the kind of crass, below the belt comedy the genre is known for. As a result, some viewers and critics have called the movie predictable or flat. But Laffont isn't trying to reinvent this genre wheel, just imagine it from a new perspective, and that seems to be speaking to a part of the film's intended target audience. Twitter user @clearlyblonde, who is both a comedian and actress, wrote, "Just watched the movie MILF on Netflix and I loved it. Confirming moms are sexy." 
While MILF might not be for everyone, it is light sultry summer fun and is the perfect counter to Netflix's other hot and heavy recent additions.