The Psychological Thriller Heating Up Netflix Right Now
Ready for a suspenseful potboiler featuring some serious talent in front of the camera? Netflix has got you covered.
The original film Fatal Affair has shot all the way up the streamer's Top Ten list for movies only a day after its release. Audiences have been floored by the steamy flick's sordid story of a would-be extramarital liaison gone wrong, and by the performances of the two stone-cold veterans at its center: Nia Long and Omar Epps.
The flick comes from director Peter Sullivan, who has helmed an absolute ton of TV movies over the last couple of decades in addition to theatrical features such as the 2017 horror flick The Sandman and the following year's musical drama Jingle Belle. This time around, the versatile director had a pretty stellar cast to work with: Long, fondly remembered for her turn as Debbie in the 1995 comedy classic Friday, has most recently appeared in featured roles on television series such as Dear White People, Empire, and NCIS: Los Angeles. Epps is perhaps best-known for his role as the brilliant neurosurgeon Eric Foreman on the long-running Fox TV series House M.D. He's also been featured on series like E.R. and This Is Us, and has starred in classic features like 1992's Juice and 2000's Love and Basketball.
That formidable pair are bolstered by a strong supporting cast which includes the likes of Stephen Bishop (Imposters, Criminal Minds), K.J. Smith (Sistas, The Family Business), and Maya Stojan (Castle, Marvel's Agents of S.H.I.E.L.D.). If Fatal Affair's plot seems a bit familiar, that's only because it's a tale as old as marriage itself — and it's a perfect story for a long, hot summer like this one.
What is Fatal Affair about?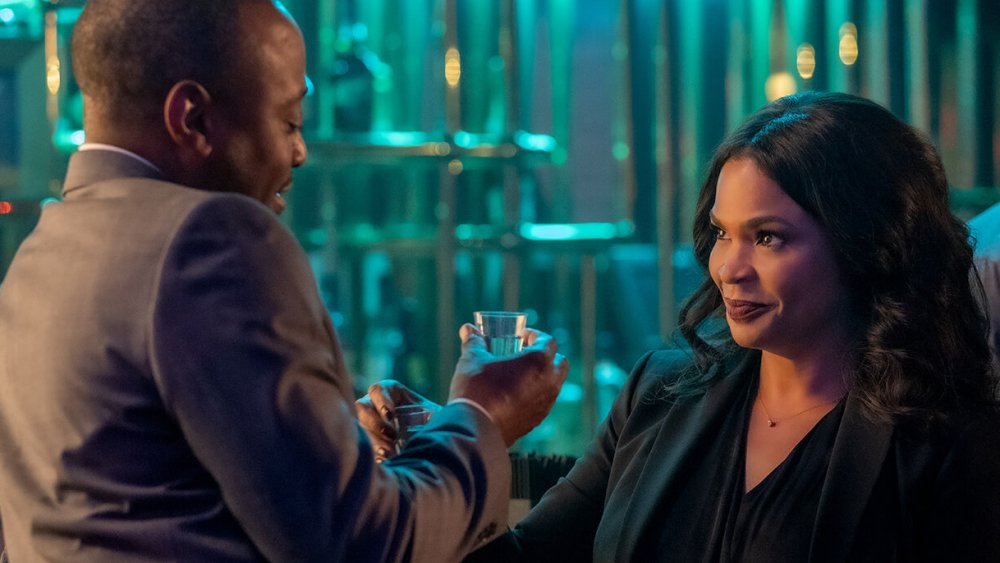 Netflix
Long stars as Ellie Warren, a big-city professional who decides to make a major lifestyle change by purchasing a spacious country estate with her husband, Marcus (Bishop). One day, Ellie walks into a business meeting only to be surprised by the presence of an old flame: David (Epps), whom she hasn't seen in 20 years. David suggests that they catch up, and Ellie agrees, meeting up with him at a local nightclub for drinks and reminiscing.
As the night wears on, the talk turns to Ellie's marriage. "I do have the perfect life," she tells David, "but you know, one day you wake up, and the person sleeping next to you feels like a complete stranger." Apparently having heard all he needs to hear, David entices her into a tryst in the nightclub's bathroom — but Ellie breaks off the encounter at the last minute.
After tearfully confessing to her husband, Ellie's marriage appears to be on the mend. This, however, doesn't fit in too nicely with David's plans. He's determined to rekindle that old flame no matter the cost, and after a series of increasingly disturbing encounters, Ellie must face the reality that David is dangerously unstable — and that her brief lapse in judgment might destroy the "perfect life" that she's built.
Fatal Affair might follow a well-worn formula, but it's elevated by scintillating performances all around — particularly that of Epps, whose transformation from genial old friend to existential threat could only be so effectively pulled off by an actor of his caliber. As temperatures continue to rise across the U.S. this weekend, we recommend turning up the heat — with Fatal Affair, an exercise in tension and terror that just might leave you in a cold sweat.