Hamilton Fans Just Got Incredible News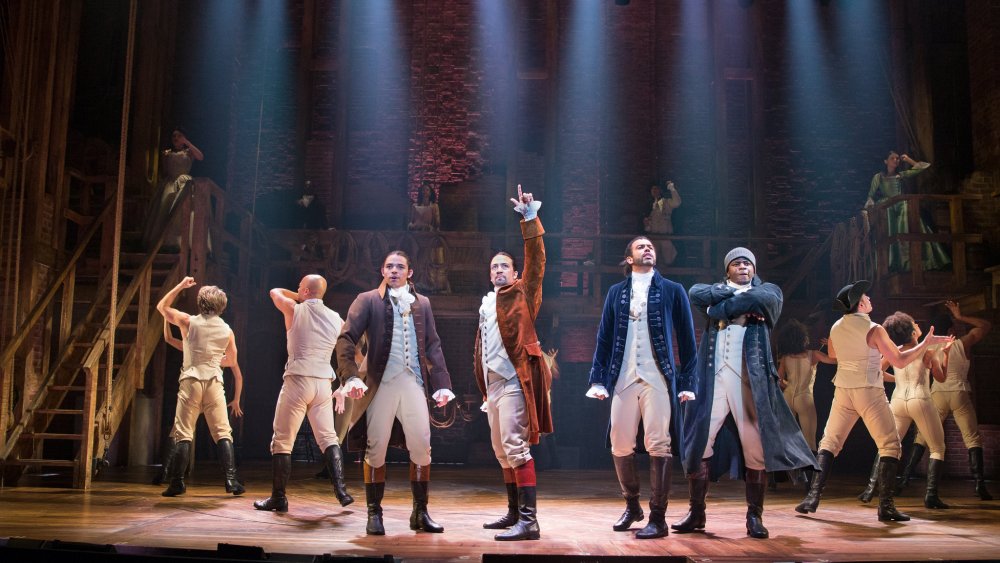 Sara Krulwich/The New York Times
Hamilton isn't throwing away its shot — or, at the very least, it's not waiting until the fall any more.
A surprise announcement came courtesy of Disney on May 12, with Deadline reporting that the filmed version of Hamilton that features the Tony Award-winning original cast, including creator Lin-Manuel Miranda, will be available to stream exclusively on Disney+ on July 3. Originally, the film was slated for a theatrical release on October 15, 2021 but, in the midst of the COVID-19 crisis, most theatrical releases have been delayed indefinitely.
During an appearance on Good Morning America, Disney Executive Chairman Robert Iger and Miranda rewarded Hamilton fans with the good news that this long-awaited film will arrive just in time for the July 4 holiday weekend. Miranda announced in 2016 that they had filmed the original production, in which he starred as Founding Father Alexander Hamilton, but, at the time, he said he didn't know what, if anything, would happen with the footage. In February of 2020, he revealed the October 2021 release date but, clearly, Miranda and the powers that be at Disney have decided the country needed a little pick-me-up much sooner than that.
This comes after Disney and ESPN also moved up the premiere of The Last Dance, a documentary series about Michael Jordan's reign in the NBA, but moving Hamilton up is a bit different when you consider the sheer cost. Disney originally paid a whopping $75 million for the Hamilton footage, and without a theatrical release on the horizon, it could be a financial loss for the House of Mouse.
The incredible history of Hamilton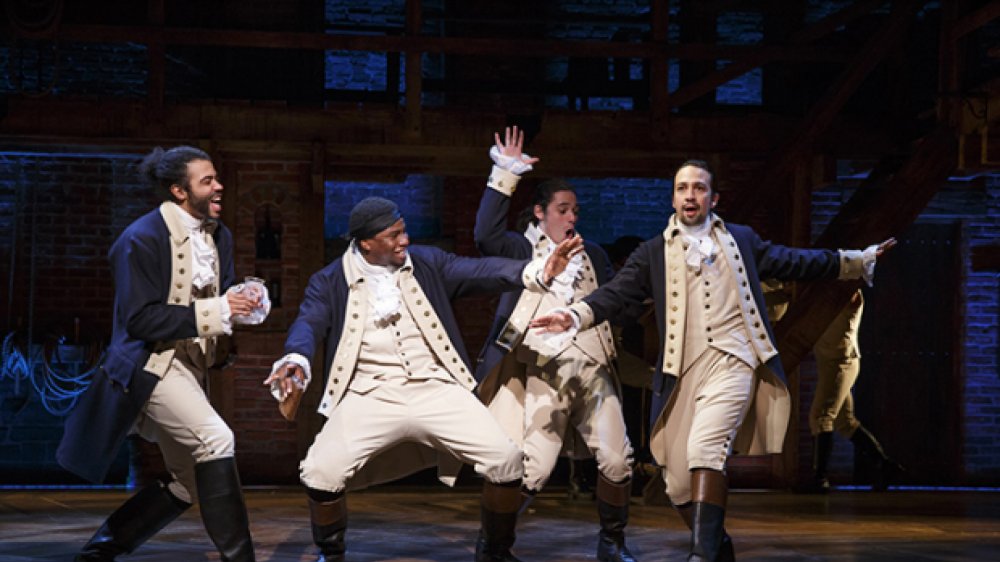 Joan Marcus
If you're somehow not familiar with Hamilton, one of the biggest Broadway shows of the 21st century, you may want to brush up a bit before the film drops on Disney+. Originally conceived as a mixtape about the American Revolution, Hamilton began as a single song performed for President Barack Obama and First Lady Michelle Obama by Miranda at a 2009 poetry event at the White House. After being greeted with laughter when he announced that he had written a rap song about Alexander Hamilton, Miranda blew the audience away with his performance, and a legend was born as the hip-hop musical about the Founding Fathers took shape.
After a premiere off-Broadway, Hamilton hit the stage at the Richard Rodgers theater in New York in 2015, and throughout several tours and productions in other cities, the musical has earned a whopping $636 million as of this writing, with over 2.6 million audience members. As if that wasn't enough, it won plenty of awards upon its release, including a Grammy Award and eleven Tony Awards, including Best Musical. Of course, Miranda's star has skyrocketed since then as well, leading to blockbuster movies like Moana and Mary Poppins Returns, as well as international fame and acclaim.
Miranda — and most of the main cast, including Tony winners Leslie Odom Jr., Daveed Diggs, and Renee Elise Goldsberry — left the show at various points throughout 2016, and fans who missed out on the über-popular original cast will finally be able to see their favorite performers grace the stage years after the fact, thanks to Disney+. On July 3, tune into Disney's streaming service to see the original cast of Hamilton live, die, and tell their story.