Jim Carrey's TV Show Kidding Was Canceled. Here's Why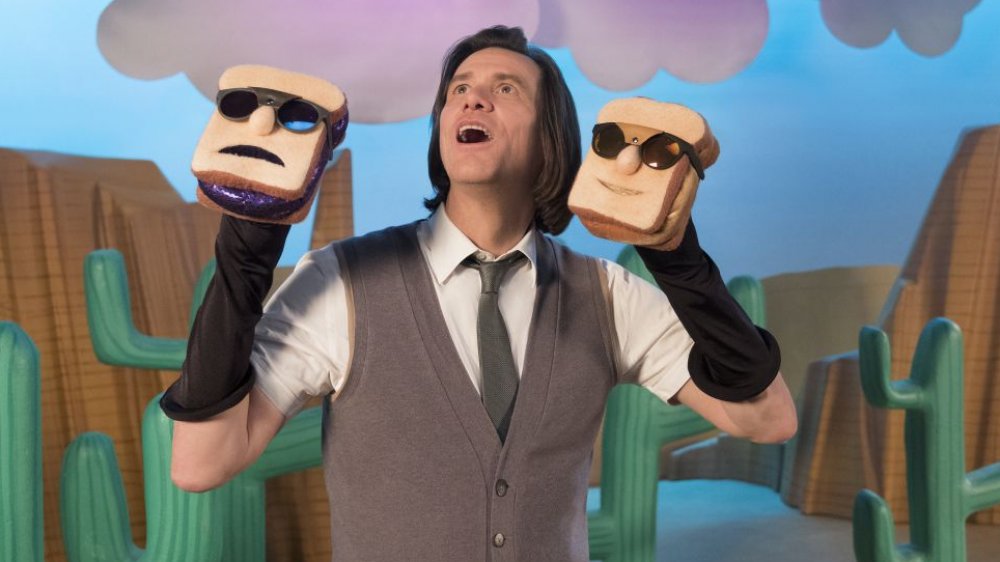 Showtime
It looks like Showtime's Kidding is following in the footsteps of its own plot.
The comedy-drama about the on- and off-screen life of a beloved children's show host has been canceled after two seasons, Page Six reports. The half-hour series starred Jim Carrey as Jeff Piccirillo, known to children and parents alike as Mr. Pickles of PBS' Puppet Time. When one of Jeff's sons dies in a car accident, the Mr. Rogers-esque children's entertainer with a multimillion-dollar empire fights to put on a happy face and continue his show even as he's haunted by personal tragedy. Throughout Kidding season 1, things on set and at home simultaneously deteriorate amid Jeff's increasingly bizarre breakdown, eventually resulting in the show going off the air — and Jeff attempting to communicate with his fans without the TV platform. 
A bleak and grief-filled look at life, death, and celebrity, Kidding served as a reunion for Carrey and the series' executive producer and director Michael Gondry, who worked with Carrey on Eternal Sunshine of the Spotless Mind. Carrey's role as Jeff on Kidding earned him a Golden Globe nomination, while the show also got a nod in the Best Television Series – Musical or Comedy category. 
Interestingly, an insider who spoke to Page Six pointed to award nominations as part of the reason why news of Kidding's cancellation came so long after its season 2 finale, which aired on March 8, 2020. Reportedly, Carrey was aiming for an Emmy nomination; those are usually voted on in June, but the nomination cycle was pushed back until early July this year due to the coronavirus pandemic. The 2021 ceremony was also postponed, as confirmed by Variety. 
Still, another source reportedly told the outlet that it was the pandemic that delayed the cancellation announcement, not the Emmy campaign. Either way, neither were ultimately responsible for the show's cancellation. That decision likely lies with something the Emmy voters care less about: the ratings.
Kidding was one of the lowest-rated series on Showtime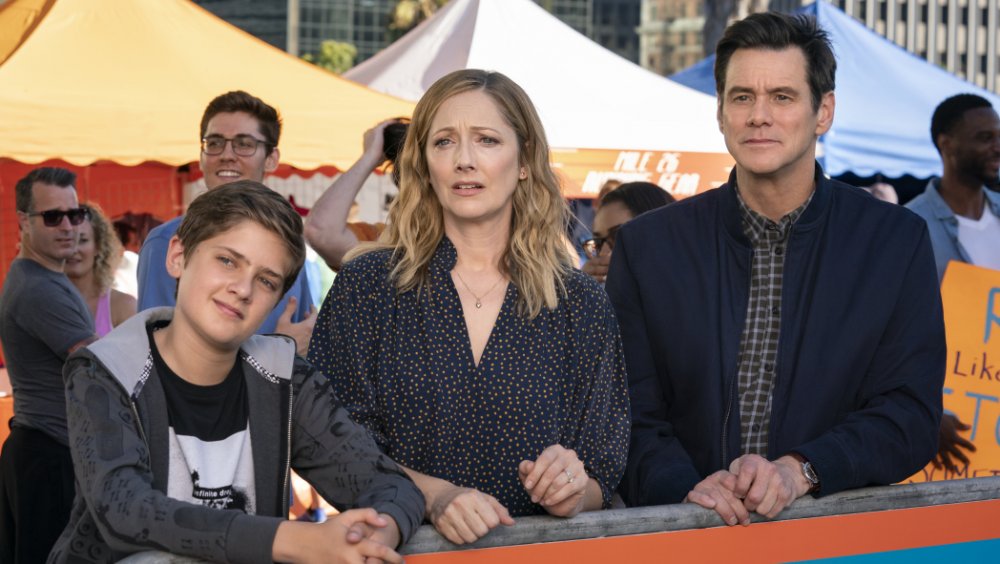 Showtime
The television world is full of low-rated, award-winning programs. Consider HBO's Girls or Fox's Arrested Development, both shows with high marks from critics and several awards wins that still weren't ratings behemoths. While neither Carrey nor Kidding won in their respective 2019 Globes' categories, a nomination for both in a show's debut season is still notable. And yet, it appears that wasn't enough to help keep the generally low-rated Showtime series afloat. 
"After two seasons, Kidding has concluded its run on Showtime. We are very proud to have aired this imaginative, critically acclaimed and rewarding series, and we would like to thank Jim Carrey, Dave Holstein, Michael Aguilar, Michel Gondry, and the entire cast and crew for their brilliant and tireless work," Showtime said in a statement (via Deadline).
While premium cable networks like Showtime and Starz have historically had smaller audiences compared to their broadcast counterparts, Kidding was one of the least-watched series on Showtime's slate. The comedy-drama — which also starred Frank Langella, Judy Greer, and Catherine Keener — struggled to capture even 100,000 viewers week-to-week, regularly garnering just 0.01 and 0.02 ratings in the 18-49 demographic during its second season (via Spoiler TV Plus). For comparison and context, Showtime's top-rated series is Shameless, with a 0.24 average. Kidding's viewership ratings not only made it one of the lowest-rated shows on the network, but also on all of television.
Poor ratings may not be the only thing that influenced the decision to end the Showtime series after two seasons. In fact, the network has canceled a significant number of its popular series in the last season. Among the many Showtime series that have already ended in 2020 or are about to end are Ray Donovan, Shameless, and Homeland. While some received planned send-offs, others — like Ray Donovan — were unexpectedly axed to the surprise of its creative team. It's possible that in addition to ratings, Showtime may be undergoing a significant programming shift. That unfortunately means Showtime, not Kidding, has gotten the last laugh.