Why Casey From Only Looks So Familiar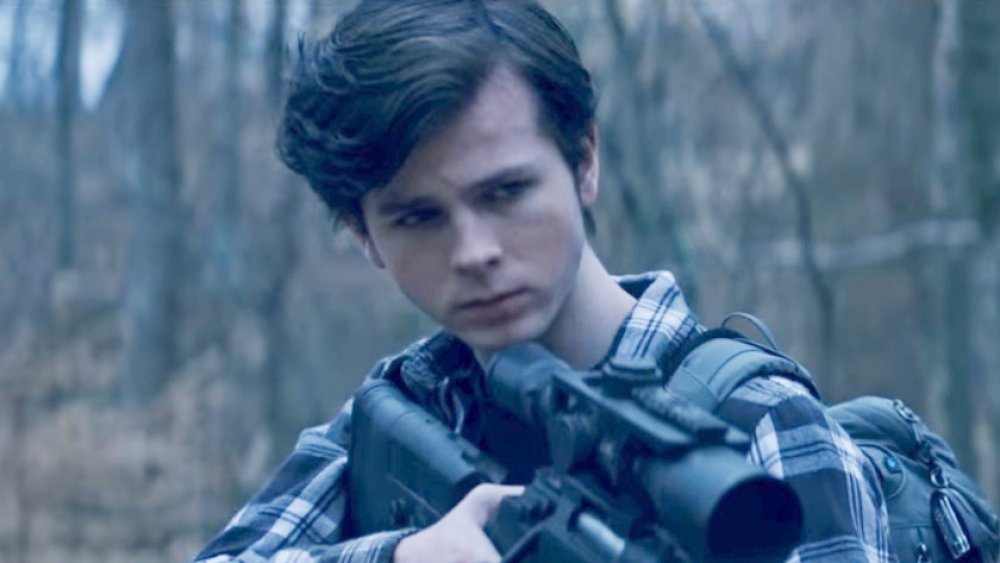 Netflix
The sci-fi thriller Only is tearing it up on Netflix at the moment, and with good reason — genre films don't get much more timely. The movie centers on Will (Leslie Odom Jr.) and Eva (Freida Pinto), an average couple trapped in a decidedly extraordinary situation: They're forced to go into hiding in their home when a mysterious virus, brought to Earth by a comet and spread by a gently wafting ash that blankets the entire world, begins killing off large swaths of the population. In a twist, though, the virus only kills women, which quickly turns female human beings into a valuable and sought-after commodity.
Eventually, the pair hit the road with Eva disguised as a man, but she raises the suspicions of a few patrons at a diner, and they're trailed to their wooded destination by a local named Arthur (Jayson Warner Smith) and his son Casey. The plight of Will and Eva only gets more intense from that point on, but we're betting that you may have been a bit distracted wondering where in the heck you've seen the young actor who plays Casey before. If you're having trouble placing his face, it may be because Chandler Riggs grew up right before the eyes of a large and dedicated fandom ... but we're getting ahead of ourselves. The talented actor has been working steadily in television and film since he was only five years old, and while he's amassed a respectable filmography over the last fifteen years, it's safe to say that his career is just getting started. This is why Casey from Only looks so familiar.
Chandler Riggs has worked in TV and film since he was a child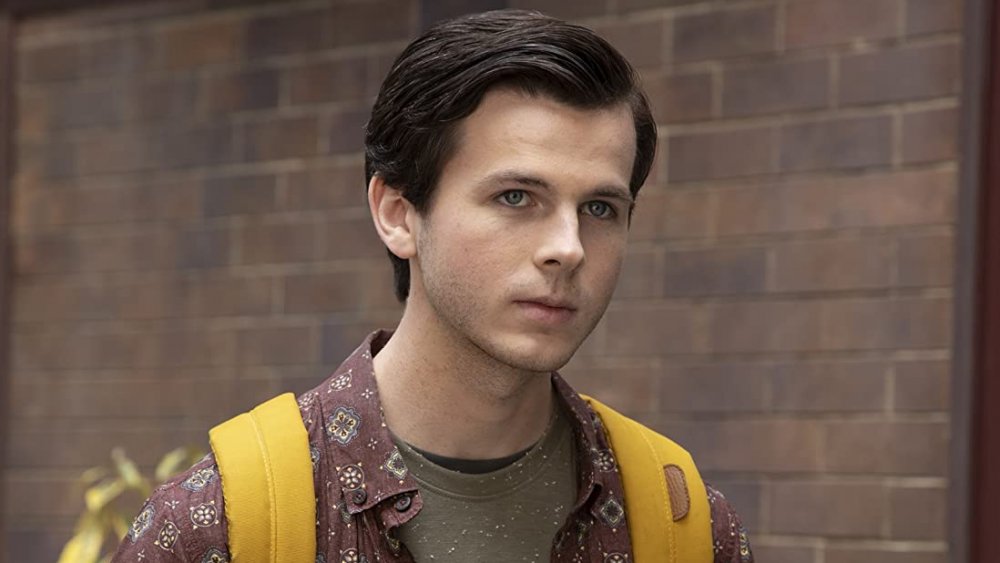 ABC
Like we mentioned, Riggs was just a wee tot when he was cast in his first feature, and thankfully for him, it's one that pretty much nobody has ever seen. He appeared in a small role in the 2006 indie horror flick Jesus H. Zombie, a terrible film that nonetheless served to foreshadow the actor's future career path (which we'll get to shortly).
His next feature, the 2009 drama Get Low, was not only a far more respectable picture, but also afforded Riggs the opportunity to work with some stone-cold Hollywood legends. The movie told the story of Felix Bush, a Tennessee hermit in the 1930s who decided to add some intrigue to his solitary existence by throwing himself a funeral (yes, while he's still alive). The little-seen flick starred Robert Duvall in the lead role, and its supporting cast included the likes of Sissy Spacek, Gerald McRaney, and Bill Murray.
More feature work followed, including a role in the 2014 Blumhouse picture Mercy (an adaptation of the classic Stephen King short story "Gramma") and the 2017 horror flick Keep Watching (in which he co-starred with Bella Thorne and Invisible Man director Leigh Whannell, who is known to pop up onscreen from time to time). His most recent big-screen work was in the 2019 crime drama Inherit the Viper opposite Josh Hartnett and Bruce Dern, but you may have caught him on the small screen, as well. He appeared in a recurring role as Patrick "PJ" Nelson on the first season of the ABC dramedy A Million Little Things, and he was upped to series regular for the second season.
Surely, one of these projects rings a bell, right? Well, if not, then you may be a fan of a certain AMC horror-drama series that gave Riggs his breakthrough role and his first taste of stardom.

Chandler Riggs portrayed Carl Grimes on The Walking Dead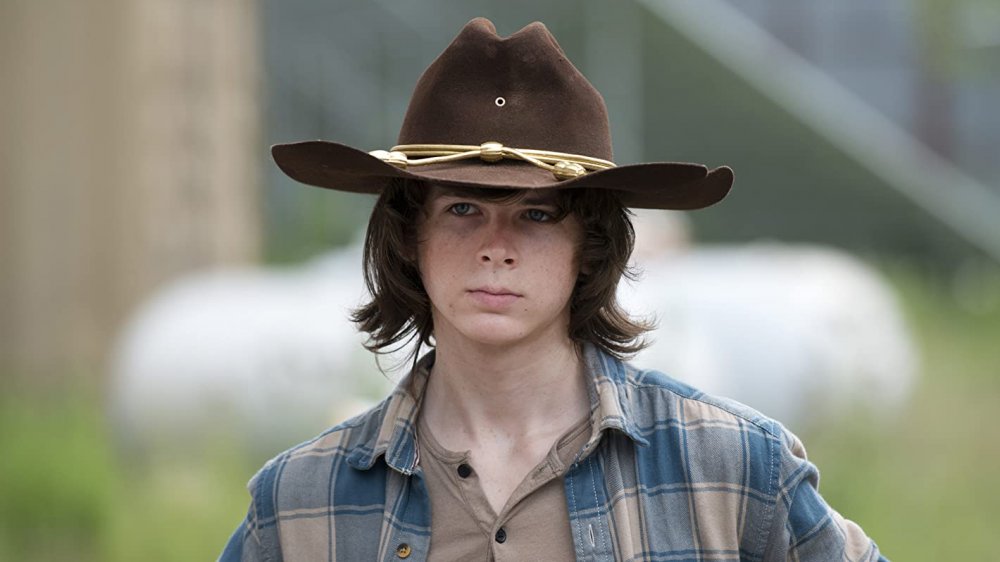 AMC
In 2010, at the tender age of ten, Riggs was cast as Carl Grimes in AMC's comic book adaptation The Walking Dead, a show you may recognize as a cultural phenomenon that continues to run to this day, and which has yielded a spin-off series (Fear the Walking Dead) and an upcoming movie trilogy centered on the character of Rick Grimes, Carl's father. Riggs held down the role for seven and a half seasons, literally transforming from a mop-top kid to an intense young man right before the eyes of The Walking Dead's audience.
The series put Carl through an absolute gauntlet of hardships during his time among the survivors, from failing to kill a defenseless "walker" who would later attack and infect the beloved Dale (Jeffrey DeMunn) to witnessing the traumatic murder of Glenn (Steven Yeun) at the hands of Negan (Jeffrey Dean Morgan) to agonizing over the safety of his baby "sister," Judith. In deviating from the source material and killing him off midway through The Walking Dead's eighth season, however, the show's writers allowed Carl to go out largely on his own terms.
After being bitten by a walker while rescuing a lone survivor, Carl plays a key role in planning the defense of his group's compound Alexandria from Negan and his band of "Saviors." After writing several letters to his friends and family, imploring Rick to show Negan mercy, and saying his goodbyes, Carl shoots himself with the rifle with which he has defended his family since he was a little boy. After the Saviors' defeat, Rick indeed spares Negan's life, trusting in his son's belief that even in a cruel and dangerous world, love and compassion will always win.
The role of Carl might always be Riggs' signature, so effectively did the young actor bring that key character to life, but we'd bet our bottom dollar that we've only seen the tip of the iceberg in terms of the true depth of his talent, and we can't wait to see what his future holds.