Small Details You Missed In The Umbrella Academy Season 2 Trailer
Get ready superhero fans, because Netflix is about to field another hyper-violent season of wildly stylized stories featuring your favorite family of supers. 
That family is the deliriously dysfunctional Hargreeves clan, better known to most of the world as The Umbrella Academy. As Netflix gears up to unleash a second season of their surprise hit anti-superhero series, the streaming giant has finally unleashed a proper trailer. While it has only just hit the airwaves, we have to admit we're pretty thrilled by what we're seeing.
As a quick refresher (spoilers lay ahead!), season 1 of the series followed a group of powered siblings who were raised from infancy to be a veritable "umbrella" against evil in the world, though they eventually grew up and unceremoniously parted ways. The group reassembled in the wake of their adoptive father's death, and ultimately found themselves tasked with stopping a world-ending event. Unfortunately, they failed miserably in that endeavor, largely because they couldn't work together long enough to prevent the apocalypse.
When last we saw the gang, they were narrowly escaping the end of the world by jumping through time. The new trailer for The Umbrella Academy's second season shows them getting back together somewhere in the swinging' '60s. It also shows not only that the end of the world is still very much in play, but that it's coming sooner than anticipated, and may be harder to stop than ever. There's a lot more going on in the trailer, obviously, and many are likely already picking through it for season 2 teasers. 
Here are a few smaller details you might've missed in The Umbrella Academy season 2 trailer.
Hazel is officially back in action for season 2 of The Umbrella Academy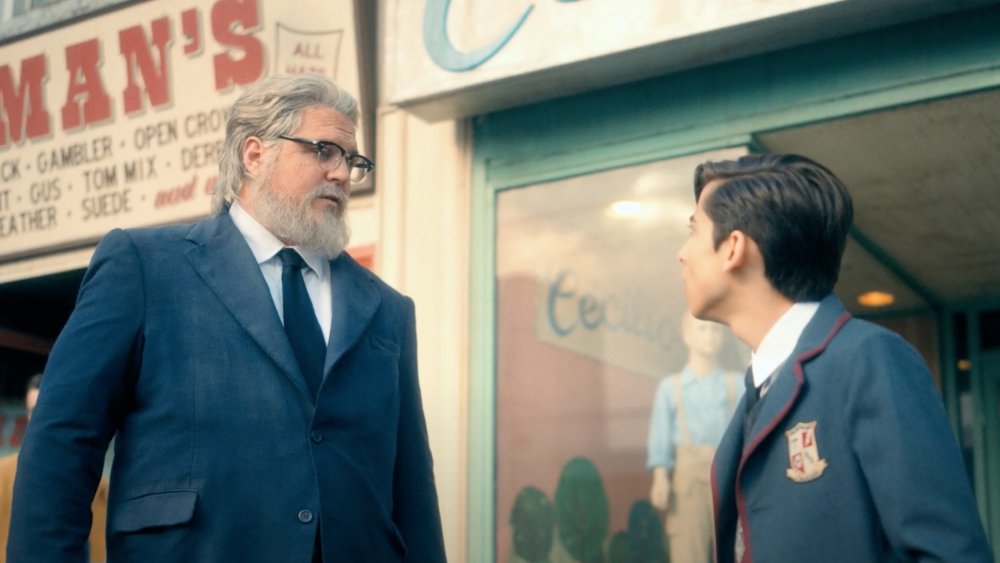 Netflix
If you're as hyped about the new season of The Umbrella Academy as we are, we'll go ahead and assume that's because you've already completed your season 1 binge. If so, you know that season 1 of The Umbrella Academy ended with a bunch of beyond-massive cliffhangers, the biggest of which involved exactly where the gang was jumping in the finale's waning moments. That answer is provided early on in the season 2 trailer, confirming what many fans of the books and Netflix series already believed: That the Hargreeves gang would find themselves in Dallas circa the 1960s in the new season.
What will come as a bit of a surprise to some is that season 1 baddie-turned-not-so baddie Hazel (Cameron Britton) will have some role to play in the coming action. The last time we saw the bearded bear of a man, he'd fallen head over heels for doughnut maven Agnes, forsaken his role as a contract killer for the timeline-controlling Commission, and narrowly dodged the end of the world. 
As the character had seemingly changed his ways (a dramatic diversion from the source material), many assumed he'd likely no longer play a role in the Dallas narrative. His appearance early in the trailer was likely a surprise for many. So, too, will be his apparent role of ally to Number 5 (Aidan Gallagher) in the new timeline. While Hazel's exact involvement in the coming season remains a mystery, it's still nice to see him back in action, even if we're not entirely sure why he looks os old.
Carmichael is coming to The Umbrella Academy in season 2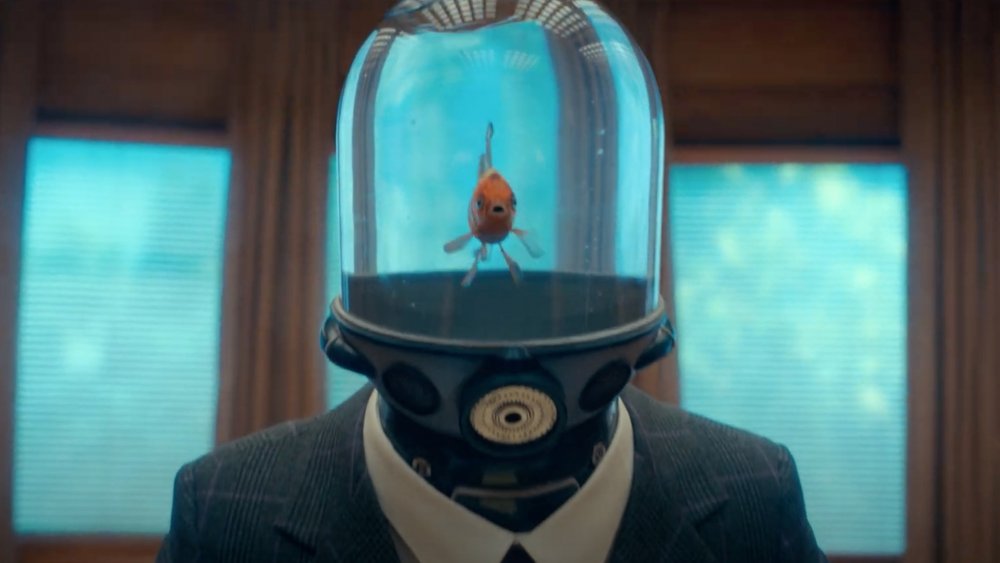 Netflix
Hazel is not the only surprise face fans of Gerard Way and Gabriel Bá's award-winning graphic novel series will find in the The Umbrella Academy's season 2 trailer. That being said, if you've yet to read those books, "surprised" is probably not a strong enough word to describe your reaction to the other face, if only because the character in question doesn't really have a face at all.
That character is the enigmatic Carmichael, who is presented as a humanoid robot body topped with a fish tank containing a live goldfish. That goldfish is actually a genius-level being who more or less runs the show at the nefarious Commission. Carmichael didn't make his first appearance in the pages of the Umbrella Academy books until the "Dallas" storyline, and was the being who assigned the task of assassinating President John F. Kennedy in 1963 to the Commission's then-top man, Number 5. Number 5 chose not to carry out that mission in season 1 of The Umbrella Academy, and it now seems that choice has set in motion a potentially devastating chain of events.
As Carmichael played a big part in those events, it seems only fitting that he's officially joining the fray for that same storyline in the Netflix series. Now that he's in the mix, it's also quite a relief to know that Netflix bosses are letting the show's producers present the character as he was in the books, because Carmichael really is one of Way and Bá's wilder creations. The real question now becomes who The Umbrella Academy creators have tapped to voice the intensely intellectual fish. 
Papa Hargreeves and Pogo both have a role to play in The Umbrella Academy's second season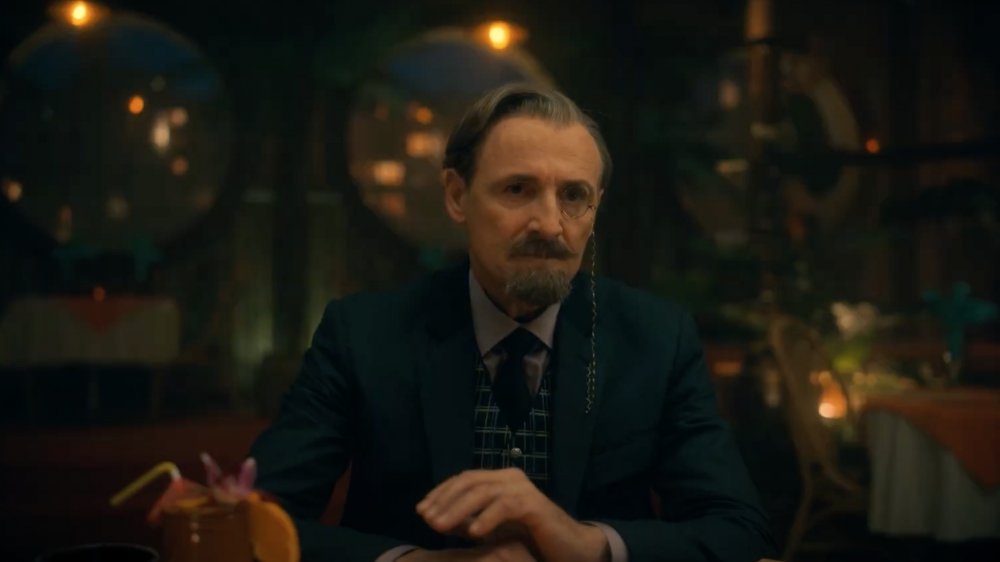 Netflix
Faces both familiar and not-so-familiar abound in The Umbrella Academy's season 2 trailer. While season 1 fans are no doubt rejoicing at the sight of Klaus (Robert Sheehan), Allison (Emily Raver-Lampman), Number 5 (Aidan Gallagher), Vanya (Ellen Page), Diego (David Castañeda), Ben (Justin H. Min), and yes, even Luther (Tom Hopper), there are two others fans are likely equally elated to see. 
The first is the man who initially brought the team together, Sir Reginald Hargreeves (Colm Feore). Sir Reginald obviously played a big part in season 1 of The Umbrella Academy, though the character was frequently relegated to a presence more emotional than physical. Still, the scenes in which Sir Reginald was directly involved proved as vital to the season 1 narrative as his absence did. Near the end of the season 2 trailer, we get a glimpse of a '60s-era Sir Reginald at the table with the older versions of his super-powered progeny, who have presumably enlisted his help in solving their new-slash-old problems. Whatever the case, purely from a time paradox standpoint, it may finally explain exactly how Sir Reginald knew which kids to adopt in the first place. Needless to say, it should be very interesting to see how that plays out.
What's more, while we don't get a good look at his face, fans of The Umbrella Academy's first season should be more than happy to get even a brief glimpse of the Sir Reginald's super-smart, genetically-altered simian helper Pogo. It's worth noting, however, that the wise-beyond-his-years being appears in the season 2 trailer in a diaper, signaling we'll be getting a look at Pogo before he became the Pogo we know from season 1.

Allison apparently has regained her powers in The Umbrella Academy season 2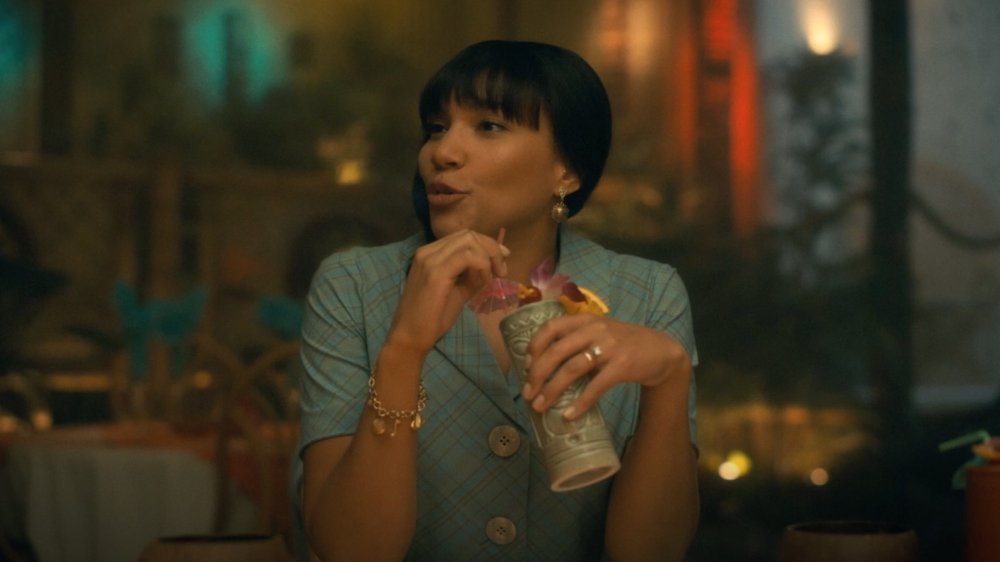 Netflix
If you count yourself a die-had fan of The Umbrella Academy's beloved source material, you know full well season 1 of the Netflix adaptation frequently and dramatically altered certain elements of the original. That was particularly true of the season 1 finale, which saw the Hargreeves kids fail miserably at preventing the apocalypse by stopping their wayward sister Vanya. Perhaps the bigger digression is that they actually took Vanya with them when they jumped through time, and that she'll apparently have a big role to play in the upcoming season.
If you're wondering why that's a big deal, we'll go ahead and tell you that, in the comics, Vanya is actually stopped by her siblings and eventually goes into a catatonic state from which she never recovers. As such, she obviously doesn't play much of a part in the O.G. "Dallas" storyline. Her sister Allison is still paling around with her super sibling in that narrative, though. She does not, however, still have the ability to speak, which means her power to push people to her will via voice alone is no longer viable. 
As a reminder, Allison lost her ability to speak because Vanya slashed her throat and nearly killed her in a tense altercation that came after Allison unloaded a damning secret to her troubled sister. That very moment was captured in season 1 of The Umbrella Academy more or less as it happened in the books, so it may come as a bit of a surprise to many that Allison has regained not only her ability to speak in the season 2 trailer, but also her powers. It should be quite interesting to see how the show's writing team justifies that particular departure.
That song in the season 2 trailer was crafted by The Umbrella Academy creator Gerard Way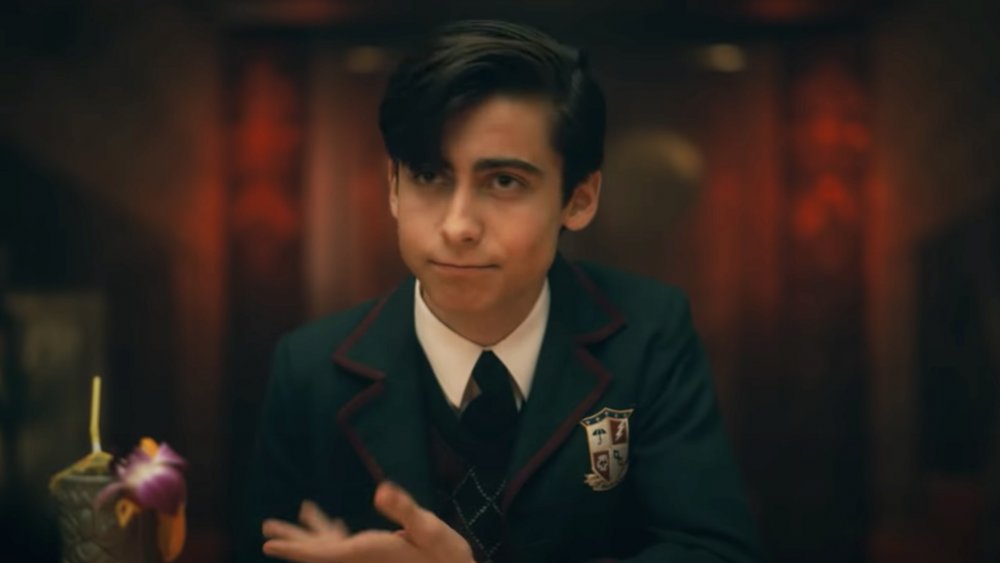 Netflix
If you've already pressed play on the dazzling season 2 trailer for The Umbrella Academy, you know that it's got a couple of '60s-tinged tunes driving the action. You may not know, though, that one of those tunes was written and recorded by the man who first brought The Umbrella Academy to life in the pages of the Dark Horse Comics books. That man is Gerard Way, who many fans of early-'00s emo will recognize as the former-slash-current frontman for My Chemical Romance. 
Way started writing his Eisner-winning series in the aftermath of that band's breakup, using his own bandmates as inspiration for some of the characters. He's never stopped writing music, though, and even contributed a couple of cover songs (Simon and Garfunkel's "Hazy Shade of Winter" and The Turtles' "Happy Together") to the inaugural season of The Umbrella Academy. Perhaps not entirely satisfied with his marvelous takes on those iconic tunes, Way snuck a rocking little number, appropriately titled "Here Comes The End," into the season 2 trailer, and it more than sets the mood for the chaos within. 
Way recently offered insight about the song, telling AltPress, "I was originally inspired to write this track when series one of Umbrella Academy was being shot. By the time I finished it, 2020 was in full swing, the world had taken a profound turn and the song was finished in a surreal new reality."
The somberly rollicking number ably fits both the tone current tone of the world and the show that helped inspired it, the second season of which will arrive on Netflix on July 31, 2020.