The Surprising Connection Between Quibi's Survive And Game Of Thrones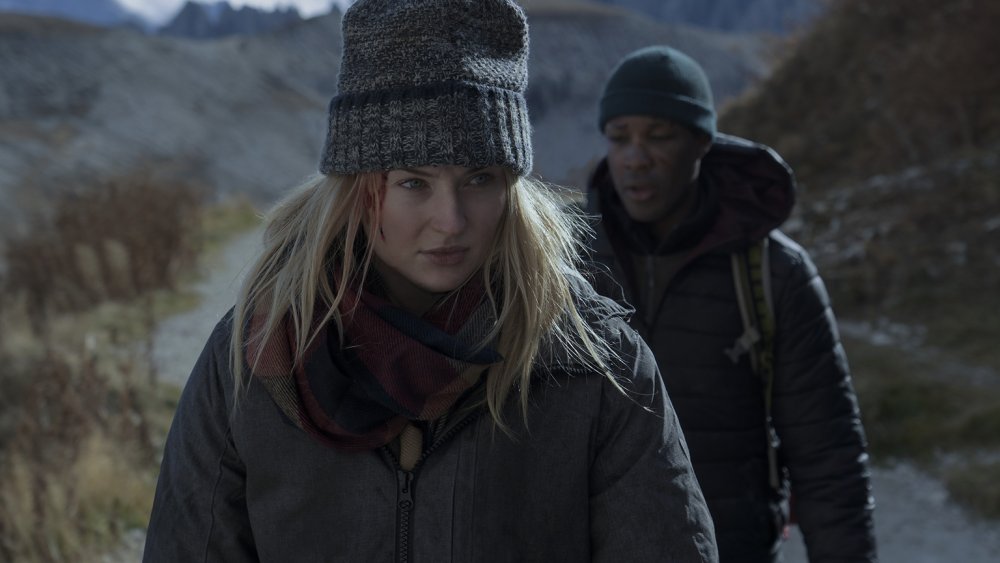 Quibi
This content was paid for by Quibi and created by Looper.
Where the Stark children go, wolves will follow.
A little over a year after Game of Thrones concluded its decade-long, eight-season run on HBO, its actors have scattered to other projects. That includes Sophie Turner, who grew up on screen as Sansa Stark, the eldest daughter of the highborn Stark family. 
Turner now stars on Survive, one of the brand-new dramas on Quibi, the streaming service that offers bite-sized programs designed for viewing on your mobile device. After playing the inimitable Sansa on Game of Thrones, Turner is embodying yet another unbreakable character: Jane, a young woman determined to take her own life but who winds up fighting to stay alive. A gripping, dark story, Survive focuses on Turner's character after her plane crashes on a remote mountain top on her way back from a mental health facility. Instead of going through with the tragic plan she had in place, Jane becomes determined to live, working alongside the only other remaining survivor — a man named Paul, played by The Walking Dead and Straight Outta Compton star Corey Hawkins. 
But Turner's Jane has a few more ... entities keeping her company on the mountain. If you haven't caught the actress' starring turn on Survive, you haven't met Turner's other co-stars yet either. If you were a fan of Game of Thrones, however, you may experience some déjà vu when watching Survive. Here's the surprising connection between Quibi's Survive and Game of Thrones explained.
What do Survive and Game of Thrones have in common?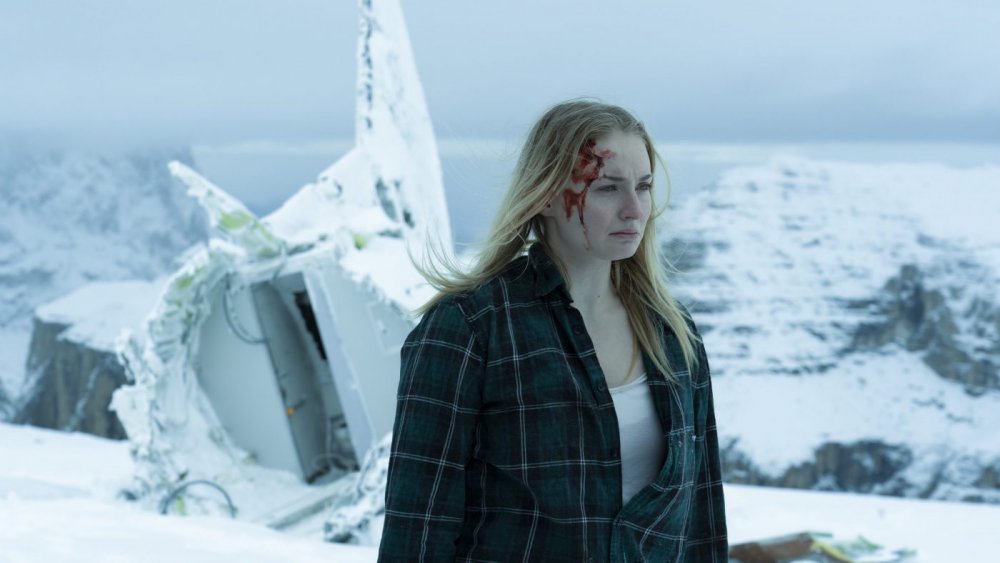 Quibi
If you're a Thrones fan tuning into Turner's first post-Westeros project, you might see something pretty familiar: wolves. Not only do Survive and Game of Thrones both feature Sophie Turner and wolves, but there was also an even bigger connection behind the scenes. Chatting with Conan O'Brien for a #ConanAtHome digital interview in April 2020, Turner revealed that she grappled with wolves on Survive, just like she did on Game of Thrones, and that the wolves were trained by the same professionals that she worked with once upon a time on the HBO fantasy-drama. 
Turner told O'Brien that it was bittersweet, since the circumstances under which she worked with wolves on Game of Thrones were much different than those on Survive. "
We were working with the people who provided the wolves for Game of Thrones... so it was actually quite horrible because, you know, in Game of Thrones, the wolves are our pets — are like our soulmates, kind of," the actress said. "And on this, I have to basically, like, fight a wolf and try to kill the thing. And so I found it to be quite symbolic, actually. You know? Like, Game of Thrones had just ended. So I was, you know, figuratively killing the wolf and ending my career."
O'Brien added, "And now, the wolf must die," giving some levity to a pretty heavy metaphor. Obviously, Turner's career is far from over, but her time on Game of Thrones really has come to an end. But she still has one wolf-related relic from her tenure on Thrones to remind her of her past: After the first season, Turner adopted the real dog, Zunni, who briefly played Sansa's pet direwolf, Lady.
What the wolves meant on Game of Thrones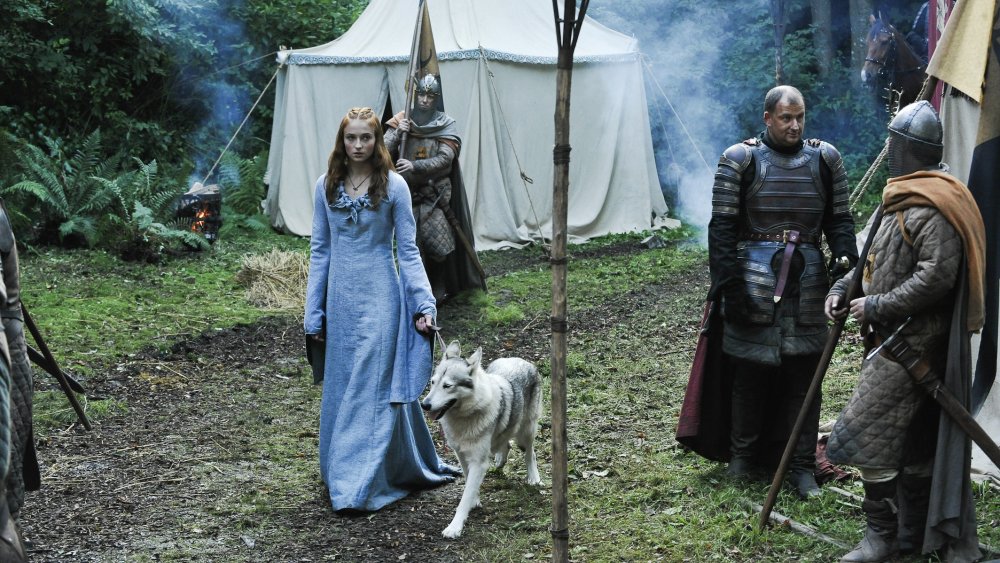 HBO
Any Game of Thrones fan worth their salt is familiar with the Stark family's direwolves, but after ten years and eight seasons, some may need a refresher on what happened to the wolves throughout the series. On the pilot episode, Ned Stark (Sean Bean), Sansa's father, and his men discovered six direwolf puppies — one of which sported pure white fur. Despite his initial reservations about taking the pups home, Ned realized it was appropriate to give one wolf to each Stark child to represent their storied house. Ultimately, the Stark children fell in love with their new pets: Sansa went with Lady; Robb (Richard Madden) named his Grey Wind; Arya (Maisie Williams) delved through history books to find the name Nymeria; Bran (Isaac Hempstead-Wright) chose to name his wolf Summer; and Rickon (Art Parkinson), the youngest Stark, went with Shaggydog. Meanwhile, Ned's alleged bastard Jon Snow (Kit Harington) got the snow-white pup, naming him Ghost.
Unfortunately, all the wolves — save for Ghost — meet sad or outright grisly ends throughout Game of Thrones' run. Lady was the first to fall after Arya's direwolf Nymeria attacked the brutal King Joffrey Baratheon (Jack Gleeson). Though Lady wasn't even present for the attack, the Lannisters ordered Lady to be killed in retribution — given that Lady was Sansa's direwolf, Sansa was once betrothed to Joffrey, and her father was executed for treason after (rightfully) calling into question the legitimacy of Cersei Lannister (Lena Headey) and Robert Baratheon's (Mark Addy) children.
As the narrative continued, Grey Wind was killed along with Robb during the Red Wedding, Shaggydog was dispatched by the evil Ramsay Bolton (Iwan Rheon) while he held Rickon hostage, and Summer died trying to protect Bran north of the Wall. Nymeria survived, but lived separately from Arya in the wild — meaning ultimately, only Ghost remained with his master at the end of it all.
Even in a different context, it's pretty appropriate that wolves have followed Turner into the next step of her career. 
Survive is streaming on Quibi now.